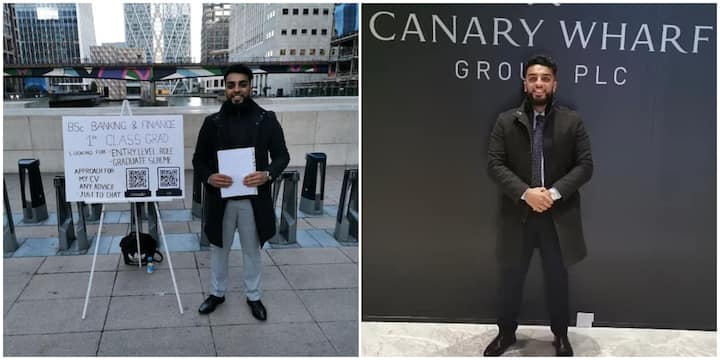 Unemployed Graduate Pitches Himself in London's Canary Wharf and Secures Dream Job Three Hours Later
It just goes to show that using your intuition can go a long way within the job search. 24-year-old Haider Malik is a fine example of this; after deciding to pitch himself in London's Canary Wharf, in the hope of catching the attention of prospective employers.
Within three hours, he was offered an interview for his dream role and had started work by the end of the week.
The young job seeker had previously been employed by the NHS during the COVID-19 pandemic but had been having difficulty finding a role in his dream sector of banking and finance.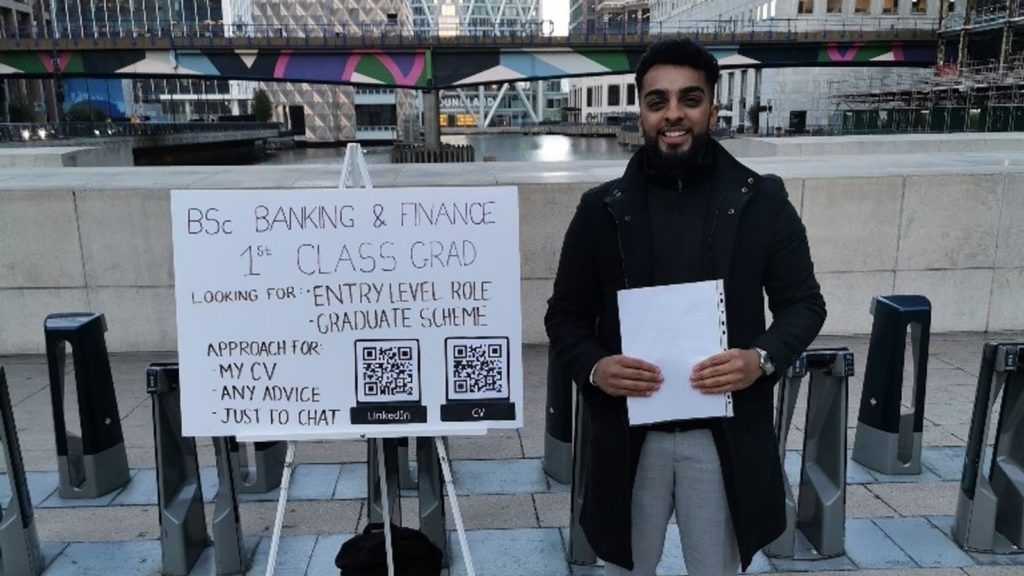 He stated that despite having multiple Zoom interviews, he was unable to show off his true personality which may have impacted his chances of getting hired.
The young man who graduated from Middlesex University London, set up a pop-up stand in London's main financial district at around 6.45 am on 2nd November 2021. The stand featured a board mentioning his 1st class degree in Banking and Finance, as well as two QR codes so employers could view his CV and LinkedIn profile via their mobile devices.
He also clarified that he was looking for 'a graduate scheme' or 'entry-level role'.
This great idea was inspired by his father, who had migrated to England from Pakistan in his younger years and had managed to secure a job through his own clever approach.
Within the first 10 minutes, Malik claimed he felt "nervous" at the prospect of job-hunting on the streets. Speaking to MyLondon, he said:
"I was standing there empty-handed and my CV was in my bag, so I was kinda hoping someone would come to me as I was used to waiting for someone to reach out."
However, it was only a matter of tie before he realised that he needed to try out a different tactic and began interacting with passers-by. In no time at all, people began handing him business cards and contact details for potential job openings. Malik also handed out copies of his CV.
"I got a lot of 'well dones' and people started congratulating me on my efforts, and then within an hour, 100 copies of my CVs were gone. It was really crazy," he said.
"And instead of printing loads of CVs where they will probably end up in the bin anyway, I decided to get a QR code for my LinkedIn platform and a downloadable resume as everybody has a phone and when people are commuting, they have time to have a look."
Within three hours, Malik was offered an interview for the job of  Treasury Analyst at Canary Wharf Group PLC and by Friday of the same week, had started the new role with the company.
Malik's story has since gone viral and has inspired other job seekers to think outside of the box as to how they stand out to potential employers.
He said: "It was really cool the way it happened – I took a chance."
If you're seen to secure your dream job, check out our latest vacancies here.