By Inesh Patel
Ah Easter… the time of chocolate, feasting, partying and failing at Lent (mostly due to the aforementioned)! Add to that the epic four-day weekend and it's pretty hard to not feel excited. This is an excellent chance to relax and reconnect with the family over sumptuous roast lunches and decadent deserts. However, if you're thinking that four days stuck at home is a bit much then don't worry, there's such a ridiculous amount going on in and around the capital that'll have you hopping about like the beloved long-eared egg deliverer itself!
Friday
Kicking off the seasonal break on Friday is the
World Street Food Festival
. For anyone looking to warm up their stomachs for that highly anticipated Sunday roast, this is the place to start. Held along the Queens Walk between the London Eye and Hungerford Bridge, this food bonanza boasts cuisine from around the globe promising to be a truly delicious experience.
With your stomach content, the next step is to find some entertainment and you're in luck, because E4's Udderbelly festival is still raging. On Friday night you can expect a hilarious performance from Canadian comedian Tony Law on London's Southbank. With his surrealist style and quirky jokes he's sure to have you in stitches.
Alternatively, you could head to the International Ska Festival to celebrate the best of ska music with headline performances from Horance Andy, Mad Professor and many others.
Saturday
There's no let up on Saturday as you fill your day at the Horniman Easter Fair. This Easter extravaganza, held at the Horniman Museum, is a great day out for all the family. It's got food stalls, arts and crafts and, of course, an Easter egg hunt. With all of this being free, there's no need to break the bank!
Also on offer is Camden towns,
Lock Tavern Festival
, with live rock and indie performances for the grand price of zero pounds… If you're a music fan then there's really no excuse to miss this awesome event. For later that night, Craig Charles of Robot Wars DJs the
Funk and Soul club
at the Brixton Jamm so check that out for some funky tunes and good times.
Forget the day of rest this weekend; Easter Sunday is jam-packed with a variety of tidy events. Kew Gardens has teamed up with the new Charlie and the Chocolate Factory musical to bring you a day of immensely chocolaty proportions. Not only is there an epic Easter egg hunt but there are Willy Wonka inspired chocolate workshops and a gobstopper invention room. Treat yourself!
There's music on again in Camden that evening at the Jazz Café as it's holding an
Easter Sunday party
. You can expect indie, pop and electro bangers from resident DJs Christian Laing, Pete Wheeler and Richard Titchener so head down there for an unmissable experience!
Sunday & Monday
This Sunday really is a day for music lovers as Ministry of Sound brings you Groove Odyssey, a night featuring the best in house, soul, R&B and disco. There's really no better way to end the day!
Finally, on Monday there's more happiness for your belly with the Feast of St George! Trafalgar Square will host the event, providing good old English feasting, live music, performance entertainment and even Morris dancing. This is a wonderful way to wrap up the Easter weekender and celebrate the British spirit!
With such a spectrum of events and activities to choose from this Easter make sure you get out and make the most of them before the break blows by…
This blog was written by Inspiring's new marketing intern, Inesh! Hailing from Southgate, North London, Inesh is a recent product design graduate from the University of Nottingham, mad about all things music and drumming!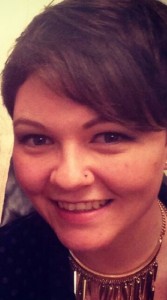 By Denise Donnelly
Social media is an entrenched feature of our personal lives; your social circle will more than likely include (but will not be limited to) a Twitterati, a Facebook creeper, and most definitely an obsessive Instagram-er. We may have grown up with the internet but many of us have failed to utilise it as part of our professional lives. Social media is the rising star of the business world for three very good reasons:
1. Most businesses will have at least one social media page. Social media is a free marketing tool and has a high ROI (return on investment) if used correctly.
2. Social media marketing, management and operations is a huge job sector that is still growing!
3. When you apply for a job there is a good chance that the employer will Google your name and what they find may influence their decision.
You came in like a wrecking ball!
With this is mind you should start building your professional online profile. However, in order to build something amazing you might need to tear down some rubbish like that YouTube channel you made when you were 12 about how much you love cats. More importantly you should set your Facebook profile to private and make sure no incriminating pictures of your night out are available to the public. In this instance I went one step further and changed my second name to the Irish version so that no employer could find me, I'm clever like that. Once you have curbed the damage you did in your tweens you can now begin to rebuild your online self!
Build like Bob
LinkedIn is the best place to start, and it is more than likely that you already have a LinkedIn account that you set-up and was then confined to the online annals of the interwebs! Whether you are a LinkedIn virgin or the owner of a neglected account, this is your chance to start anew. There are roughly three million businesses on LinkedIn and two new users every minute, it is a cornucopia of professionals and job seekers and is your chance to present your skills and experiences is an economical, sleek and professional way.
The set up self explanatory but there are few very important sections of your profile but there is one in particular that you should pay particular attention to. I was always told that the most important part of your CV is the "personal" or "opening" statement, it is designed to engage the employer and sum up your relevant experiences, skills, and attributes. Apply this rule to your summary, only don't make it too specific, in the first few glances they will want to know the following:
1. What you are currently doing.
2. Your key skills and attributes.
3. What your professional interests are.
My LinkedIn profile is by no means perfect but it might give you an idea of what I mean. However, don't be afraid to show a bit of personality, you could say how you are fluent in LOLcat and how you run towards fires not away from them!
"Smart phones and social media expand our universe. We can connect with others or collect information easier and faster than ever." Daniel Goleman
You are now a member of the Twitterati!
I joined Twitter three years ago and called myself after a Game of Thrones character (no I am not telling you which one). I connected with most of my friends and followed all my favourite celebrities. I treated it much like Facebook when it came to the content I would post; mainly cat pictures and quotes. When Restless Development told me that I had earned a place on their Sierra Leone trip I got rid of this account and set up a new one that would serve a much more professional purpose.
Twitter allows you to connect directly with businesses, politicians, celebrities, CEOs, and experts in every field from all over the world. It's also an arena to showcase your talents for free. If you are relatively new to this side of Twitter then follow the steps below to get yourself off the ground:
1. Identify the sector e.g. communications, marketing, engineering
2. Search for the hashtags relevant to that sector.
3. Identify the key people tweeting about your sector and follow, tweet and retweet them!
4. Acknowledge people who retweet and follow you, it's polite after all.
5. Start conversations with people about things that you're interested in (development, food, fashion etc.)
6. Sit back and enjoy the most addictive ROI you will ever experience.
It doesn't end here
Social media a sphere that specialises in individuality and uniqueness. I do believe that LinkedIn and Twitter are a must but you don't need to be as active on these pages as I am. The fashion industry has a fantastic presence on Pinterest (a pin board-style photo-sharing website) and amateur and professional photographers share thousands of pictures a day on Instagram (photo editing, sharing app and website).
I have been using social media in this way for almost two years now and most of what I learned was through trial and error. Take some of the platforms for a spin and see if they add anything extra to your professional profile. It can be exhausting and patience is a must but the gains are immeasurable!
Denise is a University of York graduate with a degree in History and Politics. She is looking for a career in communications and PR and is currently Social Media Manager for Radio Coalisland and Head of Social Media for Model Westminster, both voluntary roles!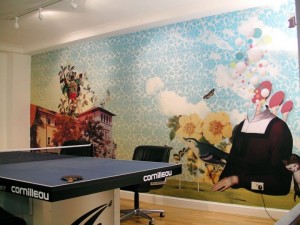 People tend to tell you, "your student years are the best of your life", so when university ends and the elation of graduation fades, the dread of staring real life begins to set in. It's not really surprising, considering the relatively low-pressure environment of school and the immense fun of university, that a lot of graduates aren't particularly looking forward to the 9 to 5 slog of working.
I felt much the same and more than a little grumbly about actually waking up in the morning, but the real world was knocking and the job hunt was on. Fast-forward a good few months full of job applications, optimistic emails to employers, despair, the inevitable foray into recruitment jobs and more despair, I finally stumbled upon Inspiring Interns.
After filming a nervous, but fun, video CV with them and a short interview I was all set to be put forward for jobs with their clients, simple! However, although I was only there for half-an-hour, something struck me about the place, it seemed…fun! I'd always thought offices were supposed to be dull and lifeless so I was intrigued. I curiously asked whether they had any vacancies going in their office and a perfect-sounding Digital Marketing Intern position came up. After a quick and refreshingly casual interview process with the marketing team and CEO I was offered the internship. Woop!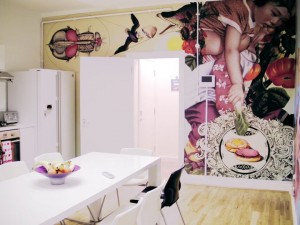 It can be really daunting entering a new place full of new people but this was not the case here! I've only been here a couple of weeks but everyone is super happy and friendly and they've all made me feel really welcome. What's more, my suspicions were correct; the office is just damn cool! Vibrant and social atmosphere, great office design, plenty of food and drink, and…a table tennis table – control your jealously.
The vibe is pretty chilled with plenty of chatting and laughs, but what I really enjoy is the office music that's constantly playing. It's always fun and unites the office with little sing-alongs and the like. Each row of desks houses a different company department and each group takes turns to play its preferred music, so I thought I'd give you a little taste of what our Inspiring offices sound like.
Starting off with the heavenly HR Honeyyyyzzz, who get the office buzzing with their party and chart hits. One of their favs to brighten us up is Rudimental's – Waiting all night (feat. Ella Eyre). Good times!
Moving up the office we've got the amazing Accounts Angels who just love those sexy 90s RnB vibes! Their choice offering is R-Kelly's – You remind me of something.
Then onto us mental Marketing Monkeys, who bring that summer feeling with a bit of Electronic Chill to wind the day down. Right now we can't get enough of London Grammar's – Stay Awake. Tune!
The last row is dominated by our super Sales Sharks who bring the heat with those smooth and funky 80s disco jams. Whenever we need to get our groove on they've got us covered with Michael Jackson's classic – Dirty Diana. Old-school goodness!
Finally, let's not forget the magic Manchester Massive in our Manchester office who keep the party going with some tasty Electro and House. Right now, they're loving High Contrast's mix of Duke Dumont's I Got You.
So there you have it, Inspiring Interns take a sledgehammer to the office stereotype with a fun and fresh approach to graduate recruiting and work environments. Happy days indeed!
Editor's note: Inspiring Interns takes no responsibility for the ownership of the songs mentioned above!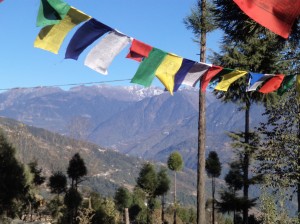 Trying to summarise a place and the time you've spent there is hard at the best of times but trying to summarise seven months in India is near impossible! But here goes…
The diversity of cultures and landscapes and the sheer vastness of the country were the main attraction for me before I set off. Whilst seeing a lot, I don't think I covered half the country but still saw vastly differing areas from the southern tip of Kanyakumari and Thiruvalluvar Island to the Upper Siang Region of North East Arunachal Pradesh and its turquoise rivers and snow-capped peaks.
The north of the country had more extremes and I found it harder to travel compared to the (slightly) sedater south. Internal discrimination is rife between 'Northerners and Southerners' and whilst I didn't feel the arrogance, abruptness or rudeness Southerners talked about when describing their Northern counterparts, there were more daily annoyances. People in the south are less intrusive and the transport links are much better. I found Tamil Nadu (South India) to be the easiest state to travel. The roads were the country's best and the presence of women in public and the social freedom they seemed to have compared to other areas of the country was particularly noticeable. I mentioned here about the challenges and joys of solo travel in India, but there was always something or someone that amused or amazed me to keep going.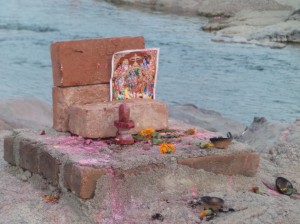 One thing I did notice about India while travelling is that it India in a state of flux whereby 'New India', fueled by the growing middle class, is trying to emerge as a progressive, forward thinking society, away from the traditional past. This manifests itself in different ways, whether it be the new temples of India (shopping malls) or in the clash between Indian tradition and Western modernity, exemplified, rather oddly by Rajasthani Rap and Techno Hindi. Having been enthralled by a traditional Kathakali show for two hours whilst at Mitraniketan, it came as a bit of a surprise when the performers bowed out to Gangnam Style and the crowd clapped and danced more than any other time during the performance.
I mentioned that Mumbai characterises India's extremes, and this includes the extremes of culture vs modernity. Having said this, India's diverse cultures are still at the forefront of the travel experience (just sometimes oddly mixed, as above). Colour, music and spirituality run throughout the country. The vivid colours of the northern states really add a vibrant effect to the landscape and are one my favourite memories. Whether emitted from women's Salwar kameez', Buddhist prayer flags or market spices it didn't matter. Music is also a constant. People constantly play instruments, temples call worshippers to prayer and Indian films are replayed (Most Indian films are not Bollywood products which only account for under 20% of Indian film production). One of my favourite memories was a driver in Arunachal Pradesh bursting into a rendition of some of his favourite local songs, followed by asking me to sing my favourite local music…thankfully he didn't realise 'This Charming Man' by The Smiths wasn't quite as local as his music was to him, nor did he comment on my terribly, un-tuned voice. Despite experiencing the intensity of some religious gatherings and not always feeling comfortable, spirituality is the heartbeat of India and culminates in as much colour and music as you can wish for. This is a must, even if you're not religious – not to experience a spiritual or religious event (or to cast aside religion in India) is not to experience India.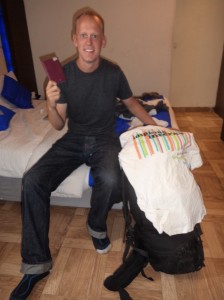 Sat in my bedroom back in my parents' house on a cold, grey February afternoon having been back in Blighty a few weeks I ask myself was it worth it? The answer is a resounding yes. I achieved my two main aims: scratching off one of the biggest countries on my international scratch map and losing weight. But I also got an experience of a lifetime and as a group of people, found Indians to be the most helpful and hospitable people I've met. I saw amazing places, ate delicious food, had some very peculiar conversations and experiences and learned a lot about the world's biggest democracy.
If you're thinking about going to India (or going travelling anywhere), like I said above, don't think too hard, just do it. You'll learn a lot about yourself and other people and will come back with more knowledge, perspective and confidence, all of which will help you with your career. It helped me… I'm starting work with TransIndus, a specialist India and Asian travel company on April 1st this year! Follow me @onlyonejaw to see how I get along!
By Inesh Patel
Do my eyes deceive me, or is that…is that THE SUN? Yes my friends, you can stop building your ark now because, after endless weeks of grey skies, electrical storms, hail and rain, the prodigal sun has returned in spectacular fashion to smile on our dear gloomy London.
Now that you've recovered from the shock and finished your tea, you may be wondering, 'what now?', 'what should I do?', 'do I still have time to make it to the beach?', but fear not, for our fair city has plenty to offer for any fair weather enthusiast.
For a relaxing day you could head down to Hyde Park for some fresh air and luscious greenery, boat away your worries on the Regent's Park Lake, or enjoy a picnic and the stunning skyline from Primrose Hill.
If you want more excitement there's always the magnificence of Trafalgar Square and its monuments, or the happy diversity of Covent Garden, with its performers and market stalls.
However, for me, the sun shines brightest on Camden Town. It's fun, it's fresh, it's cool and it's unique! The vibrancy and energy of the place seems to sing even louder under the sun's rays and you need not worry about getting bored as there's always something to do.
Camden market is an area of immense variety where you can experience new things, try different foods, find unique clothes, meet interesting people and let's not forget the talented street artists and bands that serenade you with their amazing music.
After a day wandering the quirky market alleyways and browsing the wondrous shops, there's no better place to relax than the Yumcha teashop where you can enjoy a nice cup of blueberry tea whilst you watch the sun glint off the sparkling canal.
So enjoy these places and let the weather make London shine for you!
This blog was written by Inspiring's new marketing intern, Inesh! Hailing from Southgate, North London, Inesh is a recent product design graduate from the University of Nottingham, mad about all things music and drumming!
By Alex Townley
The minimum age for contributions to National Insurance is set to be raised to 21, announced George Osborne today in the Budget 2014.
–
Hiring graduates is a costly business. Once you take into account the expenditure of searching for the right person, dedicating members of staff to interviewing and selecting the best candidate, and the initial training period, taking on a new employee is an expensive business.
When you then factor in salary and National Insurance, which currently stands at approximately 13.8% of the salary, and businesses' reticence to expand their workforce is understandable.
It is, therefore, welcome news that National Insurance will be scrapped for under 21s from April 2015. Young people have suffered disproportionately during the recession (youth unemployment is still hovering around 20%, above the national average of 7.2%) so any move to address this imbalance is to be welcomed.
Inspiring Interns is, however, disappointed to hear that this announcement is limited to under 21s. As a result, a large proportion of graduates will be still be subject to National Insurance,, potentially creating a two-tier youth employment market where university leavers become 'second-class employees'.
Ben Rosen, CEO of Inspiring Interns, said:
"George Osborne's abolishment of National Insurance for workers under the age of 21 will help countless small businesses across the UK. But limiting this move to under 21s, and potentially punishing many graduates, is a confusing message while the Government to continue to tout the benefits of higher education to young people.
"In our experience at Inspiring Interns, a business' most valuable asset is the people it employs; hiring a graduate over an apprentice or school-leaver should not carry a premium price – especially as apprenticeships already enjoy far greater political and financial support than equivalent graduate schemes. We have worked with over 800 companies across the UK and place graduates into meaningful internships globally: this tax is a slap in the face of many start-ups and growing businesses who wish to employ someone with a degree and does nothing to ensure graduates are employed in meaningful jobs."
–
Inspiring Interns is the UK's leading intern recruitment agency. We match ambitious graduates with growing companies across the UK. We work with companies ranging from big multinationals to brand new start-ups across the UK from our offices in London and Manchester.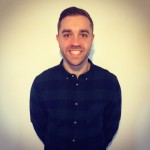 Alex is the marketing manager at Inspiring Interns. He enjoys sport, cinema, admiring sharks from a safe distance (on TV) and supports Arsenal. Alex occasionally blogs on plainhelvetica.com, tweets @agtownley or you can add him to your circles on Google+. He is currently training for the London Marathon! Track his progress here: http://plainhelvetica.com/running-with-asthma/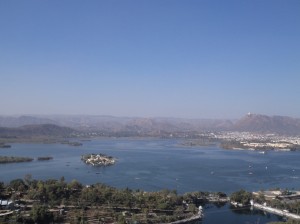 The final two weeks of my Indian adventure took me to Rajasthan, The Land of the Kings. The biggest state in India, it is famed for its majestic Rajput inspired forts, palaces and havelis. I was kicking myself for leaving it to the last as I'd seen what I thought must have been every fort or palace outside Rajasthan. If there is such a feeling, 'I was forted out'.
Arriving in Udaipur after a 19 hour bus ride from Pune, sharing a berth with the loudest snorer in India (which is quite some feat believe me) I spent the afternoon sipping lemon soda on one of the many rooftop restaurants overlooking Lake Pichola. With their Middle Eastern architectural influence, Rajasthani cities are brimming with roof-top restaurants. So much like in Goa I found myself trying not to 'bum' around. However, taking your eyes off a picturesque lake, hill-top fort or blue-coloured city, whilst bathing in a nice durable heat is a mighty hard task.
After watching Octopussy in one of the tens (possibly hundreds) of establishments showing the Bond classic at 7pm every night I went about taking in the films' major sights (and trying to persuade rickshaw drivers to pull Bond style stunts). The sight I wanted to visit most was Monsoon Palace, located high above Udaipur offering brilliant, albeit hazy panoramics. The drive up along the winding valley roads built up the excitement. Unfortunately, as I mentioned in my Goa blog, once again an architectural gem had been left badly in need of maintenance. It defies logic that an ornate, historical palace, featured in a world famous movie should be left to neglect. But this is India and India defies logic.
The highlight of Udaipur and its surrounding area was Kumbhalgarh Fort, arguably my favourite fort in India. Approximately a 75 minute hairpin-dominated drive from the city, the Fort towers above the ochre covered hills with its ramparts covering a 36km hill-top plateau. Once again, the haze scuppered the unbelievable views, but you are still left with vast horizons that run down craggy outcrops into the surrounding desert. The drive to Kumbhalgarh also allows you to see areas of rural Rajasthan, which are in complete contrast to the tourist enveloped cities. Like Madyha Pradhesh, it is very subsistent and the landscape arid, but the amazing colours of the women's saris and salwar kameez, not to mention the eccentric facial piercings, typical of Rajasthan, really showcased traditional northern Indian heritage.
One of the best things about Rajasthan as a solo traveller was the social nature of the accommodation. Most had welcoming rooftop common areas and small restaurants. So having met a group of assorted solo travellers in Jaisalmer I ended up travelling the state with them. In Jodhpur and Jaipur there was even a hostel chain (and not a decrepit, no atmosphere allowed government run one). It had hot showers, a flat screen TV, was WIFI enabled and even had a bean bagged dominated common area. Unfortunately, the lack of hostels and common areas in guesthouses in India hinders traveller interaction, particularly when you are off the beaten track.
It was also in Rajasthan that I rediscovered my love for chai. Since being in Madhya Pradesh in early December, 'real' chai had been limited. My in-between destinations hadn't offered much of the diabetes-causing delight. 'Going for a chai' is very much a sociable activity -groups crowd around the limited and uncomfortable seating areas, trying to waft away the flies whilst having a catch-up (probably reminiscing about the good old days when Sachin was still playing cricket). This was one of my favourite Indian pastimes and provided ample people-watching time (re-reading this it sounds like I'm 56 not 26!).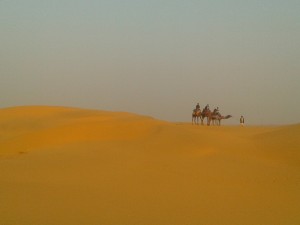 In Jaisalmer, my new found group and I, amongst other activities (which included motor-biking 25 kms to see the worst excuse for a fossil park in the world), went on an obligatory camel safari in the Thar Desert. The incredibly clear night sky was amazing, something I've only ever seen bettered in Arunachal Pradesh and on the Salt flats of Bolivia. However I wasn't overawed by the camel experience…it felt like I was back on the roads of Arunachal Pradesh with my joints grating straight onto the camels hump. I never thought getting off a camel would feel so good. Who knew!
I mentioned that Kumbhalgarh fort was arguably my favourite fort in India. Arguably because I still can't decide, but with the blue city of Jodhpur below, the architecture of Meherangarh fort makes for imperious viewing, especially at sunset when you're zip lining across its outer walls, over lakes and gardens with clear views of the vivid blue old town. Yes that's correct, the Flying Fox had the brilliant idea of using one India's most visited forts as the place to launch a zip line centre. I highly recommend it!
In the end it didn't matter that I was 'forted out'. The accommodation, the chai, states delicious thali and the forts got me through!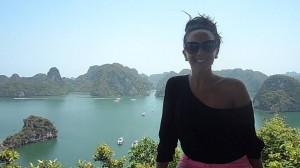 By Sophie Binskin-Barnes.
On a soggy day in January I decided the time was nigh for my big break. After what seemed like months, no wait, it was months, of traipsing through the internet looking for internships as a gateway into the events industry, I was royally stuck between a rock and a hard place.
The internships I wanted were either financially impossible, with no travel costs included, or I would never hear a peep after I applied, and a fair few were even completely illegitimate. I needed to ensure I wouldn't be digging myself a monetary black hole whilst endeavouring on the only route to my dream career.
With a country full of highly educated twenty-something individuals what actually make us, well, individual? How do we get the opportunity to stand out in the crowd and be the rose amongst the thorns? Two sides of A4 and an application form (which basically asks you to regurgitate information from your CV) ain't going to cut it! At the Undercover Recruiter they state an employer's 'average time spent looking at a CV is 5-7 seconds'. Then there are the recruitment companies adding a secondary blockade right in front of your first.
I fell upon Inspiring Interns on a recommendation from a friend who knew I was desperately seeking a great internship opportunity. After scouting through their user-friendly website I instantly applied for 3 internships in a row. Ever the optimist I had my reserve tank full of faith on this company to be my glimmer at the end of the tiring search tunnel.
If you are currently a career hunter like me, every email ping on your phone ignites a spark of hope of a company offering you that long awaited interview. Well, the very next day I actually ignited with a response from the Inspiring Intern team inviting me for an interview! I knew in no way it meant a job or a guaranteed internship, but it was hope and it felt great for my receding confidence.
After a brief chat (so good to actually speak to a human being on the phone) and an email stuffed with all the relevant information I headed to central London in anticipation of becoming an Inspiring Intern.
The office was a plethora of open plan chic, friends at work and professional planning; I instantly felt at ease and was greeted, informed and comfortable straight away. Sitting on the Inspiring Interns couch I started to read their 'Book of Dreams' which emerged me into the world of reality that I wasn't the only one in this situation. Actually there are a damn lot of us wanting people to believe in us, invest in us and inspire us.
It appeared to me, Inspiring Interns were recruiting an army of hungry pre-professionals, prepared to get some experience under their belt and get noticed within a growing business. Now which company wouldn't want a workforce that voracious, enthusiastic and dedicated to success? Inspiring Interns seemed to me to be our jury to ensure our fair trial into the professional world.
Inspiring Interns have, for 5 years now, been a beacon of light and fair trade for fresh faced post grads ready to do what they can to get into the right hands.
So I had an informal interview where they actually asked about ME; found out my interests and skills and what makes me tick. There is a lot to say for face-to-face communication in this day and age and I felt comfortable and confident to just be myself and talk about my history as well as express my hopes and dreams.
It was then time for my 'elevator pitch' filmed CV. It is basically a one minute long sales pitch about you to be sent out to interested employees and every candidate does one. Do not be frightened off my friends; this is an excellent opportunity in a friendly environment to really sell yourself in a happy and honest fashion. I had a few tongue-twister moments but my very patient advisor just let me start again and on my third try, I nailed it. They give you plenty of advice but it's best to come fully-prepped and even learn a script if you wish, just don't sound too robotic as it won't sell you well. There are loads of examples on their website if you need a bit of a spur.
After that, you leave all the hard work to them. I know, right, sounds ace! They search and sort in your desired industry to find all your options for you then email you once they come up. They absolutely insist lunch and travel expenses are covered by your company and the internships in which you are given responsibilities are paid. So they seek out the placements, show the company your CV and video CV, and if the company are interested in meeting you, an interview is arranged. No one's time is wasted and all interview experience is good experience for us anyway, hey!
After having been buried by a haze of questionable proposals and a complete lack of responses, the 20-strong team at Inspiring Interns HQ in London have taken me under their wing of wisdom and are well and truly holding my head above the clouds. It's a pretty blue sky for this Inspired Intern!
If you're looking for your dream internship opportunity, make Inspiring Interns your starting point.
Sophie, 26, lives in Kent but is soon relocating to London. She gained a BA in Managing Performance from the University of Leeds. She has travelled, volunteered and worked far and wide around the world and is now using these experiences to compliment her degree, pushing herself into a career in the events and experiential sector. You can connect with Sophie on Google+ and follow her on Twitter @SopheeBB!
Having spent Christmas in India's happiest city Pune, I took my first non-delayed, train to Goa to spend the New Year period with a friend who had flown out from England.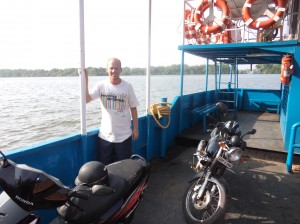 Despite denying we were the beach bum types, we managed to hang around Patnem Beach in South Goa contentedly until January 2nd. The view from the Arabian Sea of the white-sanded, palm tree backed beach, lofty jungle summits and clear blue skies just about kept us happy.
New Year's Eve was spent on Palolem beach, an arduous 500m trek north. Amid the sky lanterns and fireworks which flooded the sky at midnight we congratulated ourselves on picking the best relaxed Goan New Year's venue before promptly departing to a rave in the jungle at the enticingly named Leopard Valley. But much to our consternation Leopard Valley wasn't a valley, nor was it even in a valley, it was on the top of a hill. More bemusingly, our fellow early morning revellers didn't even seem to share our well-directed bewilderment. Waking up with slightly sore heads we prescribed another day at the beach before making our way north to the former party capitals and trance towns of Anjuna and Vagator.
We deemed this a major part of our cultural Goan experience as the fabled trance scene had been a major pull factor through the 80s and 90s. Alas, we both agreed listening to trance music continuously for 56 hours was rather annoying. Our well-tuned musical ears deemed just one in five 'trance tunes' to be at best relatively listenable. As mentioned previously Indians place a great deal of importance on the ambience of a place, but it's safe to say the beach towns of North Goa missed this particular ambient boat. Going to the trance club for a curry on the beach didn't particularly scream ambience but when we realized we had no option but go to the trance club for a curry on the beach there was no alternative but to 'embrace' the music/torture. Thud, thud, thud.
Whilst pretending to like trance music we both commented on the distinct lack of fellow party-goers. Having both been told that Goa would be 'too busy' over the New Year period, Patnem and Palolem proved to be perfect in this respect. Not enough people to tarnish the pristine beaches, but enough people to enjoy the nightlife. But after sunset Anjuna was like a tourist ghost town -perhaps people had left their hangovers behind and departed to calmer shores or perhaps it was like this article suggests that Goa is undergoing an image shift away from the pesky backpackers who flood the northern beaches. The increasing numbers of regional airports will also have something to do with it, but I prefer the notion that people just don't like trance music!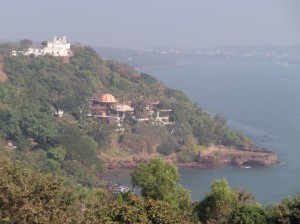 As my friend's Gran is a devout Catholic and Goa has a distinct Catholic identity, a trip inland to marvel at the abundant white-washed churches gave us the much needed evidence that we weren't on an eleven day lads–on-tour jaunt but were in fact on a finely tuned cultural sojourn. Basing ourselves in Panjim we stayed in the Portuguese colonial quarter of Fontainhas, which proved to be the most ambient and atmospheric place I've visited in India. The colorful, crumbling architecture and narrow winding streets were enhanced by the subtle Christmas lighting and the enclave (and to an extent Panjim) were a world away from the hustle and bustle of Indian cities. You can certainly feel the laid-back Portuguese influence too-siestas here are performed with perfection.
From Panjim we day-tripped around central Goa on scooters. We took in Old Goa which at its peak in the sixteenth century was one of the largest and most powerful cities in the world. Now all that remains are a few strikingly white-washed churches and a basilica amid the dense jungle that has enveloped the area. The Church of Divar on Divar Island and Chapel of Our Lady of the Mount which lay just outside Old Goa, atop two hills, afford great views of the Mandovi River and Old Goa, but typical of the poor maintenance which seems to characterize a lot of historical Indian architecture, both were derelict and closed to the public. Although this did mean we got them to ourselves. One even had restoration completed as recent as 2001 but had still been left to deteriorate rapidly.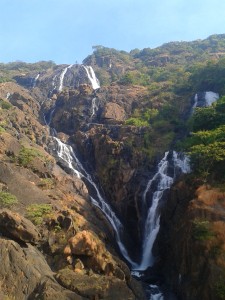 Our next day trip saw us jump on our scooters to Dudhesghar Waterfalls, the 2nd highest falls in India. Avoiding the advice of a local vendor that all jeeps were full and the only way to get there was on an elephant, we jumped in the nearest jeep. I had already seen the falls on my train journey to Hampi a few weeks previously. The train line runs straight across the front of the falls and from our viewpoint below we saw one chug across in front of the cascading waters, certainly a spectacular train related sight. But arguably more spectacular is the train line running up the Konkan coast from Mangalore to Mumbai. Despite the British creating the vastly impressive Indian rail network they refused to go near the Konkan Coast, as it was too dangerous. As landslides and loose boulders have damaged the track since, with one train even falling off a bridge, they had good reason. Passenger trains only started using it in 1998 but the line is undoubtedly a feat of Indian engineering excellence. It has 92 tunnels, swerves round 320 curves and runs over 200 bridges, one of which is the highest in India. And unlike my ability to take photos one handed whilst hanging onto the railings of the train doors, it didn't disappoint…
By Hannah Roberts
Blogging! A phenomenon born in the 90s that has since become a mainstream hobby with the introduction of platforms such as Tumblr, WordPress, Blogger and Blogspot that enable people to broadcast their thoughts to a worldwide audience.
I took up blogging on the advice of a friend who recognised my passion and interest in music, trainers and fashion trends, and suggested that I try my hand at putting these thoughts into words. Not only as she knew it would be something I'd enjoy, but also to support my career hunt. I started off my writing with things that came easy to me, about things that I was interested in and had something to say about. The more I wrote the easier the process came. It was something I was able to add to my CV, giving solid evidence of my creativity, and in turn was something that I believe played a big part in landing my job at Inspiring Interns! It served as a positive talking point during my interview, and prepared me for the subsequent writing task that I was asked to complete prior to joining the company.
For today's graduates, it's something that I, and we as a recruitment agency, can't recommend enough. When discussing this with our HR team who handle the hundreds of applications we receive on a daily basis, it's clear they love to see a blogger's CV. Blogging is an opportunity to demonstrate your initiative and proactivity whilst serving as a strong indication of your creativity (assuming you're writing about a creative subject!), which is particularly invaluable to those looking to crack into creative careers.
For those of you considering putting hand to keyboard but unsure of where to start, it really isn't something you should over-think. First you'll need a topic; whether it's something niche that you feel will give your blog a unique edge, or simply a personal interest/like that you feel you could write about. Find yourself a place in which you feel relaxed without distraction (I personally write best when in bed!) and let the words flow. It may take you a couple of attempts to produce something that you are happy with, but once you've managed to hit publish on your first piece, I can assure you it'll come a lot easier. With practice, you'll find that you will develop your own writing style, forming your own blog identity.
The next step is to grow this identity. As a product of the social generation it's likely that you're an active user of at least two of Facebook, Twitter, LinkedIn, Google+, Pinterest or Instagram – all brilliant platforms get involved in. Using these channels to link and share your content across your social networks not only broadens your audience but allows for the development of your personal online brand. In addition to this it demonstrates your awareness of the importance of self-promotion in today's modern world, something which many employers favour. This experience will act as an invaluable addition to your CV, strengthening your applications, putting you in a better position when it comes to interviews and tasks and will in turn lead to a career (hopefully!).
Not convinced? Let's look at the story of Pete Cashmore. Ever heard of the media kingdom, Mashable? If you don't know…get to know! Mashable is a leading British-American source for news and information on the digital age. With around 100 employees and 34 million unique hits to date, and over 14 million social media followers, Cashmore created his blogging empire back in 2005, as a 19-year old blogging from his bedroom… Enough from us, get writing!
Hannah is a Digital Marketing Executive at Inspiring. She tweets about all things golden here: @hlcroberts and pins all things pretty here: gildthelilly. You can also connect with Hannah on Google+