Having spent Christmas in India's happiest city Pune, I took my first non-delayed, train to Goa to spend the New Year period with a friend who had flown out from England.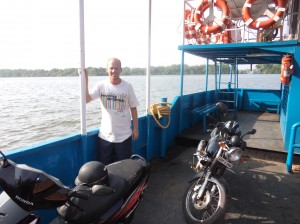 Despite denying we were the beach bum types, we managed to hang around Patnem Beach in South Goa contentedly until January 2nd. The view from the Arabian Sea of the white-sanded, palm tree backed beach, lofty jungle summits and clear blue skies just about kept us happy.
New Year's Eve was spent on Palolem beach, an arduous 500m trek north. Amid the sky lanterns and fireworks which flooded the sky at midnight we congratulated ourselves on picking the best relaxed Goan New Year's venue before promptly departing to a rave in the jungle at the enticingly named Leopard Valley. But much to our consternation Leopard Valley wasn't a valley, nor was it even in a valley, it was on the top of a hill. More bemusingly, our fellow early morning revellers didn't even seem to share our well-directed bewilderment. Waking up with slightly sore heads we prescribed another day at the beach before making our way north to the former party capitals and trance towns of Anjuna and Vagator.
We deemed this a major part of our cultural Goan experience as the fabled trance scene had been a major pull factor through the 80s and 90s. Alas, we both agreed listening to trance music continuously for 56 hours was rather annoying. Our well-tuned musical ears deemed just one in five 'trance tunes' to be at best relatively listenable. As mentioned previously Indians place a great deal of importance on the ambience of a place, but it's safe to say the beach towns of North Goa missed this particular ambient boat. Going to the trance club for a curry on the beach didn't particularly scream ambience but when we realized we had no option but go to the trance club for a curry on the beach there was no alternative but to 'embrace' the music/torture. Thud, thud, thud.
Whilst pretending to like trance music we both commented on the distinct lack of fellow party-goers. Having both been told that Goa would be 'too busy' over the New Year period, Patnem and Palolem proved to be perfect in this respect. Not enough people to tarnish the pristine beaches, but enough people to enjoy the nightlife. But after sunset Anjuna was like a tourist ghost town -perhaps people had left their hangovers behind and departed to calmer shores or perhaps it was like this article suggests that Goa is undergoing an image shift away from the pesky backpackers who flood the northern beaches. The increasing numbers of regional airports will also have something to do with it, but I prefer the notion that people just don't like trance music!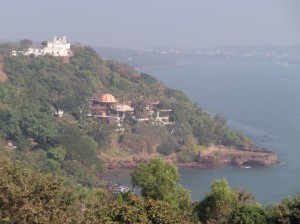 As my friend's Gran is a devout Catholic and Goa has a distinct Catholic identity, a trip inland to marvel at the abundant white-washed churches gave us the much needed evidence that we weren't on an eleven day lads–on-tour jaunt but were in fact on a finely tuned cultural sojourn. Basing ourselves in Panjim we stayed in the Portuguese colonial quarter of Fontainhas, which proved to be the most ambient and atmospheric place I've visited in India. The colorful, crumbling architecture and narrow winding streets were enhanced by the subtle Christmas lighting and the enclave (and to an extent Panjim) were a world away from the hustle and bustle of Indian cities. You can certainly feel the laid-back Portuguese influence too-siestas here are performed with perfection.
From Panjim we day-tripped around central Goa on scooters. We took in Old Goa which at its peak in the sixteenth century was one of the largest and most powerful cities in the world. Now all that remains are a few strikingly white-washed churches and a basilica amid the dense jungle that has enveloped the area. The Church of Divar on Divar Island and Chapel of Our Lady of the Mount which lay just outside Old Goa, atop two hills, afford great views of the Mandovi River and Old Goa, but typical of the poor maintenance which seems to characterize a lot of historical Indian architecture, both were derelict and closed to the public. Although this did mean we got them to ourselves. One even had restoration completed as recent as 2001 but had still been left to deteriorate rapidly.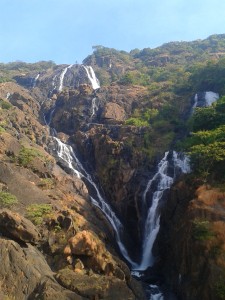 Our next day trip saw us jump on our scooters to Dudhesghar Waterfalls, the 2nd highest falls in India. Avoiding the advice of a local vendor that all jeeps were full and the only way to get there was on an elephant, we jumped in the nearest jeep. I had already seen the falls on my train journey to Hampi a few weeks previously. The train line runs straight across the front of the falls and from our viewpoint below we saw one chug across in front of the cascading waters, certainly a spectacular train related sight. But arguably more spectacular is the train line running up the Konkan coast from Mangalore to Mumbai. Despite the British creating the vastly impressive Indian rail network they refused to go near the Konkan Coast, as it was too dangerous. As landslides and loose boulders have damaged the track since, with one train even falling off a bridge, they had good reason. Passenger trains only started using it in 1998 but the line is undoubtedly a feat of Indian engineering excellence. It has 92 tunnels, swerves round 320 curves and runs over 200 bridges, one of which is the highest in India. And unlike my ability to take photos one handed whilst hanging onto the railings of the train doors, it didn't disappoint…
By Hannah Roberts
Blogging! A phenomenon born in the 90s that has since become a mainstream hobby with the introduction of platforms such as Tumblr, WordPress, Blogger and Blogspot that enable people to broadcast their thoughts to a worldwide audience.
I took up blogging on the advice of a friend who recognised my passion and interest in music, trainers and fashion trends, and suggested that I try my hand at putting these thoughts into words. Not only as she knew it would be something I'd enjoy, but also to support my career hunt. I started off my writing with things that came easy to me, about things that I was interested in and had something to say about. The more I wrote the easier the process came. It was something I was able to add to my CV, giving solid evidence of my creativity, and in turn was something that I believe played a big part in landing my job at Inspiring Interns! It served as a positive talking point during my interview, and prepared me for the subsequent writing task that I was asked to complete prior to joining the company.
For today's graduates, it's something that I, and we as a recruitment agency, can't recommend enough. When discussing this with our HR team who handle the hundreds of applications we receive on a daily basis, it's clear they love to see a blogger's CV. Blogging is an opportunity to demonstrate your initiative and proactivity whilst serving as a strong indication of your creativity (assuming you're writing about a creative subject!), which is particularly invaluable to those looking to crack into creative careers.
For those of you considering putting hand to keyboard but unsure of where to start, it really isn't something you should over-think. First you'll need a topic; whether it's something niche that you feel will give your blog a unique edge, or simply a personal interest/like that you feel you could write about. Find yourself a place in which you feel relaxed without distraction (I personally write best when in bed!) and let the words flow. It may take you a couple of attempts to produce something that you are happy with, but once you've managed to hit publish on your first piece, I can assure you it'll come a lot easier. With practice, you'll find that you will develop your own writing style, forming your own blog identity.
The next step is to grow this identity. As a product of the social generation it's likely that you're an active user of at least two of Facebook, Twitter, LinkedIn, Google+, Pinterest or Instagram – all brilliant platforms get involved in. Using these channels to link and share your content across your social networks not only broadens your audience but allows for the development of your personal online brand. In addition to this it demonstrates your awareness of the importance of self-promotion in today's modern world, something which many employers favour. This experience will act as an invaluable addition to your CV, strengthening your applications, putting you in a better position when it comes to interviews and tasks and will in turn lead to a career (hopefully!).
Not convinced? Let's look at the story of Pete Cashmore. Ever heard of the media kingdom, Mashable? If you don't know…get to know! Mashable is a leading British-American source for news and information on the digital age. With around 100 employees and 34 million unique hits to date, and over 14 million social media followers, Cashmore created his blogging empire back in 2005, as a 19-year old blogging from his bedroom… Enough from us, get writing!
Hannah is a Digital Marketing Executive at Inspiring. She tweets about all things golden here: @hlcroberts and pins all things pretty here: gildthelilly. You can also connect with Hannah on Google+
By Clare Garcia-Rodriguez
The home of Inspiring Interns' Manchester office, the Northern Quarter, is a vibrant hub of eateries, bars, art galleries, independent businesses and quite a few underground Ping-Pong venues.
NOM!

Luck Lust Liquor and Burn
– For a short while LLLB was the only place in Manchester where you could get your grubby paws on an Almost Famous burger. The waiting time is often ridiculous in the evening as there are no bookings taken – just a cryptic text message once your table is ready which often signals the beginning of a mad scramble towards the unfazed beanie-wearing maître d'. I regularly go to this teeny first floor restaurant for both lunch and dinner and would recommend the Alabama Slammer, a pulled pork burrito with blue cheese, chipotle sauce, BBQ sauce and all the other yummy bits you'd expect to find in burrito. Couple this with some chilli cheese fries and I guarantee you will not be able to move for at least 45 minutes.
Also recommended
Pieminister: A wonderfully yummy value-for-money eatery serving gourmet pies all day!
Dough: A simple and bright pizzeria serving hoisin duck and salmon pizza! Not together.
Bem Brasil: More expensive but worth it for the all you can eat Brazillian Barbeque, LOVE.
SLURP!

The time spent waiting for your table at Luck Lust is best used exploring! Whilst in the predicament not two weeks ago with one of my pals visiting from the big smoke we happened upon an underground bar complete with ping-pong tables.
2022NQ
is just off Dale Street, down a small alleyway lined with fairy lights. Once you've made it down the dodgy looking side street and down the very steep stairs you'll find an immense space filled with tables which are slightly too tall and chairs which are slightly too small. A hipster Goldilocks effect if you will. The space is used for a mixture of different functions and there are often artworks for you to gander at over a can of Red Stripe. Over at the bar you can rent bats for a dimly lit game of ping-pong at £5/half hour. Expect the get to know the other teams quite well as you may well spend a lot of time under the table helping to retrieve their balls.
Also recommended
Terrace Bar on Thomas Street: A favourite of mine for the delicious drinks, friendly staff and mixture of UKG and RnB, plus they don't mind you dancing on the tables. Editor's note: make of that what you will!
Trof NQ: Expect wooden interior, great music and a smoking area lined with the carcasses of old stereos.
The Blue Pig: Live music and good beer!
RUNNING MAN!

The sheer volume of bars in the Northern Quarter mean that you are never left out in the cold. One of my personal favourites is
Mint Lounge
. A regular here during my university time at the student-run Itchy Feet nights. Music ranges from ska to rock 'n' roll to blues and all the way back again. Expect to hear the Jackson 5's 'ABC' at least twice. Another place worth a trip to is
Matt & Phred's
. Hear you can see live Jazz and swing around a bit! Plus there's free pizza if you buy two cocktails during happy hour.
Also recommended
The Whiskey Jar: For whiskey and a good time.
Apotheca: For the chemist in you. They also do cocktail lessons!
Odd Bar: Great for after work drinks, though can be crowded. The artwork on the walls is also for sale.
ARTSY

I am not typically a person who appreciates art as much as I possibly should but my boyfriend has quite a lot to say on the matter. As a collector of poster art he once told me his favourite shop in the Northern Quarter was the
Richard Goodall Gallery
on Thomas Street. I would definitely recommend popping in to peruse the music and film posters. You can even purchase entire cinema redux posters of classics such as 'Back to the Future' and 'Breakfast at Tiffany's'.
Also recommended
Centre for Chinese Contemporary Art: Great exhibitions, venue hire and workshops.
Nexus Art Café: A non-profit organisation which focuses on displaying the creations of up-and-coming artists in the city centre. Art and food!
KRAAK: Can be found on our very own Stevenson Square and is a multi-purpose venue designed for exhibiting art, photography, exhibitions and music.
GARMS

Afflecks Palace
describes itself as 'an emporium of eclecticisms, a totem of indie commerce in Manchester's Northern Quarter'. Inside you'll find all kinds of weird and wonderful rooms from tattoo and piercing studios, sweet shops, fancy dress, bespoke trainers and independent clothing brands. I recommend having a lazy walk around inside so as to absorb as much as possible. Having been numerous times I still get confused as to which floor I'm on and which way is up.
Also recommended
Ryan Vintage: Oldham Street. Great for clothing as well as furniture and artwork.
Oi Polloi: Menswear on Thomas Street. Slightly more expensive than the thrift shops in the area but definitely worth a look.
Pop Boutique: Oldham Street. Also has store in London, Leeds, Liverpool and Gothenburg in Sweden. Pop label is sold as far away as Japan and is great for clothing, furniture and kitsch. Big on upcycling.
There are plenty more places to explore in the Northern Quarter (and the rest of the city centre), so get out there and get exploring!
If you're based in the North-West and looking for an internship or graduate job make sure you check out our Manchester vacancies page and be sure to join our LinkedIn Interns and Internships in Manchester group for the latest in northern news and opportunities!
Clare is one of the mighty Inspiring Manchester team! A recent graduate of the University of Manchester, she originally hails from Canterbury in Kent. She's a Libra, enjoys eating chocolate and crisps together and can usually be rendered speechless by a picture of a cute dog. You can find her tweeting @ClareGarcia or add her to your circles on Google+.
Having spent a week clambering over Hampi's sun-kissed boulders and milking every last bit of its relaxed vibe, I felt sufficiently refreshed to tackle a week of intensity and mayhem in Mumbai. But when mentioning I intended to spend a week or more there, a few eyebrows were raised.
With the exception of Varanasi, which is a world of its own, Indian cities can be quite similar: intense, unrelenting, dirty and without much character. But as mentioned here I do love the frenzied buzz and abruptness of Asian cities; they can really get the pulse flowing.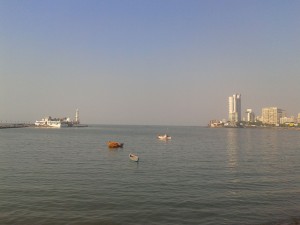 My accommodation was located a few hundred metres from the Gateway of India and Taj Mahal Palace in Colaba, South Mumbai, but my train from Hospet terminated at Lokmanyatilak in the northern suburbs. Perhaps due to my poor nights' sleep, but more likely because I'm a tight-fisted Yorkshire man, I thought it sensible to take the 50 rupee journey on Mumbai's notorious commuter rail network. I'd managed Delhi's excellent, efficient but busy metro system so felt quietly confident I'd be able to handle Mumbai's older, less extensive, but apparently more relentless version. Having used my 40 litre rucksack to barge bus travelers out of the way at various provisional bus stations I had my tactics sorted.
How wrong I was! Watching from a stairway my confidence drained as even in this suburban station the simultaneous crush to get on and off was too much for my sleep deprived self. The mayhem ensued twice more before I judged it quiet enough to place a few well placed bag barges and managed to get a seat far enough from the doorway to observe the crush and rework my tactics. At peak times trains designed to hold 1,800 passengers often carry up to 7,000, with passengers crushed inside and others hanging hazardously out of the open doors, some even on the roof. A quick Google search should give you an idea.
But by avoiding peak times, using the first class carriage (most of the time) and with my initial experience lodged firmly in brain, I became dependant on the system. And it was this dependency on a part of everyday life for Mumbaikers, and that I felt comfortable with the brashness and intensity that travellers and Indians had warned me about, that got me worried. I was getting used to Indian life. A strange and eerie feeling. There was a slight caveat though. December is one of Mumbai's 'winter' months. Temperatures plummet to a low 30C during the day and a mere 25C at night. Just, but only just bearable, for a pasty sun suffering Yorkshire man. I very much doubt I'd be able to cope with the heat and humidity of the remaining ten or eleven months of the year.
Using the commuter network to get around I used my collection of Indian-based books to guide me round the city. I visited the haunts and hideouts described in Shantaram, Narcopolis and Midnights Children. That they are all excellent books helps, but it's a great practice to get to know a city or country more intimately. Plus a lot of fun, trying to work out precisely where events happened. As well as the architectural gems of the Colaba and Fort areas, my favourite Mumbai sights were dotted all over. Dhobi Ghat, Mumbai's human laundry system is next to Malaxmi station, the Haji Ali mosque runs out into the Arabian Sea at Breach Candy, Kotachiwadi, a tiny two street enclave of wooden mansions where you can hear a pin drop is nestled in the midst of central Mumbai and Bangana Tank, a Ghat of sacred temples and pilgrims rest houses hides bang in the middle of Malabar Hill, the richest area of the city.
Mumbai characterises its country more than any other city I've been too, most poignantly in India's vast extremes. All developing countries have extremes but I doubt as huge as Mumbai's. The panoramic view from Narriman point illustrates this perfectly. Starting in Malabar hill you sweep along Marine Drive and Chowpatty beach, two classic middle class hangouts. Central Mumbai's skyscrapers tower above and you finish at Mumbai's World Trade Centre with the Ambedkar Nagar slum directly below which is rapidly spreading into the Arabian Sea. All this is packed into just a 3km stretch along the Back Bay. As a result of the heat, even in the winter months everyone keeps their windows open. From the flyovers that keep the city running my prying eyes (I wasn't being nosy, India doesn't do personal space) allowed themselves into the cramped conditions of Mumbai's apartment dwellers.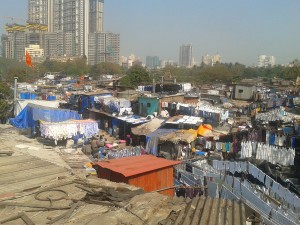 These extremes are at least in part caused by the neglect for infrastructure and lack of prospects in rural India, hence the mass rural urban migration which occurs that I talked about in my Mitraniketan blog. One of the results is the build up of legal and illegal slums. Taking part in a slum tour, despite its good intentions and results, didn't appeal to me due to its overtly intrusive nature. But the slums, though perilously built out of anything from plastic sheets, to branches and to bricks are blasts of colour and contrary to general opinion, are thriving, organized economic zones. The Dharav slum, the biggest in Asia, generates an estimated £350 million a year, yet in spite of this conditions are obviously extremely poor. And much like the West, materialism reigns supreme…I've never seen so many TV satellites in one area.
People tend to dismiss Indian cities when travelling and in some cases I agree. But give Mumbai a go…as long as you can handle the heat!
You may remember a few months back our partnership with Talenthouse on giving you glorious grads the opportunity to enter their 3D Design Competition in partnership with 100% design and iMakr?
Well we're back! We've taken our friendship with Talenthouse to the next level in 2014 and are pleased to announce our latest competition for you to get involved in. This one's for all the fresh students and graduates out there interested in film making.
In association with #SundanceLondon, we bring you the opportunity to have your film screened as part of Sundance London Film and Music Festival, a curated event for students who love film, recognised as one of the most prestigious events in the film calendar! We're inviting filmmakers and directors alike to submit a short 3-5 minute film inspired by the theme 'Making A Go Of It'. For more details on the creative brief and how to get involved, take a look below.
Know any film fanatics keen to gain industry exposure? Share this blog post with them on Twitter, Facebook or link back here from your own blog and help us spread this competition! Success in an opportunity like this could not only boost your CV, it presents a fantastic opportunity for budding filmmakers to showcase their skills and talents on an exciting platform in front of potential employers and partners. Previous winners have been picked up by various directors and institutes, gaining prestigious recognition and a huge helping hand in the film world!
Hannah is a Digital Marketing Executive at Inspiring. She tweets about all things golden here: @hlcroberts and pins all things pretty here: gildthelilly. You can also connect with Hannah on Google+
Last Thursday saw the official launch of Inspiring Interns' Manchester office, as the great and the good of the North West gathered at Kosmonaut Bar in the city's Northern Quarter to chat, drink and make merry.
We were delighted to see so many old and new friends there and we're very grateful to everyone for contributing to what was (if we do say so ourselves!) a successful evening.
Here's a small selection of photos from the event, do drop us a line (@inspiringintern or email Andrew at InspiringInterns.com) if you would like to see more!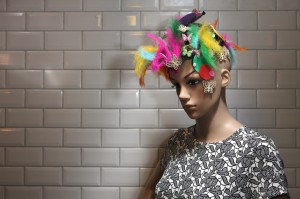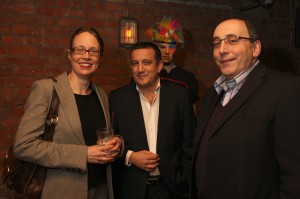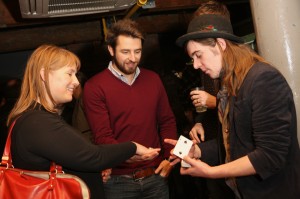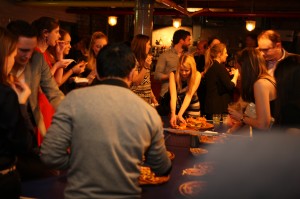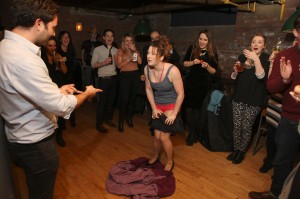 If you're based in the North West and looking for an internship or graduate job make sure you check out our Manchester vacancies page and be sure to join our LinkedIn Interns and Internships in Manchester group for the latest in northern news and opportunities!
Having seen the city encroached by the high water levels of the Ganges just after the monsoon, Varanasi looked a different place a month later when I returned having spent a few weeks in off the beaten track Arunachal Pradesh.
I had travelled back to Varanasi to spend more time at FairMail Cards. Coming out as a top Google search result for 'free volunteering in India' nearly 10 months before I set off, it seemed only right I spent time with the company having spent 3 years working for Hallmark Cards. The company, which has an office in Varanasi and one in Peru, trains local underprivileged children in photography, subsequently using their photographs on post and greeting cards for European markets. The children receive 50% of the profit of each card sold which has their photo on. A lot of NGOs and Fair trade companies fail to provide a context to their purpose, but it was great to see the passion with which the children went about their tasks. They clearly enjoy the time they spend at the FairMail centre, they learn a new skill (a few of the children who worked in the company now have their own photography companies) and develop confidence. Ideally with the money they receive, they should also learn to budget and prioritise. But in practice, as is common in Indian culture, most of the money goes on the family or at least on looking after the elders. It's clearly not the idea behind the company's plan, but it's not reasonable to try and change the principles of such an embedded cultural practice.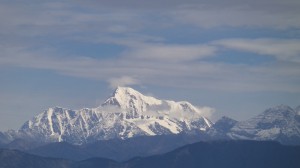 Part of my time with the company was spent working on one of their holiday packages to the rarely visited state of Uttarakhand. Tourists, who usually have a special interest in photography, fund the trip allowing the company to take a number of children to see areas of the country they wouldn't usually get chance to visit. The trip is based around tasks set up to produce as many new photos as possible. It was a great way to see areas off the beaten track of the state and provided me with my first view of the Himalayas. Waking up at 5.30am on my birthday to the sound of monkeys throwing oranges at my door and to the sight of Nanda Devi, India's second highest peak, glimmering in the sunrise was certainly worth the early and rather brash wake up call. If you're after an alternative holiday, like to visit isolated places and want to teach a thing or two to some very talented children, a FairMail trip would be right up your street.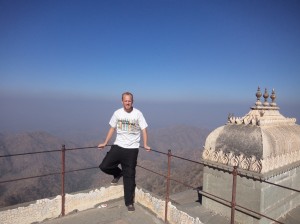 Previous to my two visits to Varanasi I had spent time in Orchha in the central state of Madyha Pradesh. Initially intending to spend just a night or two in the former Maharajan walled city I ended up staying for five nights. The ascendable, derelict forts and palaces drew me back day after day. I have a vague fascination with derelict buildings so Orchha fulfilled my ideal of an architecturally inspiring derelict odyssey. Watching vultures sore into the sunset and listening to kingfishers and parakeets sing from the top floor of a riverside palace that offered views of a temple strewn horizon added a touch of the surreal.
Fast forward a month or so and having been on the waiting list for a train out of Varanasi for three days I made my way South West back into Madhya Pradesh to the Om shaped island of Omkareshwar. A nationwide spiritual hotspot where pilgrims come to wash away their sins, Omkareshwar has a very relaxed spiritual vibe and provides brilliant views of the controversial Namarda Dam as well as numerous gauntlet paths where you had to avoid the gangster-like Langur monkeys from preying on you. Staying in Manu Guesthouse, the only accommodation on the island, there were also some very interesting characters. I spent most of the first day with two Dutch girls who, like me, were immersed in Shantaram (a Gregory David Roberts novel), so trying to hide our emotions as the story twisted and turned into a practice of muted reactions. Nicknamed 'Silent Baba' a French guy was staying in the guesthouse who was attempting a self-imposed four months silence…obviously getting anything out of him was pretty hard.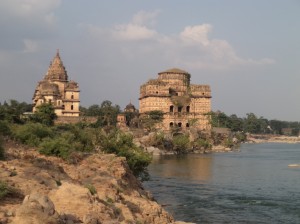 Before a disastrously long 26 hour bus journey to Goa in which I finally submitted to the dreaded Delhi Belly (fewer details the better), I spent a few days exploring the Afghan ruins around plateau perched Mandu. Clearly the architects of the tombs and monuments didn't foresee that unfit tourists would use one-geared bikes to get from one ruin to another. Building them at the top of small, but steep, rises proved a rather annoying inconvenience, blowing to smithereens any notion that my time in India had got me fitter. Still, the sights of the land below more than made up for my dizziness, exceedingly heavy breathing and the embarrassment of pushing my bike past giggling groups of 7 year olds.
Madhya Pradesh (MP) has been the most traditional state I have been to so far. The vivid colours of the women's sarees and salwar kameez really stood out and it's these vibrant colours that adorn clothing and buildings that is one of my favourite aspects of the North. Unlike Arunachal Pradesh, where people could sustainably live off the land due to its beneficial climate, MP was far more subsistent and arid and the sight and feeling of rural poverty and inequality far more apparent.
Having not been on my itinerary at the start, I'm very glad I visited the state as it gives you a glimpse of a very traditional way of life, it is extremely colourful and there are plenty of little known beauties.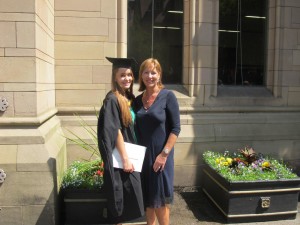 So, you've finally finished university. The relief is overwhelming. What follows is a blur because obviously you need to make up for all those days you were slogging away in the library by celebrating constantly. However, before you know it your old nemesis, panic, returns. You're realising that you have rapidly morphed from a joyful, elated student into just another unemployed graduate.
The speech given at my graduation ceremony, which I wrongly thought might be inspiring or full of hope, constantly mentioned that we were 'the rebound generation'. Just a light reminder that many graduates can't get jobs out of university so they have no choice but to return back home. Brilliant. After graduation I applied for a range of jobs and mostly heard nothing back. I would have actually preferred to be getting rejection emails. It's the silence that bothered me, it left me in complete limbo. Every day checking emails, waiting to see if anyone had replied. To be honest, I didn't know what I wanted to do when I finished university. The future was looking bleak – family members and friends consistently asked me what my plan was and it was becoming frustrating /embarrassing that I actually had no idea. So, low and behold, I decided that the best thing to do was to apply for an MA in Religion and Political Life. This, I thought, was the way to successfully end the on-going limbo. I reassured myself over the summer months that this would give me time to think about what I really wanted to do and that it would make me 'oh so' employable. I started in September and it didn't take me long to realise that although doing a master's can be a great thing to do, it should not be used as a way to bridge a gap. Unsurprisingly, after a mere month, I quit.
Looking back I can see that there are a few questions I should have seriously thought about before committing to doing a postgrad degree. Hence the phrase; hindsight's 20/20. So if you are thinking about doing a master's here are a few questions you should consider before you commit:
1) Do you have a lot of work experience?
2) If you don't have a lot of work experience, will your chances of getting a job increase if you do a postgrad instead of spending the time gaining experience through internships etc.?
3) Will doing a postgraduate degree help you figure out what you want to do?

The first two questions are important because many people you speak to about doing a master's degree will tell you that firstly, 'having a master's degree is becoming the norm, you need it to be employable' and secondly that 'having a master's will allow you to earn at least double the amount you would have earned without one'. I am not saying these people are lying, but these things are not true in ALL situations. Some job specifications will be looking for specific master's but others will be looking for the candidate with the most experience in the field. Don't underestimate how important experience can be, doing a master's does not always equate to actual experience within the work place.
The question most relevant to my situation is the third question. I have always wanted to do a job where I was dealing with people but that doesn't exactly narrow my job search down by much. Doing a master's degree in Religion and Political Life was not going to help me figure this out. Getting experience through internships or work experience where I was dealing with people would firstly, help me decide what career path I wanted to go down and secondly, make me more employable.
After I quit, I started to apply for internships in HR. It was something I thought I might like but I had never had a chance to gain experience in the field. I have now started my Internship at Inspiring Interns and I am loving it!
How I feel now, after having worked for a month at Inspiring Interns, couldn't differ more from how I felt after doing a month of my master's. I'm excited about what I'm doing and learning every day and I really enjoy the atmosphere in the office. It's the best decision I've made so far, so if you are having trouble deciding what you want to do or having difficulty getting a grad job I would definitely recommend applying for an internship.
This blog was provided by the lovely Hannah Ayres, one of Inspiring's mighty Manchester team!
By Hannah Roberts
This week we are celebrating our fifth birthday! That's more than 1,130 days spent placing over 3,200 candidates into internships and graduate jobs. And with 66% of our internships leading to full-time careers, it's a nice Inspiring-sized dent in the UK graduate unemployment figures; one that we're very proud of.
To say thanks to a bunch of you that we have placed and worked with over the years, we put together this mosaic – zoom in and see if you can find yourself!
We may be small, be we're a mighty team, made up of an eclectic mix of characters with 19 in our London HQ and one across the deep blue in Brazil. Some here since the beginning, some still in their first month of interning with Inspiring. Last year alone we took on seven new members of staff (myself included!), all of whom were interns to begin with.
It's been an exciting start to 2014 with the opening of our second office in Manchester's Northern Quarter. Our very own Andrew Scherer, previously Marketing and Communications Manager of the London office, took the seeds of Inspiring up to the cold lands of the North to grow our second branch, and what a job he's done. With a tenacious team of four, our sister office is settling in nicely, working hard to meet the growing demand for internships and graduate jobs in the area.
Ahead of their official launch in two weeks, Andrew gives us an update from up north…

"One of the joys of working at Inspiring has been seeing us grow from young upstart to established player in the London graduate scene. The chance to take our successful model and replicate it in Manchester – with its own unique, vibrant culture and companies – has already been a hugely satisfying challenge. We have had a staggering amount of interest from businesses and candidates alike and I'm confident we will soon be giving the London office a run for its money!"
Taking on 2014 twice as strong as before, we're looking forward to seeing a successful 2014 spent helping even more candidates into amazing opportunities and companies find fresh talent to grow their businesses. Here's to the next five!
Hannah is a Digital Marketing Executive at Inspiring. She tweets about all things golden here: @hlcroberts and pins all things pretty here: gildthelilly. You can also connect with Hannah on Google+
What? Beginner's coding workshop
When? Monday 27th January
Where? Shepherd's Bush, West London
The ability to read and write code (we're talking the computer kind, not Morse) is an incredibly powerful skill. Any job which requires you to work closely with a developer (we're talking digital marketing, advertising, account management in a media agency and many others) means you will most likely need to know about the fundamental elements of what a website is and how it is built, and this involves learning how to code. Even basic web development knowledge can give any job application a huge advantage – technical know-how is invaluable when paired with a bit of commercial nous and an awareness of the basics of marketing.
As an intern recruitment agency with five years' experience of placing over 3,000 graduates into internships and jobs, we at Inspiring Interns understand how crucial coding knowledge can be in differentiating your CV from stiff competition and getting a job, so we thought we'd recommend a short course to help you get started.
We have partnered with Coderwave to offer you the chance to take part in a one-day coding workshop for beginners at a discounted price taking place on Monday 27th January.
You will understand what it actually means to publish and create a website, familiarise with the technical terms, and in general learn more about software development practises. You'll learn how to use HTML, CSS and a basic introduction to Ruby programming.
Sign up here and use our exclusive discount code 'inspire' for 20% discount. If you are an unemployed graduate and you claim JSA, check with your adviser at your job centre as you may be eligible for funding, but this is completely at their discretion.
The technical stuff the workshop will cover:
• Introduction: Internet, Client/Server Architecture and Programming.
• How to use the Terminal and Command Prompt.
• Basic Ruby Programming.
• Setting up working environment.
• Sublime Text Editor.
• Ruby Framework for Server Programming: Sinatra.
• HTML and CSS introduction.
• Publish your website: Setting up Heroku and Git.
• Responsive Web Design: Use Twitter Bootstrap to create a mobile friendly site.
• Grid System, and CSS styling.
If this all sounds alien to you, it's time to learn to code.
And if you're already up-to-scratch with the above, the discount code will give you a 20% discount on Coderwave's more advanced courses too.
Please note: Inspiring Interns has no official affiliation with Coderwave and only recommends this third party service.