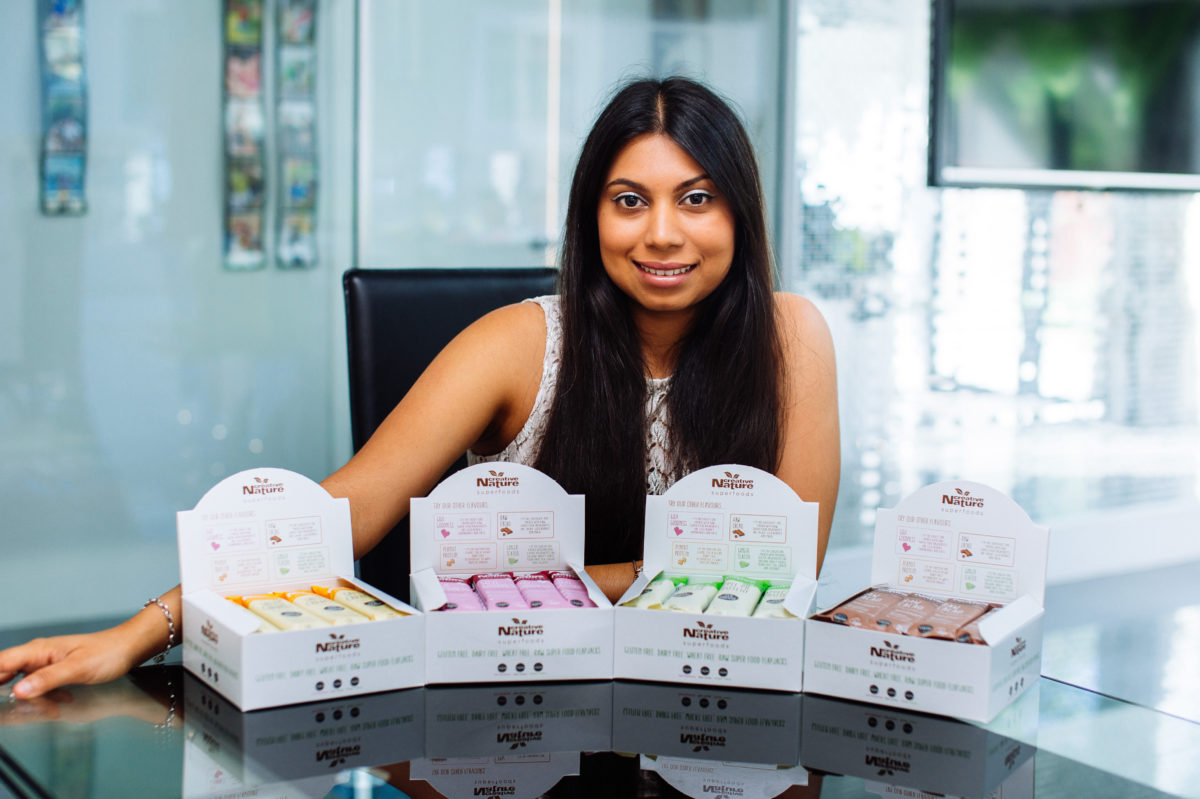 We Chatted to the CEO of Super-food Brand, Creative Nature!
Some background
Julianne Ponan is the 28 year old chief executive of super food brand Creative Nature which is based in Greater London, a company which supplies raw super foods, snacks and food mixes suitable for everyone including those who are nutrition conscious, vegetarians, vegans and those who live with food allergy or intolerance.
Creative Nature's products can be found in supermarkets and retail outlets including the Co-Op, Sainsbury's, Asda, Natural Kitchen, TK Maxx and products are exported to Iceland, Switzerland, and Jordan. The team plan to explore other overseas markets during 2018 and also supply to other supermarkets, café chains, delis and coffee shops. The company has just been named UK Small Business of the Year 2018.
Julianne said: "Before I started in my business I was working overseas in a banking job after completing a degree in accounting and investment management. On a trip home, I was asked to look at the books of a company a family member had invested in.
"He wasn't getting any money and couldn't understand what was happening. I  assessed the accounts and found heavy losses of around £56,000.
"I was then challenged to take over this failing company. I agreed to 'have a go' but with strict conditions which including me running it without interference. I'd always wanted to start a food brand – designed for people like me. I'm very allergic so snacking or grabbing food on the go was utterly impossible. So that's what I did and gradually the brand has grown.
"It's been an amazing and challenging journey so far – my vision is to become the go-to brand in the free-from sector."
What inspired you to start your own business?
The desire was always there. Looking back I had an entrepreneurial spirit from a young age. I would do little things to earn money such as chores around the house and I  would also charge family members at parties and events 50p to get a drink.  Later while at university, I even started a short-lived enterprise with a friend of bulk-buying ice cream and selling it on campus – but the university shut us down!
When the opportunity came with Creative Nature, I decided to go for it.
A day in the life of Julianne Ponan
I get up around 6am and start my day with a bike ride or a Zumba class as I find exercise really helps me be productive. I'll be at work early generally, unless I'm travelling.
I'll then do a quick check of emails and social media replies and prepare for the day ahead.
Next is breakfast which is a glass of juice with Creative Nature Goji Goodness bar
Between 9am & 10am we'll have a team briefing so everyone knows what needs to be achieved that day across the business.
If I need to I'll  go off for meetings and if they are in London I leave early due to the routine of dealing with delays in public transport.
I may also do some taste testing for new products.
Marketing is a big part of brand awareness and – even when working with other people to support me – I cannot opt out of it totally. No one can know my business like me – so I'll spend some time writing articles or supplying content for my associates to work with to help us all raise the profile of Creative Nature.
I will also always keep an eye on the finances – and live data is important to me.
One important thing in any business to keep that sales pipeline going is the – follow up. So I set aside time for me – and prompt my team – to follow up on new contacts. This might be people I've met, or the team have met, or connections made on social media.
Often in the evening I'll be going to a networking event to meet new people or giving a talk and sharing my story – or listening to the stories of others who inspire me.
Last thing at night, I'll double check my diary for the next day and I'll also run through a mental checklist of my to-do list. Did I complete today's tasks? What do I need to pick upon tomorrow?
Inspiring Interns is a recruitment agency specialising in all the internships and graduate jobs London has to offer.