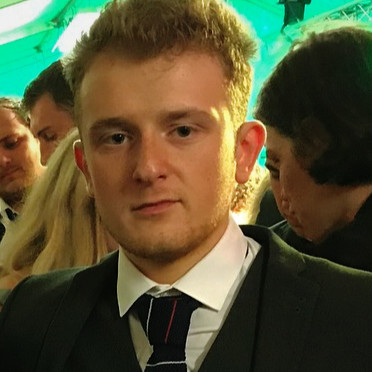 Andrew – Account Executive @ creative agency, 4MAT
Why did you sign up to Inspiring Interns?
After finishing university, I wasn't entirely sure what I wanted to do for a career. So, I found Inspiring Interns online recruiting for several intriguing internships that perked my interest.
How did you find the process? Tell us about your experience with us.
It was all very straight forward. I was contacted by Inspiring Interns, who arranged a face-to-face interview at the Inspiring Interns office. At this meeting, I recorded a video CV and then discussed my preferences for jobs that I'd like to do.
After this process, Inspiring Interns got in touch with job interview offers via email or phone. Once I liked the look of a particular job spec, Inspiring Interns helped me to prepare for my first interview.
Due to their experience, they ensured that I knew what to expect and gave some great advice. I was offered the job and accepted it.
How did you remain resilient when job hunting?
Inspiring Interns helped a lot. They were always on hand via email or call to discuss either of the interview stages and made sure I was prepared for both. I was also determined to give the interviews my best efforts!
How did you decide this was the company for you?
For my first graduate job, I wanted to work for a small company that was in a nice area of London and this ticked both boxes.
What was the interview process like and how did you prepare for it?
The interview process consisted of two stages. The first was a one-on-one with the Managing Director. Whilst the second was with the Operations Manager and the Project Management team leader.
Inspiring Interns were on hand to provide me with information about potential questions that I could be asked and how to approach the company. Alongside my research and efforts, this helped to ensure that I got the job offer.
What is the best bit about working for them?
The company culture is great. Everyone is really supportive of each other and the office ambience makes you enjoy going to work and cooperate with your colleagues.
What type of things do you do on a day-to-day basis?
I offer first-line support for clients and work on longer-term projects, ensuring that these are planned out and executed accordingly to deadlines. A few examples include: if a website goes down, the client contacts me and I need to liaise with the appropriate teams in the office to ensure that the bugs are fixed and get the website back up and running.
Another is helping to manage some website changes, which usually involves booking in time to the schedule to ensure that design work and development time is booked in and to keep an eye on whether work is being completed. I usually see this process out from start to finish.
What skills do you use on a daily basis?
Organisational skills are the most important. You need to be able to plan and structure your days and weeks to ensure that projects and tasks are carried out.
Communication is also key, from being able to discuss task instructions internally to relaying information to a client, it's highly important.
What new skills have you learnt?
As I'm working with websites, I have learnt a lot about HTML coding and feel quite confident in this. I would also say that my communication skills have improved; in both speaking to clients over the phone and via email.
What is the best part of your job?
Interacting with different teams and people and having ownership over a project. Once a project or task is completed to a high standard, you are rewarded with a sense of achievement and pride.
Did you know this was what you wanted to do when you left University?
No, not at all.
What was the most difficult thing about starting working?
Probably the early starts and finding time to go to the gym! What tips would you give new grads about job hunting?
Do sign up with several recruitment companies, especially Inspiring Interns as they help to make the job hunt a much more straightforward and less stressful process.
What tips would you give new grads about interviews?
Just remain calm and collected and make sure that you're over-prepared. You should be able to answer any question that is sprung on you. Keep in mind that preparation and organisation are key in both the interview process and when you start the job!
What tips would you give new grads about starting work?
Make a good impression in your first few weeks and it will help you in the long term.