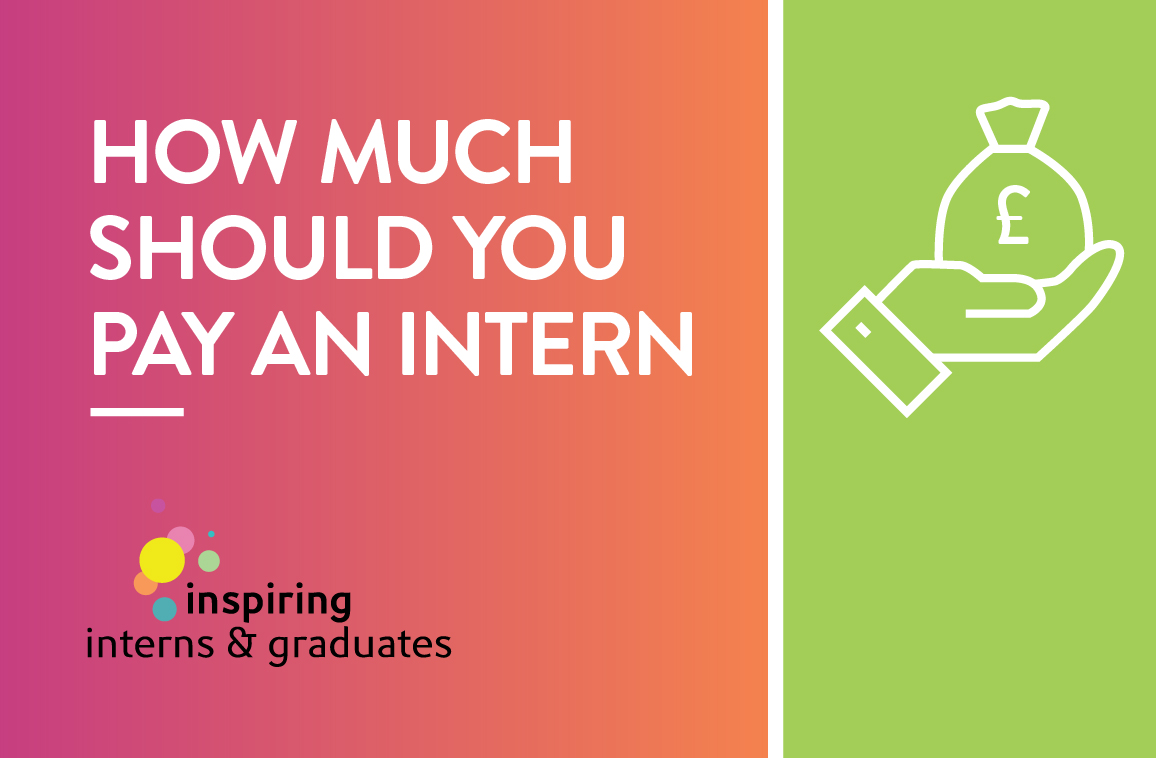 How much should you pay an intern?
Want to hire an intern or graduate but have no idea how much their salary should be? Read on how much should you pay an intern.
National minimum wage 
An intern's rights depend on their legal status and whether they are classed as:
A volunteer
A worker
An employee
An intern, when defined as a worker, is legally obliged to receive at least national minimum wage. At current, this is £7.70 per hour for those between 21-24 and £8.21 per hour for those 25+.
By law, if your intern is doing more than just shadowing other employees, they are classed as a 'worker' and must legally be paid for the work they do.  This includes if they:
Are promised a contract of future work
They are working on set tasks that are unsupervised
London living wage 
We recommend paying the London Living Wage, which is currently set at £10.55 per hour. This is calculated every year and aims to reflect the true cost of living in London. The rates are calculated annually by the Resolution Foundation and overseen by the Living Wage Commission, based on the best available evidence about living standards in London and the UK. It is not obligatory like the National Minimum Wage, but paid voluntarily by over 4,700 UK employers.
The average graduate starting salary in the UK is £18,000 – £22,000. Here is a rough guide of average graduate salaries for roles in London:
Digital marketing/PR – £18,000 – £22,000
Recruitment £20,000 – £25,000
Sales £18,000 – £23,000
Analytics £22,000 – £25,000
Research Assistant £21,000 – £24,000
The salary you choose to pay your intern or graduate is ultimately down to you. However, these are some factors you should take into consideration if you want to make a good hire.
Their experience
Will this be their first full-time job? Have they carried out several internships or work placements in the same industry? Have they freelanced, developing their skills in a certain area? If so, they will expect a higher salary than someone fresh out of university with no experience.
Their skills
How advanced are their skills? How in-demand are their skills? Do they have advanced knowledge of a technical programme? Offering a more competitive salary to these kinds of candidates can result in a better match.
The sector/ industry 
Some industries have a skills shortage and are more in demand of new hires than others. This includes tech sectors such as web development, software development, AI, machine learning, robotics and cyber security, which need people with specialist skills. They usually offer higher salaries to attract the best, most skilled candidates..
Their responsibility 
Will your new hire be given a lot of autonomy over projects, or will they be supported closely all the way? How much freedom and independence you want them to have will impend on how high a salary to pay. This salary would be higher still if they were managing or training other members of staff.
When you don't need to pay an intern
You're a charity
Charities are currently exempt from National minimum wage legislation.
It's a student placement 
Students required to do an internship for less than one year as part of a UK-based further or higher education course aren't entitled to the National Minimum Wage.
They are a volunteer 
If your intern is classified a volunteer, they do not require payment. Voluntary work is generally more flexible, with volunteers able to choose their hours and fit voluntary work around other things such as work or studying.
They are just shadowing 
If the graduate/ intern is required to simply watch over members of staff without carrying out any independent work, you are not required to pay a salary.
If your intern falls under any of the above, it is reasonable to at least offer to fund their travel and lunch expenses, so they aren't out of pocket at the end of the day.
To hire an intern through us, please take a look at the video CVs of our recent candidates and get in touch by calling 0207 269 6720 or email sales@inspiringinterns.com.