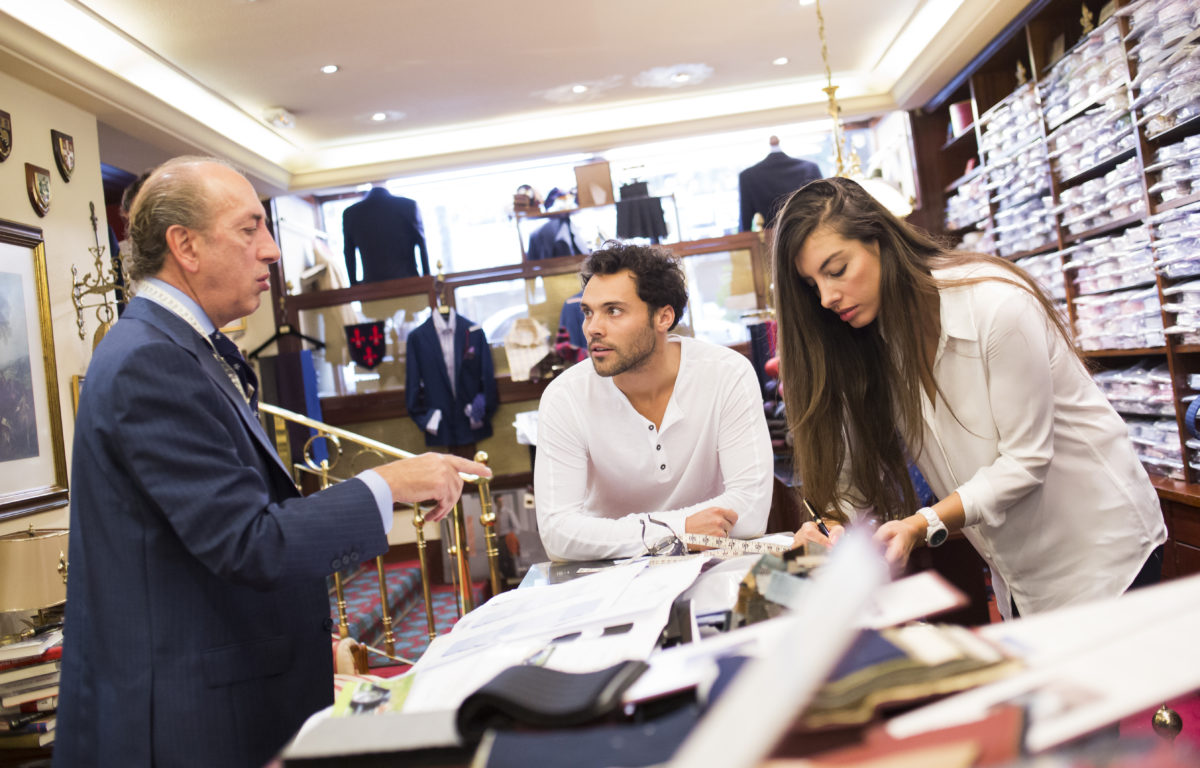 A Day in the Life of A Fashion Business Owner
We spoke to Ana who has her own business, Santamaria Shirt Makers, which makes bespoke men and women's shirts to the highest standards in the heart of Notting Hill.
Having studied for a degree in psychology and a Masters in human resources, my career initially followed a traditional corporate path. I worked at Merrill Lynch, then moved to Primark, Jigsaw, and later to Burberry as a product developer.
In my time there learned a lot about developing products and how to take them to market. However, after a few years there came a point when I realised that I really wanted to do something for myself, rather than work for someone else. That something would become Santamaria Shirt Makers.
Here's my typical day at our showroom in Notting Hill.
7:00
Wake up. Drink a big glass of water and take Winston, my lovely mini longhair dachshund, for a long walk in Hyde Park. It is so peaceful and quiet at this time that it clears my mind and prepares me for the day ahead
8:00
Back home. Breakfast smoothie, shower and get ready
9:00
Arrive at the store. This is one of the most critical parts of the day for me so even though I'm at the store, I only open for customers at 10:00. I opened the store at 9:00 in the past but have found that as there is not a lot of footfall at this time of the day, it is better to block this time to plan my day and catch up on emails.
Spain, where our workshop is based, is one hour ahead and by this time any issues in production that cannot be resolved there on site will have been escalated to me. It is especially important to respond and resolve them as quickly as possible and the tailors can continue making our beautiful shirts
10:00
Open the store. It's still relatively quiet so I continue with emails and order processing. At this stage I start dealing will all the non-critical business tasks like arranging photo-shoots, collaborations, PR to-dos etc.
11:00
Most days at this time there will be a fitting, either by appointment or from foot traffic as the area gets busier with people going on their lunch breaks
14:00
This is when I take my lunch break. I always leave the store to get some fresh air and a quick walk. I try to eat light for lunch so that I am not lethargic in the afternoon. A normal lunch for me is a soup with a side, and a piece of fruit. CRUSH Notting Hill is really good and the CEO is a client
15:00
Back at the store now. This is usually a quiet time both in terms of footfall, appointments and communications with the workshop so I try catch up on online activity.
I take this chance to review the performance of the online campaigns we have running at the time and review the social media activity of our accounts. It is when I interact with our followers and create social posts
16:00
This is the second period of the day when fitting appointments are usually booked, as it's the time many people are leaving work
18:00
I try and do the more admin tasks that do not require a lot of brain activity at the end of the day. It is also when I pass the orders of the day to the workshop in Madrid
19:00
Time to leave the store
20:00
Cook and eat dinner
21:00
"Me" and family time
22:00
Screens off!
23:00
Time to sleep, 8 hours rest is very important to me
Inspiring Interns is a recruitment agency specialising in all the internships and graduate jobs London has to offer.