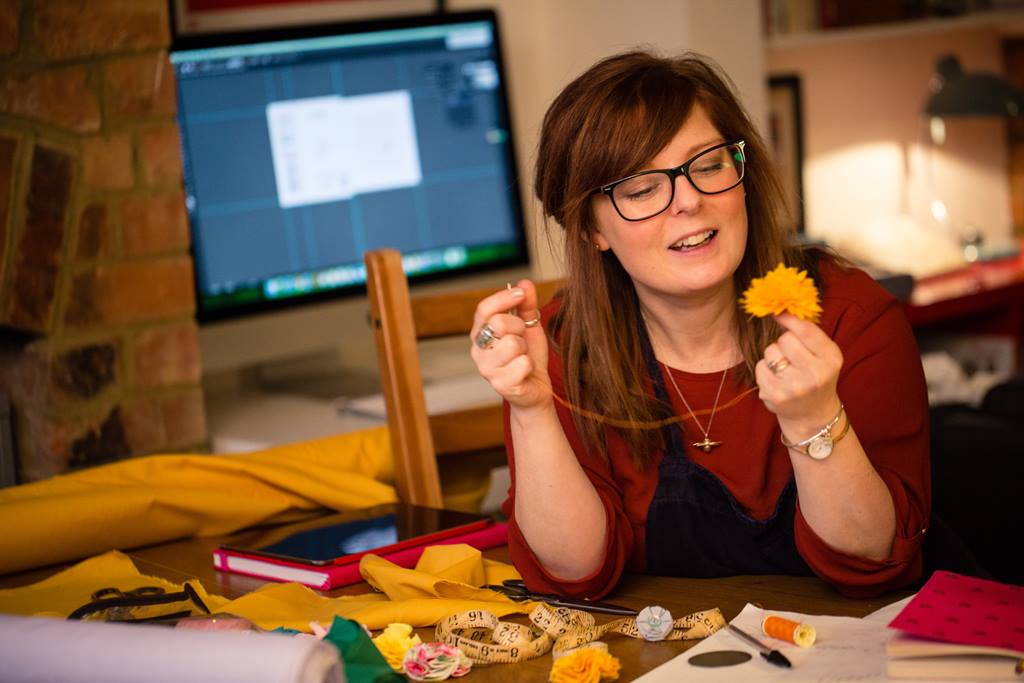 A Day in the Life of a Craft Business Owner
We spoke to Paula Milner, owner and founder of The Crafty Lass – a craft workshops and creative commissions company based in the beautiful village of Lower Boddington, Northamptonshire.
Since graduating from Loughborough University with a 1st Class BA (Hons) degree in Printed Textile Design my career has taken quite a varied path!
From fashion buying and merchandising, to working at the Waitrose Head Office with their international accounts, and then grocery forecasting, a brief stint back to fashion and then on to chocolate demand planning…
I reached a point where it was clear I needed to escape the traditional 9-5 role and start something for myself. I literally quit my job, with nothing to go to  and have since built the company up from scratch.
I took on a part time job in a Craft Buyer and Guest TV Demonstrator role for a shopping TV company in London to support the longer term 'dream' – whilst also running craft workshops on a 'mobile' basis.
However, now: The Crafty Lass is my sole business focus… and we have a dedicated workshop studio – The Crafty Lass Old Grain Store – full of rustic charm, yet a stylish, industrial setting.
Being a small business owner, I often work 7 days a week and every day is different – you need to wear many hats! But here is an example of how a typical mid-week day may run at The Crafty Lass® HQ.
5.30
Wake up to the sound of our 'toddler' alarm clock. Try and snooze for an hour but really – checking social media updates, emails & the day's tasks ahead.
6.30
Up, shower, dress, breakfast for us all, make-up on, answering emails, some household chores – usually whilst preparing dinner for later too! #multitasking
9:00
Target time to start 'real' work. If needed, during the week – our little man will usually spend the day with my mum or with childcare.
Time to head to the studio!
9.01
Arrive at the studio – it is just across the way from our house!  Start setting up for a morning of workshop prep and research.
It is really important to make demonstration items that we are planning to teach – to test the products and materials, calculate the time it takes and to ensure it is right for our crafty customers!
12:30
Time for a break and some well-earned lunch.
13:15
Rested and refuelled – I am ready for an afternoon of commission making, responding to PR requests, accounts, and re-visiting my to-do list. I often start my list again daily – to ensure nothing gets missed and I am prioritising things correctly.
17:00
It's time to cook dinner for our little boy,  but still often juggling with answering emails or responding to social media comments and enquiries.
18:00
Business work stops. Time for some mummy and son time – bath and bed!
19:00
Little man asleep, so time to crack on with updating our website to advertise new classes, blog posts, sharing social media updates of what achieved in the day, what we are interested in, what we are planning!
21:00
Finally see The Husband. Often a 'working' dinner, either at our kitchen island, or sometimes a sneaky sofa dinner in front of a rare TV catch up.
23:00
Finally, bed time!