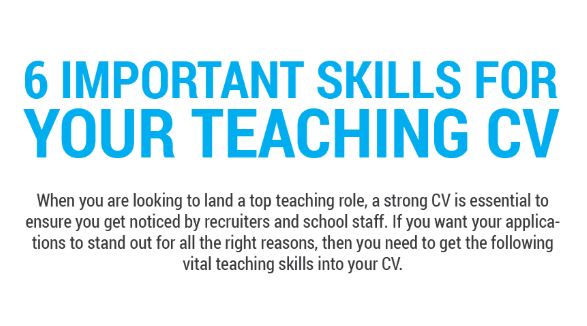 6 Important Things For Your Teaching CV
If you're building up your teaching CV, you need to think about what recruiters and school employers want to see. You need to show evidence of key teaching skills like classroom management if you want to land the best entry level teaching jobs.
Make sure you have great evidence of building a strategy for managing a class – A potential teacher needs to show they have the skill to keep a class on track.
Of course, this leads directly into the ability to plan out your lessons which can be evident from roles you previously filled. It's important to recognise that it's not just about the classroom though.
You need to show you can work well with parents too, communicating and building connections with them and that you know what they care about. One example of this would be health and safety. Attention to safeguarding should be present on your CV.
On top of this, you need basic lesson skills from being able to monitor an individual's performance in your class and in exams to a knowledge of the curriculum. This does need to match your chosen level and the subjects you're interested in teaching.
If you're still struggling to build your teaching CV look at this infographic from StandOut CV. We guarantee it will help!
Inspiring Interns is a recruitment agency specialising in all the internships and graduate jobs London has to offer.