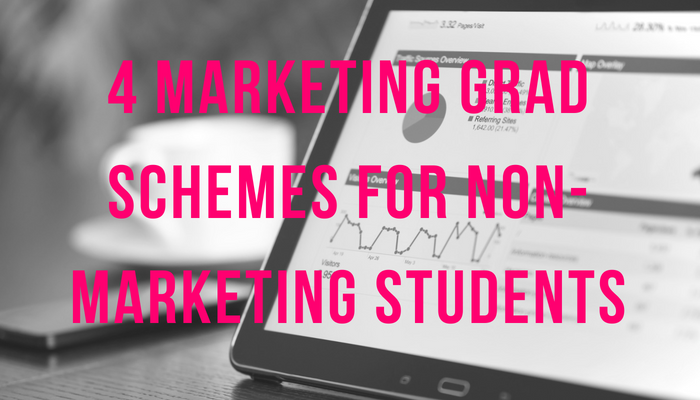 4 Marketing Grad Schemes For Non-Marketing Students
If you're a non-marketing student but a marketing career appeals to you, don't let this put you off! Lots of employers are interested in non-marketing students. So long as you can demonstrate that you've got the skills for the job, they want to hear from you! Here are a few to get you started.
Sidenote: most grad schemes are open to applicants from September onwards!
Unilever Future Leaders Programme (marketing) 
Unilever is one of the biggest names in the fast-moving consumer goods industry, producing everything from razors to ravioli. This is THE company to work for if you want variety in your day-to-day!
Unilever run a host of 3-year grad schemes known as Future Leader Programmes. Their marketing scheme welcomes final year students and recent graduates across all disciplines, provided that they have obtained or are predicted a 2:1. You'll learn from the best in the business and play a part in bringing Unilever's many brands to life.
Virgin Media Commercial Marketing Graduate Scheme 
This grad scheme is one of a kind. Not only will you gain valuable experience within the marketing side of the business, but you'll also get to know the company much better with some training on the commercial side of things i.e. you'll learn about how the business is managed on a daily basis.
This grad scheme is a bit like Two For Tuesdays;  you get two for the price of one! That is, you'll be learning how to perform successfully in two different roles within one grad scheme. Not quite tasty pizza, but a smashing deal nonetheless.
Two years of training, great pay, loads of learning; what more could you want from a grad scheme? Sign up to be notified when applications for the 2019 scheme are open!
Sky Business Programme (marketing)
Sky certainly know how to sell their products and services, whether its an eye-catching billboard or an attention-grabbing TV ad, Sky have tried and tested it, many times.
Sky grad schemes are open to applicants from September onwards and run for two years. Their marketing scheme is open to degrees holders across all disciplines. So long as you can prove that you're brimming with creative ideas and you're not afraid to share them, they'll definitely take your application into consideration!
Merkle Periscopix Graduate Paid Social Marketing Scheme 
Merkle Periscopix are a digital marketing agency that work with a number of companies to help them improve upon their marketing strategies, using a mix of smart tech and intelligent minds.
Their Paid Social Marketing Scheme is perfect for those of you who are interested in the social media side of marketing. And let's face it, social media is a pretty big deal when it comes to marketing in the modern age. You'll learn how to help companies make the most out of social media, using your own ideas alongside some top-class training!
P.S. Don't fret if a grad scheme doesn't fall into your hands. There are a whole range of marketing jobs and internships out there that welcome recent graduates; get those applications in once you've finished finals, and don't give up!
Eleanor Blake writes for Inspiring Interns, which specialises in sourcing candidates for graduate jobs and  internships London.