At university, you're repeatedly told to 'read around your subject' to improve your knowledge and make the most out of your degree. The same applies to your job hunt. From having something extra and insightful to say in an interview situation, to having a more well-rounded understanding of what is happening in the industry you are keen to get into – stay up-to-date and you could put yourself ahead of the pack! We've taken eight key industries and researched the publications you should be reading, the websites you should frequently be visiting and who you should be following on Twitter. We recommend checking out the Twitter profiles of all the websites we've mentioned to get a bite-size daily dose of information!
Contents
If you have an industry in mind, click on the word below and you'll jump to it.
•Advertising
•Computing & IT
•Digital & Media
•Finance
•HR & Recruitment
•Marketing
•PR
•Sales & Business Development
–
Advertising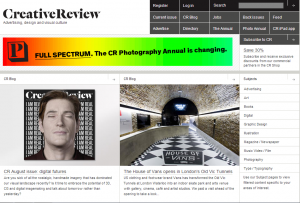 • Campaign is an online magazine providing a mix of news, analysis, features and comment to the communications industry (advertising, media, digital, marketing).
• Similarly, Creative Review is a platform for 'advertising, design and visual culture'.
• Advertising is a popular choice when it comes to thinking about a career path, so try logging on to Adforum which allows you to research different agencies. Perhaps most interesting about this website is the creative library which explores and introduces you to some of the most critically acclaimed work in the industry.
–
Computing & IT
• Visit Computer Weekly for technology tips, multimedia and management information.
• Try Q&A site Stack Overflow for professional and enthusiastic programmers.
• Keep on top of software developments and most importantly with this industry, practise makes perfect! Enhance the skills you already have and master other programmes so you can demonstrate to an employer that you have what they are looking for.
–
Digital & Media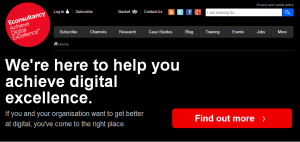 • Those in the industry have found Tech Crunch useful and this is also one for marketing enthusiasts. Go onto the website and take a look around or get the latest headlines delivered straight to your inbox with TechCrunch Daily.
• Econsultancy post a huge range of brilliant blogs featuring industry trends, tips and advice to keep you up-to-date with the fast-moving world of digital. Members also get access to a range of reports and up-to-date research (key in an ever-changing landscape).
• A vital thing with digital is to learn as you try it yourself. You can enhance your industry knowledge through meeting more experienced contacts, but also (and more easily!) by engaging with them online. Ask a specific, relevant question to a company about their experience e.g. of the current market and you may not only get the answer you want, but make contacts in the process.
–
Finance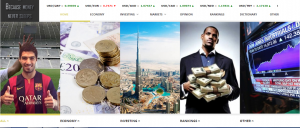 •The Financial Times delivers a constant stream of the very latest UK and international business, finance, economic and political news, comment and analysis. It may sound obvious, but this is essential reading for graduates interested in finance and is also very useful for those with an interest in business and current affairs.
• The Economist is another well-known publication offering similar insights, but also focusing on science and technology.
• Forbes is well worth a follow on Twitter and/or regular visits to its website for reliable news, politics, economics, business and finance information.
• Depending on whether your focus is markets or global strategy, whether you're looking into investments or accounting; following relevant financial advisors, experts and business leaders can give you an insight into what goes on and what is happening right now. Twitter feeds or individuals involved in the financial sector will often have a specific focus, so it is worth following a variety of people, companies, news channels, publications and (unbiased) independents.
• Finance News 24 is a Broadview 'Best Finance Blog Award' winner and provides financial news from the major markets across the world, with particular focus on sports topics. Websites such as this can be a nice way to incorporate your interests into your work/research.
–
HR & Recruitment
• It may be worth adding the CIPD's People Management to your bookmarks bar if you are interested in this sector; they provide up-to-date HR news to keep you in the loop.
• Personnel Today also offer news and guidance related to all things HR.
–
Marketing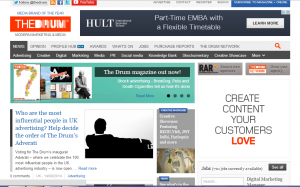 • Battenhall Monthly is a social media and communications trend report published free, every month (as the title suggests). This is essential reading for those wanting to be in the know about the latest data, trends and analysis.
• Moz blog is an SEO and inbound marketing hub of information with great tips on what to do and how to it with regards to search, social, content and brand marketing.
• The Drum and Marketing Week magazine publish news for the marketing and media industries.
• Consider researching different brands and keeping an eye on those who excel in promoting their product, like Innocent An awareness of current marketing trends and techniques and an understanding of what makes a particular campaign or business successful is important.
• Finally, be sure to check out Mashable for regular updates on 'what's hot', 'the new stuff' and 'the next big thing'.
–
PR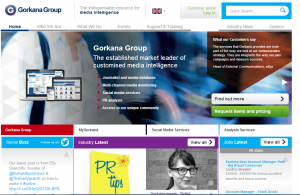 • Go to Gorkana to find out what's creating a social buzz and what's going on in the industry, or log onto PR week for the latest updates and job specific news.
• Take a look at this article for 'top tips on how to bag your first job in PR' featuring advice on which direction to take your career, how to network and where to look online.
• The Red Rocket is a tech, PR and social media guide and 10 Yetis will give PR fans examples of good and bad PR.
–
Sales & Business Development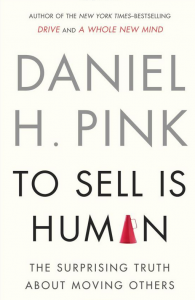 • Familiarising yourself with the CRM software used by numerous companies to assist them in the tracking of sales figures is a great place to start. Try Sales Force.
• Daniel H Pink's book To sell is human has been a NY Times, Wall Street Journal and Washington Times bestseller and said to be a favourite amongst top salespeople. It looks at the art and science of sales through stories, research and analysis. Mixing up your reading material and looking at a variety of different sources can keep things fresh in your mind!
As Mashable highlights, the power of social media makes it easier than ever before to build up a personal brand. You can take part in industry conversations and build personal connections with those in your field (or field of interest). You can also take a look at our blogs for more information on how to sell yourself and how to boost your professional online presence.
For further information and pointers, explore our free graduate guide with particular emphasis on the following sectors: advertising, analytics, charity, digital & IT, fashion, finance, marketing, PR, sales and a bonus section on using your language skills. The guide lists a huge range of free options to help boost your application, but also points you in the direction of the very best paid-for courses and qualifications.
Finally, if you're a budding entrepreneur bursting with questions, try Inc. They provide a wealth of information on how to start and grow your own business!

Katie is an Inspiring Intern and a recent addition to our marketing team. A dancer/health & fitness enthusiast, she tweets here: @KatesApps, blogs at: http://bit.ly/WN9rpu or you can connect with Katie on Google+.
The economy is growing, exciting new businesses are emerging and the job market is heating up. Competition for graduate internships and jobs is HIGH and it is more important than ever to stand out from the crowd. Here's how:
Go digital
Technology is one of the fastest-growing industries – so embrace it! Get your skills endorsed by previous employers and co-workers on LinkedIn (not just your best mates liking every single one) and secure recommendations (also on LinkedIn) from people you have worked for/with highlighting your contribution, personality and skills. Be active online! From making videos, to blogging or contributing to a publication or website – a relevant, visible online presence can help you to market your brand; you!
Add a splash of colour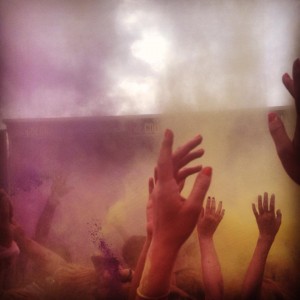 Consider jazzing up your CV by adding the logo of companies you have worked for or gained experience with next to their name. This is a simple, but effective way to give your application some colour. Research shows a picture is far more effective at getting a reaction than a block of text. This coupled with the fact that the ratio of applications to job opportunities has been recorded as high as 85:1 with top employers – all points towards the need to be memorable! Putting a small, passport-size photo on the top corner of your CV could also have a positive impact. If a recruiter or company is looking a multiple applications a day (very likely), they will be drawn to your application and remember what you look like if/when they meet you.
Stand out
It's less about the extra-curricular activities and more about your involvement. Taking a leadership role says a lot about you as a person – as recently highlighted by law firm Norton Rose Fulbright in a Twitter Q&A about getting into the legal sector. Standing out is important in this day and age! Whether through what you achieve as a result of your extra-curricular activities, the unusual nature of the hobby or the in-demand skills you have gained as a result of your efforts. You can stand out in other ways too; inject some personality into your job applications, be original in your answers to interview questions or find new and innovative ways to get noticed by people in your industry(ies) of interest.
Presentation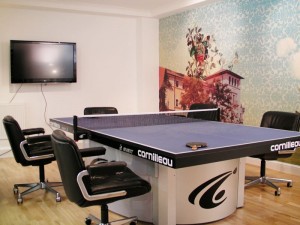 Keep your eyes peeled for Inspiring's Annie's upcoming blog 'What to wear to an interview' – this will be especially helpful to those girls with a full-to-bursting wardrobe of potential! Until then, present yourself in a way that is relevant to your industry. If you are interviewing for a position in a corporate environment, looking smart is essential. Pay close attention to the job specification or any guidance you are given. If the description highlights a relaxed, start-up office environment, consider that smart/casual may be more appropriate. If in doubt, it's always better to be overdressed. Presentation is more than just what you're wearing; how you present yourself on paper, online or via email or telephone communications is as important.
Prove it
If your CV features an impressive list of desirable characteristics, traits and skills, think about how you can demonstrate or prove that you have these assets. When prepping for an interview for example, prepare examples of when you have had to use said skills in a real-life situation, how or why you did it and what the outcome was. For more interview advice and insights, have a look at this. You can also back up your statements with examples through your choice of extra-curricular activity (as previously mentioned) and your relevant qualifications or work experience.
See some of our other blog posts for tips on how to search for that dream job and how to interview.

Katie is an Inspiring Intern and a recent addition to our marketing team. A dancer/health & fitness enthusiast, she tweets: @KatesApps, and blogs here.
Editor's note: All images are property of Inspiring Interns.
This morning we at Inspiring Interns opened up our online live chat facility " to great success!  Below is the transcript for those of you who missed out.  We will be hosting similar sessions in the near future so keep an eye on our Facebook and Twitter accounts for further updates.
Alfred Smith Hi there, I'm looking for a sales and marketing internship and just came across your website. What kind of companies do you tend to work with?
12:05 PM 13/12/10
shmule hello there Inspiring….
12:07 PM 13/12/10
Inspiring Interns Hi Alfred, we work with lots of different companies. Many of our clients are exciting young SMEs, which we think gives you great hands on experience, but we also work with bigger companies too.
12:07 PM 13/12/10
shmule are you able to do an internship for just 1 month as i dont think i can afford 3 months unpaid?
12:07 PM 13/12/10
Inspiring Interns Hi Shmule, most of our internships are 3 months, however we do have some shorter term ones. Also, some of our internships are paid, and all of them are with a view to permanent employment.
12:09 PM 13/12/10
12:10 PM 13/12/10
shmule OK then, that's a help! thanks
12:11 PM 13/12/10
Inspiring Interns Hi Ravi, how can we help?
12:12 PM 13/12/10
Ravi do you have any internships in IT? Support/development/consultancy? thanks
12:13 PM 13/12/10
Diane How does this internship work? You just apply with a CV and wait for an interview? Do we have to pay some sort of money once if you got an internship set up?
12:14 PM 13/12/10
Inspiring Interns Ravi, we have lots of IT internships available, particularly support and development. You can see all of these opportunities our vacancies page.
12:17 PM 13/12/10
Inspiring Interns Hello Diane, yes if you send in your CV (specifying what job or sector interests you) we will try and match you with any suitable vacancies. If we have something that matches your profile we will invite you into our office for a preliminary meeting and then send you out to companies.
12:19 PM 13/12/10
Inspiring Interns Also, our service is completely free for candidates – we won't ask you for a penny.
12:20 PM 13/12/10
Ravi Thanks – I will send you my CV for consideration shortly
12:21 PM 13/12/10
Ravi should i include a cover letter?
12:22 PM 13/12/10
Catherine What is your success rate for interns getting jobs at the end of placements?
12:24 PM 13/12/10
Diane Oh thank you . Also how is the interview like? what question would they generally ask? What sort of qualification you need to apply for the work experience role? Do u need a min. 2:1?
12:24 PM 13/12/10
Inspiring Interns Great, thanks Ravi. A full cover letter isn't necessary, but a quick note explaining what sort of areas you are interested in is useful.
12:25 PM 13/12/10
Inspiring Interns Hi Catherine, around 65% of our interns become permanent employees at the company where they did a placement. If you factor in people who go on to get permanent jobs elsewhere after their internship, around 93% of our interns have paid jobs within a month of doing an Inspiring Internship.
12:27 PM 13/12/10
Inspiring Interns Hi Diane, lots of questions! Deep breath…
12:27 PM 13/12/10
12:28 PM 13/12/10
Inspiring Interns No problem at all, we love the questions! Answers coming shortly…
12:28 PM 13/12/10
Catherine Thanks! What would be your top tip for making a CV stand out?
12:29 PM 13/12/10
Inspiring Interns The interview here is quite relaxed, we just want to get to know you better and establish what sort of roles might suit you. We also give you the chance to film a video CV, which helps you impress potential employers.
12:30 PM 13/12/10
Inspiring Interns We don't look for specific qualifications, but generally our employers are looking for people with degrees. We don't have a minimum requirement, sometimes someone with a 2.2 will be better for a particular internship than someone with a 2.1
12:31 PM 13/12/10
James Have you got any tips for prospective employees when they attend an interview?
12:31 PM 13/12/10
James An interview with a company besides yourselves* as part of an internship
12:32 PM 13/12/10
Inspiring Interns Catherine – first and foremost check and double check for any spelling mistakes or similar. Otherwise don't try and make it too flashy, keep it neat with a simple font and well-formatted. Also bullet-points and short paragraphs are far more likely to be read than long chunks of text.
12:33 PM 13/12/10
Inspiring Interns Hi James, like with a CV always remember the simple things first and foremost – punctuality, politeness, appearance.
12:35 PM 13/12/10
Shelo Hey Catherine I'm a recent graduate in the web design field also in in for some top tips to I
12:35 PM 13/12/10
Inspiring Interns At an interview you should also always ensure you know your CV inside out, and know how the experience you have will be useful for the role you are applying for
12:36 PM 13/12/10
Kat Hey, I'm a Canadian full time 3rd year Bachelor of Commerce student, specializing in Marketing and currently living in Norway. Just wondering if you accept applications from international students? I found you guys through Twitter
12:37 PM 13/12/10
Inspiring Interns At an interview you should also always ensure you know your CV inside out, and know how the experience you have will be useful for the role you are applying for
12:36 PM 13/12/10
Kat Hey, I'm a Canadian full time 3rd year Bachelor of Commerce student, specializing in Marketing and currently living in Norway. Just wondering if you accept applications from international students? I found you guys through Twitter
12:37 PM 13/12/10
Inspiring Interns Hi Shelo, if you are a designer your CV should be something of an advert for your skills – a word doc won't get you very far if you are applying for design roles.
12:38 PM 13/12/10
Inspiring Interns Hi Kat, pleased to hear you tracked us down on Twitter! We welcome applications from international students, so feel free to send in your CV!
12:39 PM 13/12/10
Kat Thanks, good to know. Are your current vacancies for an immediate start date? I'm looking for summer placements and can't seem to find the start dates on your postings.
12:41 PM 13/12/10
Inspiring Interns Hi Kat, yes the vast majority of our placements are for immediate starts. You can still send in your CV, saying you are interested in summer placements, and we will keep you on file until we start receiving summer internship roles.
12:43 PM 13/12/10
Kat Great! Last question–is there any support in place either from you or the employer in terms of finding accommodation, getting work permits, etc.? I'm actually visiting London this week for my first time
12:46 PM 13/12/10
Inspiring Interns Unfortunately we're not experts on work permits or accommodation, all we can do is try and point you in the right direction. But we'll do our best to help!
12:48 PM 13/12/10
Kat Alrighty, thanks for your help!
12:50 PM 13/12/10
Inspiring Interns No problem at all Kat!
12:51 PM 13/12/10
Jill Hi Inspiring, I graduated this year but I'm currently doing a job I don't enjoy. Do you think that doing an internship is a good way of initiating a career change? Or should I stick out this this job?
1:02 PM 13/12/10
Inspiring Interns Afternoon Jill! Sorry to hear you're not enjoying your job. If you are set on changing jobs an internship can be a great bridge to a new career path. You need to think seriously about what you want from your work, and if sticking out your current role might provide you with this.
1:05 PM 13/12/10
Alfred Smith Okay so if I do get an internship…are my expenses paid?
1:06 PM 13/12/10
Sam Hi there, I've got a general question about the internships advertised on your site. Do you take them down once the positions are filled? I've noticed some vacancies are a few months old and was wondering whether it would still be worth applying. Thanks.
1:07 PM 13/12/10
Guest Hi, i am at an internship I don't enjoy should I stick it out or find another?
1:07 PM 13/12/10
Inspiring Interns Hi again Alfred – yes all of our internships cover your lunch and travel expenses as a minimum, and some are paid positions.
1:07 PM 13/12/10
Stacey Hi! How can a candidate with a 2.2 degree prove themselves to be worthy of a position against their competitors with a better degree? Thanks
1:08 PM 13/12/10
Inspiring Interns Hi Sam, yes we do take filled roles down. If they are still there they will still be open, so apply away!
1:08 PM 13/12/10
Inspiring Interns Hi guest – the great thing about an internship is you are under no obligation to stay if you're not enjoying it (unlike say a first job). So if you don't feel you are getting enough out of your internship it might be time to look for another.
1:10 PM 13/12/10
Guest Would a string of internships look bad on my CV? i feel if i leave it will look like I'm not committed
1:11 PM 13/12/10
Guest Would a string of internships look bad on my CV? i feel if i leave it will look like I'm not committed
1:11 PM 13/12/10
Inspiring Interns Hello Stacey! If you have a 2.2 the key is to focus on all the things you have to offer an employer beyond your degree. You might have some relevant experience, or used your time at university to do extra-curricular activities that stand you in good stead for your first job.
1:12 PM 13/12/10
1:13 PM 13/12/10
Inspiring Interns Guest – inevitably if you have done 4 or 5 placements you might get questions about your commitment, but I wouldn't worry if you've left one with good reason. But make sure you take the time to ensure your next position is the right fit for you.
1:13 PM 13/12/10
Guest Thanks. Also if i was put through for an internship at your site how long will it take to hear if i was successful for an interview?
1:14 PM 13/12/10
Inspiring Interns If you apply for one of our internships and are successful in reaching the next stage you will hear from us within five working days. Unfortunately because of the volume of applications we can't reply to every unsuccessful application.
1:15 PM 13/12/10
Sam How does the process work? Do you decide to put us forward for interview, or do you pass our CVs on to the employer who then decides? Thanks.
1:17 PM 13/12/10
Inspiring Interns Sam, if we think you'll be a good fit for one of our internships we'll give you a ring and invite you into our office for a meeting. There we'll discuss your interests and offer you the chance to film a video CV. After that we'll send you forward to the employer
1:19 PM 13/12/10
Inspiring Interns Thanks very much for all the questions so far, keep them coming! Just over half an hour left…
1:24 PM 13/12/10
Sam Sounds great! So how long does the whole process take, from our application until potentially meeting the employer?
1:26 PM 13/12/10
Inspiring Interns Depending on how busy we are and how busy you are, it could be as little as two or three days. On average I would say 7-10 days.
1:28 PM 13/12/10
Seamus Hi Inspiring. If I send my CV in today how long should I expect to wait before hearing from you?
1:34 PM 13/12/10
Inspiring Interns Hi Seamus – thanks very much for sending in your CV! If we have any suitable roles for you we will be in touch within 5 working days. If we don't have anything at the moment we will keep your CV on file in case anything comes up in the future.
1:36 PM 13/12/10
Karl Hi there just saw this on Facebook. I was just wondering – will I get training during my internship?
1:46 PM 13/12/10
Inspiring Interns Hi there Karl – yes the point of an internship is to develop your skills so your employer will provide you with mentoring and training. All good internships should do this.
1:48 PM 13/12/10
Guest If we didn't hear back after applying for an internship and want to apply again with an updated CV, is this ok? Would my CV get considered again?
1:54 PM 13/12/10
Inspiring Interns Hi guest, yes do send an updated CV in. We'll have another look and if we have anything suitable we'll be in touch!
1:56 PM 13/12/10
Guest what about if we're looking at a specific position that we've already applied for? it's okay to apply again?
1:58 PM 13/12/10
Inspiring Interns Yes do apply again, but if you were unsuccessful first time perhaps write a quick cover note explaining why you feel you are better suited now.
2:01 PM 13/12/10
Inspiring Interns Right thanks to everyone for taking part, hope it's been useful! The transcript will appear on our blog later today. Bye!
2:06 PM 13/12/10
The knock-on effect of recession means graduates aren't just competing for entry-level jobs against experienced workers: they're now competing against them for internships too.
If you've been living in a distant galactic bubble for the last couple of years then you still might not have heard the news – we are currently suffering from a severe global economic downturn.
Yet it seems that as well as all the obvious effects occurring; national cuts, increased unemployment rate, higher numbers of university applicants etc, there have also been a few less expected outcomes, like the increase of older people seeking internships.
A survey conducted last month by CareerBuilder.com discovered that the struggling job market has sparked a surge of older people in the US applying for internships as a way to re-enter the employment sector.
The website, which surveyed more than 2,500 hiring managers across America, found that 23 percent of employers are receiving applications from people who either have more than 10 years of experience, or are aged 50 years and older.
"This economic downturn has really redefined what an internship is" said Mike Erwin, senior career advisor for CareerBuilder. "(People) need to make sure that they're filling in the gaps while being unemployed, so they're going ahead and taking these internships whether they're paid or unpaid so they can get more experience, and hopefully land a full-time job."
Traditionally, internships have been seen as a way for young people to get work experience on their CV. However, as the recession continues to kick in, and more and more graduates struggle to get the jobs that so many other more qualified individuals are also applying for, internships have taken on a much more important role. They are becoming that vital stepping stone between university and permanent employment.
However, the new statistics could mean that such graduates have an even greater fight on their hands as they find themselves competing against experienced people not only for pre-entry jobs – but also for internships.
Furthermore, the websites findings showed that many companies were just as keen to hire the older applicants as the more common younger ones;
"They know they've lost a lot of intellectual capital when they've had to lay people off," Erwin explained. "So you're going to find they're going to bring back mature and experienced workers for internships as well as entry-level and college students who are going to bring a whole new feel to the job."
Although this internship redefinition has only been reported in the States as yet, it leads to wonder how long it will take until economic desperation leads to a similar fad this side of the water.
And what would happen then? Will graduates need to do work experience to be able to get an internship to be able to get a job? Where will it end? Let us know your thoughts now!
What was your job role?
I was a finance assistant.
What made you take the job?
It sounded interesting and I thought it would be a good introduction into the world of accounts. It was the area I was considering a career in and obviously it was a better way of getting experience rather than just reading about it. Â I also thought that three months experience would give me a good idea about whether or not I wanted to pursue a future in that career.
And do you want to pursue a future in that career now?
Yes, I'm definitely interested in that line of work, it's different, it's interesting, it's unique, you're on the phone quite a lot, and you're dealing with a lot of people. It's nice to be part of a team, as well as getting the chance to work by yourself.
Had you applied for jobs before you took the internship route – or did you apply for an internship straight away?
I did apply for a few – I used reed.co.uk and received their daily email alerts for account assistants and loads of different general sorts of finance roles. But they all wanted x amount of months of experience with whatever packaging, and at that time I didn't understand what half the words or programmes were.
And do you understand them now?
Mostly, yes. Obviously I am not so familiar with the packages that we don't use ourselves, but I do now know what they are.
So would you say that this internship has given you a lot of confidence in finance?
Definitely.
What degree did you do?
Maths and finance
Did that not prepare you for a career in finance?
No, because what I did in the degree was more the practical side of mathematics, with a bit of finance. There wasn't any accounting involved, it was just more about theory and numbers, analysis and that sort of thing. It was quite varied and pretty fun – the financial side anyway! But obviously there wasn't anything that was going to prepare me for accounts payable – it just wasn't part of my degree. Maybe if I had done an accounting degree it could have, but we will never know – unless I go and do another degree in accounting. Which would suck!
Did you think you would have to take an extra course in accountancy when you graduated – or did you think that an internship would be a better route?
I preferred to do an internship. I could have just done a course after graduation, but I think that has the same problem as a degree course, a lack of practical experience.
So now having almost completed your internship, do you think you have enough experience to get a full-time paid position?
I hope so. I definitely feel like I have a lot more experience now than before.  When I used to ring up agencies saying I was a graduate they would instantly ask have I got x amount of experience, to which I'd always have to reply no. Now, I get a much different response, which is great. Instead of straight out rejection, I now often get told that there are a few relevant jobs I can go for. I've had a few interviews already; in fact, I just came back from one today. So it's definitely a lot more positive response than before.
So how did you feel the interview went today?
I'll let you know if I get the job or not!
Did you feel you had more confidence talking about complex finance scenarios now that you've had experience dealing with them?
Yes, definitely. It makes a big difference. Beforehand, during previous interviews I had for some graduate finance schemes, they'd ask me to give an example of when I'd had to use / cope with a particular financial situation, and I had to relate it back to when I worked in a shop a few years back. Whereas today, I could say, 'just this morning I was dealing with invoices chasing x amount of money' and explain how exactly I dealt with that, how I ensured a good customer relationship was maintained etc. It just comes across as so much more relevant and is obviously a much better answer.
Have you ever regretted deciding to take an internship?
No, definitely not. I guess the only thing that was hard was the money – I had saved up beforehand which made it ok and was able to stay with my parents which certainly made it easier, though I can understand why people find it tough. I do think there needs to be some kind of governmental loan scheme to help those struggling.
Did you get all your expenses refunded ok?
Oh yes, I always got my travel refunded without any problems, and lunch was provided by the company, so I wasn't spending anything as such as far as the internship went. It just meant I had to budget myself for everything else. I'd saved up about £400 beforehand, and I am just about coming to the end of that now. Though that's not too bad considering it's been three months!
So for anyone thinking of undertaking an internship – what advice would you give them?
I would definitely encourage anyone considering an internship to save some money first! I would also recommend from my own experience to go through a reputable company to ensure everything is above board. You hear a lot of negativity about internships in the papers nowadays, and about how they can exploit, so it is really important to make sure that your internship is valuable and genuine, and a good recruitment company can help with that. I know people who have gone on self-organised internships and then left after three days because they weren't learning anything new and were instead left to teach other staff! The fact is it should be the other way round, the company should be teaching you and appreciate that in return, you are giving your time and hard-work to support and help build-up their company. I got my internship through Inspiring Interns and they were great, especially in maintaining constant contact and support throughout to make sure everything was going well. That's the main thing with internships. As long as you are learning something relevant that you can put on your CV then you should stick with it. If not, then you should leave, just walk out. Internships shouldn't be contracted and they should be on your terms. You should be able to leave if you are not getting what you want out of it, and reap the benefits if you are.
What kind of person would you recommend an internship to?
A graduate who has just come out of university, or even one who has been out a while but is still struggling to find employment.  I would also really recommend them to students still at university. One of my biggest regrets is not doing more work experience during my time at university – an internship over the summer holidays would have been perfect if I'd known about them before.  It's easy to see how a Catch-22 scenario can occur. For example, I graduated last year, and applied for loads of grad schemes. But they all wanted graduates with experience, but you can't get a job without experience…hence Catch-22!  It's definitely best to make that preparation as early as possible to help make it easier later on to get a job.
So you would recommend internships to other people?
Definitely. As long as they are regulated and you go with a reputable company, I think internships are a great chance to work in an office environment and make that transition from a university environment into a proper, full-time job.
Is there anything else you'd like to add about your internship experience?
It's so nice to have something useful and relevant on my CV that makes me stand out from all the other graduates – well worth the extra time I invested. I am now regularly getting responses to my job applications, and am able to talk confidently about my area of expertise. I am really pleased I decided to do an internship and certainly have no regrets, and let's face it – doing an internship is so much better than just sitting at home waiting for something to come along!
And so, much to my delight, the marketing manager here (aka Le Grande Fromage) has allowed me to continue to blog about my experiences here at Inspiring.
Today is day three of my internship.
So far, the people have been super friendly and nice. I had been dreading my re-entry into the world of work, having been cooped up for so long at home. I felt like Alice, from Alice in Wonderland, stuck at the bottom of a deep, dark hole.
For me job hunting had become an incredibly stressful, maddening experience and I had found that because I spent so much time at home, alone, I had lost the ability to chit chat and generally be myself. Returning to an office environment has been similar to climbing back into a world of light. It's taking time for my eyes to adjust and to get used to it all. It's not easy remembering names, or learning so much on the job, but it's good. Really good.  After a long wait, I'm finally taking steps forward towards getting a proper job.
I'm going to keep you posted about the ins and outs of this place. And hopefully you will also get the lucky break you deserve very soon.
God bless and good luck on your job search. Love, Marie x
Inspiring Interns – specialising in finding meaningful internships for students and graduates –http://www.inspiringinterns.com
I am currently completing a placement at graduate internship agency called Inspiring Interns. And it's a company that lives up to its name.
I have found that an ABB A-levels, a 2:1 from a red brick uni and a MA leaves me close, yet so far from an elusive full-time 'graduate' job.  To my frustration even 'graduate entry level' jobs require experience of some sort.
Graduates are faced with a catch 22 situation. Without a job, you can't get any experience, but without experience you can't get a job. That's where Inspiring Interns comes in.
They hook you up with a company who will take you on and train you. The company will pay for your travel and lunch expenses, which many scream is exploitation, but I think is the lucky break that most graduates desperately need. And it's one of the few offers open to them. Moreover, the majority of Inspiring's internships lead to paid, full-time roles.
After many a day looking for jobs online, I opted to work for free at Inspiring Interns because I wanted to get out of my house, and proactively do something to get a job.
I'm very lucky. I'm not on the dole. Because if I was, I wouldn't be allowed to take up this opportunity. I'm not working in Mc Whatever to pay the rent, because I live at home. To put it simply, I'm relying on my parents. But it's the only way I can move my life forwards.
Most people wait for lucky breaks. I went to Inspiring Intens because they bring them to you.
Across the world, millions of graduates, are sitting at home waiting for a break. They are Not in Education, Employment or Training. Having been told my parents, teachers and politicians, throughout my life that an education will get you ahead, many young people are sat at home disillusioned and depressed, or working in a McDead-end job wondering why on earth they tried so hard at getting ahead in the first place. Luckily with Inspiring Interns, I no longer need to be a NEET.
Inspiring Interns – specialising in finding meaningful internships for students and graduates –http://www.inspiringinterns.com
On Sunday evening Donal MacIntyre presented an investigation into unpaid internships in the UK on his Radio 5 Live show. The report highlighted the fact that some companies are using the government website Graduate Talent Pool to advertise unpaid internships that potentially break National Minimum Wage laws.
Inspiring Interns shares the concerns raised on the programme and, further, welcomes any move to draw attention to the exploitation of graduates by businesses using unemployed young people as free labour. As a company we go to great lengths to ensure that our placements offer the kind of professional experience that graduates require in today's oversaturated job market; moreover we only work with clients interested in developing young talent, not taking advantage of it.
The other main issue that the programme raised was how expenses-only internships are deepening the class divide, with only the wealthy able to undertake longer periods of work experience on low remuneration.
Inspiring Interns agree entirely that internships should be open for all, and back the government's current schemes to support those who might not otherwise be able to afford internships. We were also delighted to hear David Lammy MP announce on Donal MacIntyre's show that a new initiative will launch in the summer to offer means-tested support for graduates who undertake placements. Inspiring Interns believe that by offering government financial incentives, graduates will be inspired to test the water by gaining valuable experience in their chosen fields. They also have the opportunity to work in areas which they may not have previously considered. By participating in short term internships in a variety of industries or sectors graduates can make a more informed choice when planning their career path.
Inspiring Interns would also like to express support for businesses offering genuine internships, and urge the government to avoid over-the-top intervention that could damage a very beneficial system. There must be official recognition that in the current economic climate some companies simply cannot afford to pay interns and do not have long term openings. However, by offering a placement they do provide essential experience for graduates and potentially create permanent jobs; either when the market picks up or, more exceptionally, where the intern performs so well that the company perceives there to be a business case with low risk to take the intern on full time.
Banning unpaid internships would do more damage than good, both to young people and to the economy. Therefore the government needs to clarify legislation on internships, and follow the recommendations outlined in Alan Milburn's report on social mobility. For as Mr. Milburn argues, "Internships are an essential part of the career ladder [and] part and parcel of a modern, flexible economy."  At Inspiring Interns we aim to provide a valuable service both to graduates entering the job market for the first time and to industry. We provide choice, experience and hopefully long term career paths for our interns, whilst at the same time offering a commercial, low cost low risk business solution for.
On the 04/02/2010 the Daily Mail ran an article entitled 'The slave labour graduates: Cynical firms are forcing thousands of high flyers to work for nothing – or even making them pay for the privilege'. In his report Tom Rawstorne suggested that the 'cream of a generation' were being taken for a ride by the system of internships that is becoming increasingly prevalent in our job market.
Inspiring Interns were left rather bemused by the entirely negative picture the Mail painted. Sadly there are companies willing to take advantage of unemployed graduates – with the media sector particularly guilty – but by and large the rise in internships has been a very positive development for both businesses and job seekers.
At Inspiring Interns we rigorously check our clients before we send them candidates to ensure the placement will benefit the graduate and that the company is not using interns as a rolling staff solution.
This means that, having been trading for just over a year, we now have a plethora of grateful graduates who are now in paid employment as a result of having done an Inspiring Interns internship.
Ben Tatton-Brown, CEO of Ring Ring Mobile, has hired eight interns from Inspiring, all of whom have secured permanent positions as a direct result of doing a placement. Tatton-Brown commented: "Inspiring Interns' service has been invaluable to our company. We have found eight superb staff members that have developed and grown within their roles, and who would not have become part of this company had they not initially completed internships."
Inspiring Interns are always thrilled to hear when our work has helped candidates gain invaluable experience, particularly when they have gone on to secure full-time positions. We believe it is this mix of developing skills and creating careers that make our company such an attractive proposition to graduates.
Inspiring Interns – specialising in finding meaningful internships for students and graduates –http://www.inspiringinterns.com
Back in December we reported that the Government was planning to provide £8 million of funding to those from disadvantaged backgrounds who would have otherwise been unable to undertake unpaid internships.
We are pleased to say that this scheme now encompasses any graduate from a participating university who is looking for an internship. If your old uni is taking part you could be entitled to around £6 an hour while you complete a placement.
Working in tandem with the government's priority areas for future industries, the scheme is particularly keen to provide grants to graduates working in one of the following seven sectors:
low-carbon products and services
digital industry
life sciences and pharmaceuticals
advanced manufacturing
professional and financial services
engineering construction
industrial opportunities presented by the ageing society.
Alongside the obvious financial benefits this scheme offers, graduates will also get structured support before, during and after their placement – including mentoring, pre-employment and interview training, and CV workshops.
This is a wonderful opportunity for graduates to gain fantastic experience for their CV without having to make major fiscal sacrifices. And of course Inspiring Interns can help you on the way to finding that dream placement – so why not get in touch?
Inspiring Interns – specialising in finding meaningful internships for students and graduates –http://www.inspiringinterns.com