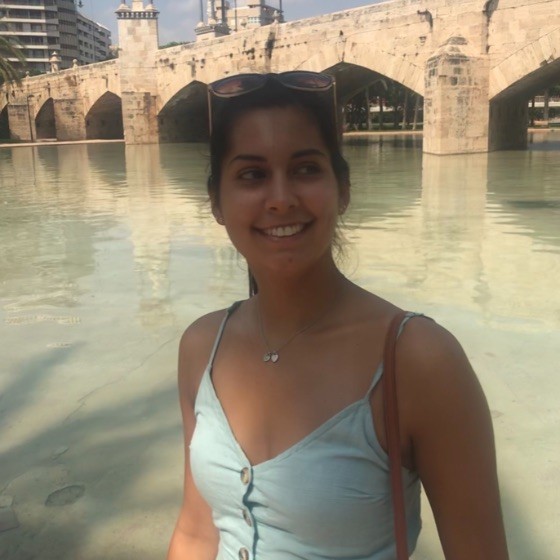 Case Study – Amira Baker – Associate Customer Engagement Manager
We spoke to Amira Baker, who graduated from the University of Bristol with a degree in Psychology. She now works at Sharethrough, an advertising tech company that works with both advertisers and publishers to efficiently run native ad campaigns.  Her role is as an Associate Customer Engagement Manager.
Why did you sign up to Inspiring Interns? 
They seemed very reputable and I was very eager to get some help with job applications
How did you find the process? Tell us about your experience with us 
the staff were super friendly and the process was pretty straightforward. I didn't love doing the video CV but I understood why employers would value it. I really liked that I simply gave certain criteria for what I was looking for in a job and the staff went about finding what they thought would be relevant – even putting forward jobs that I wouldn't have thought of being interested in on my own (e.g. the job I currently have now!)
What was your job hunting experience like before you came to Inspiring? –
Very slow, sending out tonnes of job applications to get very few responses back. Whenever I did get interviews they were just as hard as those I had though Inspiring Interns but they lacked the pre and post-interview support that I had from Inspiring Interns, so I did struggle to land a role. 
How long did it take you to find a job with Inspiring and how many interviews did you have to go for first? 
I had two interviews for different employers and it took me three weeks to get my job 
How did you remain resilient when job hunting? 
You just get used to rejection so you don't really have a choice but to be resilient. I remained positive throughout the process knowing that something would come through eventually. 
How did you decide this was the company for you?
It was the only interview I had where it genuinely sounded interesting and exciting for me. All the other jobs I'd interviewed for seemed a bit boring and not really for me. 
What was the interview process like and how did you prepare for it?
I had two interviews: the first was a mixture of chatting and talking about my background, goals and skills, as well as some activities which involved me drawing a diagram and explaining/relaying information back to the interviewers. The second interview was more practical and they talked me through how to create a demo ad and then watched me go about it – mainly to test my listening skills and ability to learn.
What is the best bit about working for them?
I have a fantastic team which supports me so well with my work and training and were very accepting of me being a fresh graduate not knowing anything about the industry. They are also really fun people to hang out with day-to-day!
What type of things do you do on a day to day basis?
My role is very client-facing, so a lot of it includes talking to clients over email, as well as going to client meetings to discuss potential future campaigns and budgets to be had. I also work a lot with keynote/powerpoint building decks (proposals) that are sent to clients in response to briefs as a sales strategy. As it is a tech company, I am also quite involved with the technical side of running ad campaigns.
What skills do you use on a daily basis?
Time management is important as I often get given tasks very last minute and need to be good as working quickly and multitasking. Being organised is also very key as I have a lot of varied work so it's important to be able to work within these areas easily. An eye for detail is very useful when working on important documents and ensuring that the correct information is sent to clients. Lastly, social skills/listening skills are key when communicating with clients.
What new skills have you learnt?
I have learned to be a lot more confident in the workplace and within my knowledge of the company. I have also learned how to better work within a team, and how to improve my communication within my teammates. 
How did you decide this was the role for you? (It's ok if you didn't!)
Still figuring out my role exactly, but I vocalised to my manager what areas I was most interested in after observing and practising, so now I am mainly working within my role in areas that I enjoy the most/am best at.
What is the best part of the role?
Working within my team, I am very much a cooperative worker!
Did you know this was what you wanted to do when you left University?
Nope, I only knew this was what I wanted to do when I started researching the company and industry after being called for an interview.
Starting a new role after university, it isn't easy. How have you coped with the bad days?
Having something outside of work is a good relieve of stress on the bad days, for example, I go to the gym after work which always helps. 
What was the most difficult thing about starting working?
Trying to know what you're doing without looking silly! Obviously, these things take time and if you don't know something its best to ask someone, but at the same time it sometimes looks good if you can try and figure it out for yourself. I guess finding the balance between asking for help and trying to learn on your own is the most difficult.
What tips would you give new grads about job hunting?
Be open to different kinds of jobs you aren't necessarily looking at right now, you never know what you might find that you might end up loving!
What tips would you give new grads about interviews? 
Do as much research as you can, you cannot research enough. Also, try to put across your personality in the interview because most of the time this is what the interviewers are looking for.
What tips would you give new grads about starting work? 
Try to make friends with your co-workers as soon as you can because once you have friends it's so much easier to learn and ask for help when you need it.