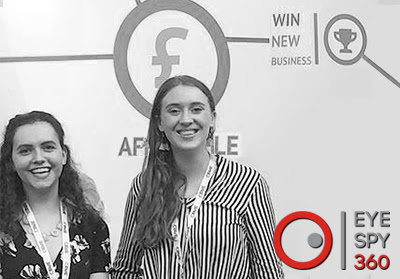 A Day In The Life of 2 Candidates: A Marketing Manager & Designer at EyeSpy360™
Hi there, we are Becca and Claudia from EyeSpy360™!
To start off with, we'll give you a bit of background on us:
Becca
I graduated with a BA (Hons) Degree in Performing Arts from Wessex Academy of Performing Arts and decided I'd like a break from the drama of drama for a little while, instead honing in on the other transferable skills that my degree has given me.
Claudia
Having graduated with a 3D Design BA (Hons) Degree from Northumbria, I was in search of a creative opportunity that would allow me to learn and expand my skills. I was found by EyeSpy360™ on Inspiring Interns and chosen as their Designer.
B: And I'm currently the Marketing Manager of EyeSpy360™, a role I also acquired through Inspiring Interns.
EyeSpy360™ are a 360-degree virtual tour platform, specifically designed for the property industry.
C: EyeSpy360™ provides a rare and uniquely creative environment. In such an exciting and fast-growing company there are endless opportunities to design, learn and reach 1000s of people. An amazing opportunity for someone so recently out of University.
B: I joined the company just over a year ago and can honestly say that no two days are the same. Being part of such an innovative startup allows us to work on so many varied projects and learn quickly what it takes to survive in the ever-changing Property Technology industry.
 Here's what a typical day in the EyeSpy360™ office looks like:
C: Although every day seems to be completely different and new – exactly how we like it!
 08:45 – 09:00
C: We check our emails and consult the trusty to-do lists. Then we'll discuss any client queries that we've received overnight and go through the day's agenda…
B: For example, what needs designing, do we have any client demonstrations to prepare, do we have a blog that's due to be published?
C: Don't forget we raid the tea cupboard!
B: Oh yeah, we get our daily caffeine fix of course.
 09:00 – 10:00
C: Discuss feedback on designs from the day before and brainstorm as a team with my sketchbook.
B: Consult the Property and Technology news for any relevant content to share with our network and to keep up to date with all of the industries' latest updates.
10:00 – 10:30
B: I normally do a morning demonstration with a client and answer any queries that have arrived overnight. Then I create an email on fun updates for our clients – Claudia's designs included!
C: I create drafts of all of the designs discussed in the morning brainstorm and work with Becca on the email creatives. These designs can be anything from how the website looks, an exhibition stand, an advertising campaign, or a landing page for any of our new partners – always something different!
B: And these landing pages and campaigns are on a global scale, garnering 1000s of views per day, across 70 countries. Therefore it's really important that we understand local differences, making sure we know what works and what doesn't in that particular market and culture. We also have to get our currencies right, so a bit of Mathematics here is crucial!
10:30 – 12:45
C: Send over and discuss the designs I've created with Becca, as well as our CEO, COO and CTO. We all sit together and thinks about interesting solutions – everyone always has exciting new ways to get our brand message across. Our brainstorm sessions often lead to us both working on new material for our marketing.
B: I also research key people to target with these campaigns and normally slot in another demonstration over this time. I will also package and send out some cameras and tripods to our clients, including a little EyeSpy360™ branded chocolate in the box – chocolate is definitely the way to our clients' hearts!
12:45 – 13:45
B & C: Lunch in the break room on our sofa and beanbags binge watching our latest series and chatting.
13:45 – 15:00
B: After lunch I'll check up on any queries or updates – every hour something's happening here! Then I'll normally research and write up my current blog post – these are always based on key topics in the PropTech world.
C: After lunch I create the second or final draft designs. Becca and I will then discuss and create the visuals to share on our social media platforms and the imagery we want to use for the current blog post topic.
15:00 – 16:00
B: I would normally have another demonstration scheduled in here or I'll publish the blog post on our site. I'll also be checking up on clients with queries earlier in the day and contacting people who've recently signed up, just to get their great feedback and help them get started!
C: This is when I would get final design feedback for the day from the CEO, COO and CTO. Then Becca and I will discuss what the tasks are for tomorrow. I will then update our brainstorm board (which is a wall in our office with special paint that allows us to write and draw with erasable ink).
16:15 – 17:30
B: Every day I share posts on important updates, news or visuals on each of our social media platforms. If you're looking for the most up-to-date 'PropTech' news look no further!
C: Now we get the designs signed off and share them with everyone!
17:30 (or thereabouts!)
C: Home time! Walk and talk with our other colleagues and discuss our exciting (sometimes Netflix and sleep) evening plans.
B: But tonight we're off for a company dinner at the local all-you-can-eat restaurant (whoever said eating isn't the answer to everything was clearly mistaken!)
Check out our social media sites and our website…
Inspiring Interns is a recruitment agency specialising in all the internships and graduate jobs London has to offer.