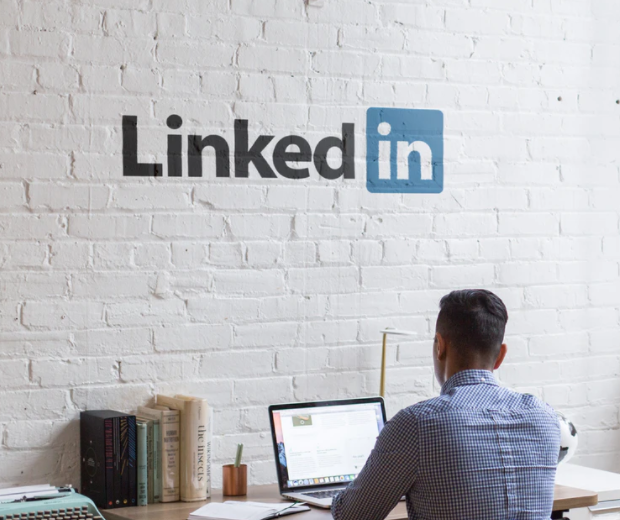 How to Create the Perfect LinkedIn Profile for Junior Designers
Standing out on LinkedIn can be a hard task. But if you're looking for a new job as a junior designer, it's worth putting in the time and the effort. 
After all, the reason why we're all on LinkedIn is to grow our networks and hopefully find better job opportunities. So if you want to get a recruiter in your inbox asking you to come to an interview for your dream junior designer job, you should follow these steps!
Think of your profile as a living CV. It should always be growing and changing, reflecting the best of you in a professional and social sense.
It's easy to create a shell of a LinkedIn profile and call it a day, but the jobseekers that find success on LinkedIn don't. They put in the effort.
Step 1 – Get your visuals right
If you're looking for a junior designer job and your profile picture and header don't communicate that, you're seriously missing a trick. And if you just haven't updated them, what are you doing? You want to be in design! Make your profile look nice!
Your profile picture should be:
Clear

At least semi-professional looking

Have your face in it
And as for your header image, I'm not a designer myself so I made a quick header image on Canva and called it a day. I made sure to add my socials and relevant URLs here just in case someone was interested in finding out more – I know you can do better than me!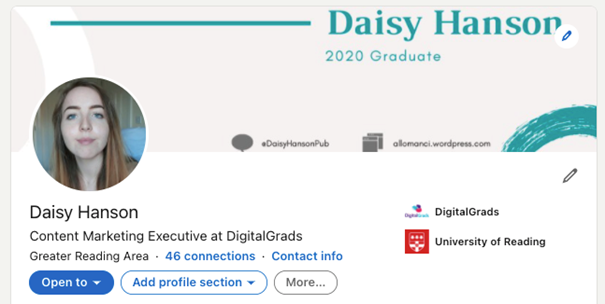 Now, if a graphic isn't your style, lots of people just use images as their header photos. I would recommend finding an image that communicates something about you and what you do. Type 'design' into Unsplash and I'm sure you'll find something perfect.
Step 2 – Make the headlines
Your profile headline makes a big impact. When you've got a searchable, snappy headline you'll show up higher in search results. When you completely ignore the headline feature and leave it blank – or worse – say you're a graduate and that's it, you won't.
A good combination of key skills and job titles in your headline will work wonders for you.
For job hunters it's a good idea to mention the type of design you specialise in and technologies you use. If you're already employed in design, your job title should be strong enough!
3 – Make your about section pop
The about me section is one of the hardest to fill in, but it's another thing that can help your profile pop up in searches. I'd recommend using the bio from your CV, adding some emojis or further detail about your experience and going from there. 
Unless you're also a writer, the about section can hold up your progress. A few detailed lines about what you do should be enough!
4 – Add your experiences
It's a good idea to spend some time adding all of your relevant experiences to your LinkedIn profile i.e.; work history, education, courses, and any other life experiences that add value to your skillset.
Tips for adding your extensive life history to LinkedIn:
Add all of your relevant work experiences including internships and freelance work

Anything irrelevant won't look good – so don't add your bartending experience

Add any voluntary positions 

Under each job, add some bullet points about your role

Get technical – talk about the results, not your soft skills and everyday boring tasks!

Add links to your history where you can to give evidence/show off your skills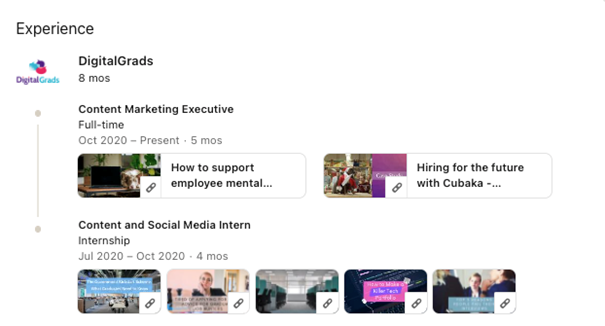 5 – Use the featured section
On your profile you get the opportunity to 'feature' some things. These turn up just under your header and headline and should hopefully draw some attention. 
I like to add the pieces of work that I'm the most proud of here, and I would recommend you do the same! Not many people take advantage of this and it makes you instantly stand out from everyone else.
Think of your LinkedIn profile as not only a CV but a portfolio too.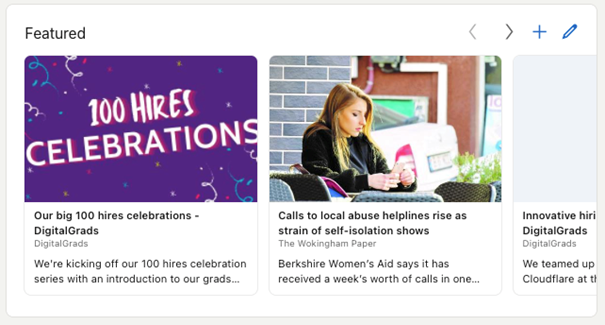 6 – Recommendations
If you're feeling brave, another powerful thing that will instantly make your LinkedIn profile more interesting and employable is asking for recommendations.
Many people ask their friends, lecturers, former co-workers and everyone they've ever met for a LinkedIn recommendation. I wouldn't go that far, but one or two might make the difference!
7 – Get networking
Wait, LinkedIn isn't just another digital CV? Oh yes, it's actually meant for networking.
Lots of people make accounts and then just never post or engage with their connections. 
I'd recommend logging in once or twice a week and dishing out some likes, sharing a thing or two and maybe even making a cheeky post if you're feeling brave.
The more you interact with people on LinkedIn, the more people see your name and click on your profile. So if you want to catch a recruiter's eye, like their posts and give them a comment!
I hope this article helps you attract more recruiters and find your dream junior designer job through LinkedIn.
Daisy Hanson creates content for DigitalGrads, the graduate training and recruitment platform for the tech industry. To view their junior roles, check out their website.