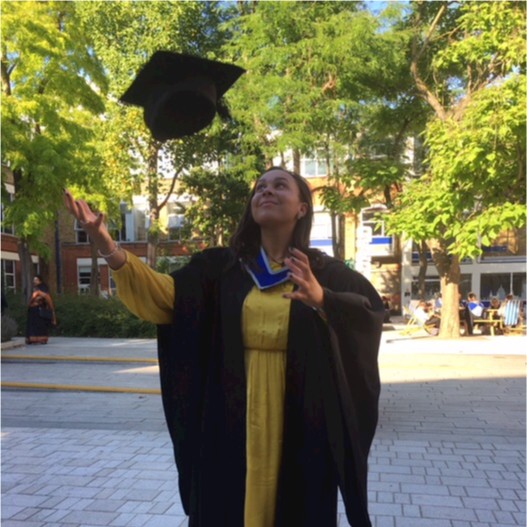 Miriam – Corporate Governance Intern at Euromoney
Why did you sign up to Inspiring Interns?
I wanted to gain further insight into a legal career, in the commercial sphere. I saw a great internship advertised and decided to apply.
How did you find the process?
Tell us about your experience with us. The process was great. Within one day of having my video interview taken, I was contacted to say I had an interview – within a week I was offered my current opportunity.
I received great support during my interview process and felt confident with the advice of Inspiring Interns.
What was your job-hunting experience like before you came to Inspiring?
As a law student, gaining access to legal roles has always been tough due to the fierce competition in the graduate market. My recent experience gave me confidence and suggested opportunities that were of actual interest in
my future career goals.
How did you remain resilient when job hunting?
I always keep thinking of my ultimate goal, which is to qualify as a solicitor but achieving a training contract.
How did you decide this was the company for you?
I was inspired by the individuals working in the company. The company has a great reputation and have given me a wealth of practical commercial experience.
What was the interview process like and how did you prepare for it?
It was interesting and helpful. I gained a great understanding of the company, and how I could fit and potentially grow. I prepared by knowing what questions I wanted to ask, and what they expected in an intern.
What type of things do you do on a day-to-day basis?
I do a real range of work, focusing on the governance aspect of the company. This includes company filings and handling internal requests from the business. I also do a range of research work.
What new skills have you learnt?
I have improved and excelled my multitasking and my commercial understanding of a listed company.
How did you decide this was the role for you?
I liked the atmosphere of the company and the wide range of experience on offer in the role.
What is the best part of the role?
The variety and responsibility. Starting a new role after university isn't easy.
How have you coped with the bad days?
Always remember the ultimate goal of wanting to secure a training contract. Also remembering that there are lots of opportunities out there that you may not know about.
What was the most difficult thing about starting working?
Organising a routine that fits around work.
What tips would you give new grads about interviews?
Always ask questions that are important to you and prepare for them as much as possible!