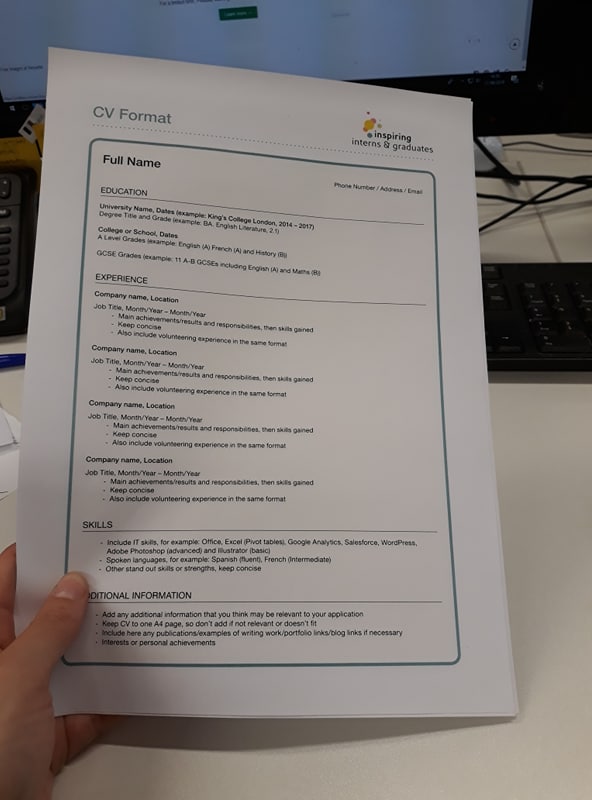 10 Of the Biggest CV Clichés
CVs are never fun to write; with only limited space to show all you can and will do for a company, you may find yourself resorting to clichés that will immediately bring your CV from the top of the pile to the bottom of the drawer. Here are 10 clichés that you should avoid – and potential employers will thank you for it.
UNNECESSARY TITLES
via GIPHY
If your document has you name, your contact details, a short bio about yourself and a list of skills and achievements with dates, it's safe to say that every employer will know this is your CV.
No need to write it again – this takes up space and looks unprofessional.
GENERALISATIONS
via GIPHY
"I will be a great addition to your team because I am a hard worker and a team player."
Great but…prove it. Instead of writing down a generic list of your work persona, show it through explanation. If you say you are a team player, immediately follow that by providing specific examples to let them know what you mean by team player. Most importantly, mention the results that you achieved and how you helped achieve them.
I am very motivated
I have strong communication skills
I am a fast learner
I have strong attention to detail
I am creative
UNTAILORED APPLICATION
via GIPHY
"I like your company" is not good enough. You must research what or who you are applying to and let them know that you are genuinely interested in being part of their team. Look at their work or accomplishments you find exciting and mention why they appealed to you.
DO NOT apply the "one application fits all" model. This won't work, and employers will immediately be able to tell if you've done so; even worse, they'll assume you were too lazy to take the time to study what you are actually applying for.
VAGUENESS
via GIPHY
"I was part of the marketing team" is a very vague statement. Be as precise as possible, and explain your exact position and what it is that you did.  Always provide "evidence" in terms of examples to prove your achievements, and to immediately let the employer know you are not just trying to embellish your CV.
IRRELEVANT HOBBIES
via GIPHY
"I like collecting stamps and eating pistachio ice-cream every Sunday" will not really work. It's great that you have hobbies, but employers don't really care about them unless they are relevant to your field, and they need to be: it shows your passion for your field, so much so that your re willing to do it in your free time.
IRRELEVANT (PERSONAL) INFORMATION
via GIPHY
It's great to want to sound more human and less like a robot, but remember you have a limited amount of space and you should get straight to the point. Devoting a paragraph to explaining how you fell in love with law since age seven when you won an argument with your mom about – this is not important and often aggravates employers.
There is also no need to include extraneous qualifications like high school grades or irrelevant work experiences.
EMPLOYMENT GAPS
via GIPHY
It's okay if you didn't work for a while – maybe you took a gap year, maybe you had some personal problems, maybe you decided to start over. But employers won't know this unless you explain it to them . Again, it's not about getting personal, but simply stating why there was a gap and then, most importantly, following it up by listing ways in which you stayed proactive within your field.
TOO MANY WORDS
via GIPHY
The clue to everything is to get to the point. Depending on experience, a CV should ideally be no longer than two pages long. Don't waste your time trying to impress with elaborate words; even if you are applying for a position at a literary agency or the like, your achievements should be enough to show your command in the field.
With so many CVs to read, you want to make this task as simple and efficient for everybody involved and the best way to go about it is to use short, descriptive sentences and bullet points.
UNPROFESSIONAL CONTACT DETAILS
via GIPHY
If you still use your high school email address, it's time to change it. Try to find an email dress that will incorporate some variation of first and last name, or initial and last name, etc. Also make sure that you include a phone number and home address. If you mess these up, employers will have no way of contacting you, and will also probably be very frustrated with you for having wasted their time by not checking your contact details.
GRAMMAR AND LAYOUT
via GIPHY
Proof read. Proofread. Proofread.
If you're not sure about something, have somebody else look over it. Sometimes reading over the same document over and over will make us miss the rookie spelling mistakes that will stand out to employers, and this is never a good start.
Don't go crazy on the fonts, and if you're not sure, use a template.
Inspiring Interns is a recruitment agency specialising in all the internships and graduate jobs London has to offer. Xiomara Meyer is a drama and creative writing graduate with an interest in psychology and the slightly bizarre. She is part of Hitting Heads Productions.