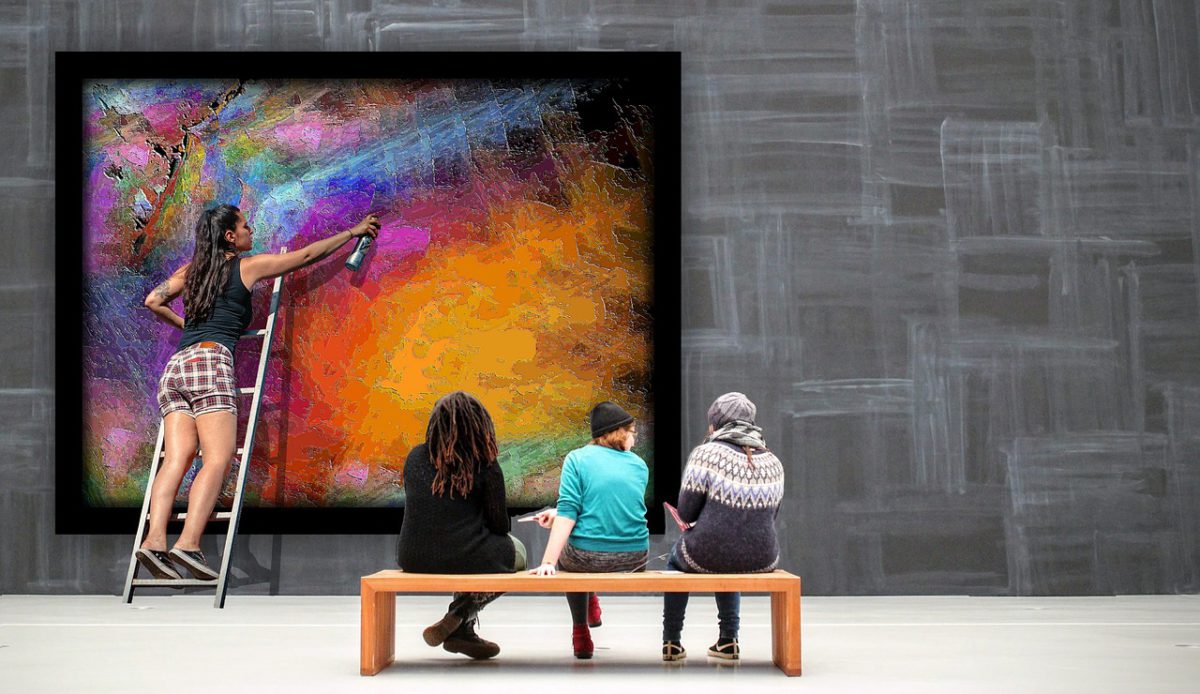 10 Art Exhibitions To Visit in London In January 2018
Whether you're looking for inspiration, things to talk about in your art school interview or just a chilled way to pass a January afternoon, there's no better place than an art exhibition.
Live in the capital? You're in the luck! There are hundreds of exhibitions happening all over the enormous, creative city that is London. We've done some digging and picked out ten that you don't want to miss. Check them out!
Jean-Michel Basquiat first began pushing boundaries in the late 1970s, when his graffiti changed the face of the Lower East Side of Manhattan. A self-taught artist, poet, DJ and musician, he soon rose to prominence with his paintings, collaborating with artists including Andy Warhol. His work continues to influence modern art.
This incredible exhibition showcases more than more than 100 pieces by Basquiat, many on display for the first time in the UK. It's bursting with creative energy.
This month, the V&A are paying homage to one of the masters of couture. Cristóbal Balenciaga dressed some of the most glamorous figures of the 1950s and 60s, and his work continues to influence high fashion.
Head to the V&A to see over 100 items of clothing, twenty hats, sketches, fabric samples, catwalk footage and lots more designed by Balenciaga. The exhibition even uses X-rays to get a closer look at his pioneering design process. It's a fascinating look at fashion.
Cézanne's bold brushstrokes formed the bridge between post-Impressionism and Cubism, influencing incredible artists including Matisse and Picasso.
This exhibition at the National Portrait Gallery brings together more than 50 of Cézanne's portraits from collections all over the world, including many which have never previously been displayed in the UK. It's not one to miss if you've got a penchant for portraiture.
Look to the stars for inspiration with this amazing exhibition of photographs of the cosmos. Insight Astronomy Photographer of the Year is the biggest international competition of its kind, and you can see this year's winners displayed in the stunning setting of the Royal Observatory Greenwich.
It's out of this world, and totally free!
For a limited time only, the Old Royal Navy College is giving you the chance to get up close to Britain's largest painted ceiling. Pop on a helmet, grab a hand-held mirror and follow your tour guide up to a 60-foot observation deck to hear all about the ceiling and Sir James Thornhill, the man who spent nearly 20 years painting it in the early 1700s. The tour lasts 50 minutes, and is full of roof-raising facts about an incredible piece of art.
This one is perfect for Potterheads. MinaLima are the creative force behind the graphic universe of the Harry Potter universe — that's the Marauder's Map, the Daily Prophet, Harry's Hogwarts acceptance latter and even Hogwarts Express tickets.
Find all of this and much more on the first two floors of MinaLima's shop, and then head up to the third floor to see MinaLima's graphics from Fantastic Beasts and Where to Find Them. It's utterly magical!
If you want even more graphics, check out this exhibition showcasing 100 years of art and design at the London Transport Museum. Focusing on the work of female graphic designers and celebrating their contribution to poster design for London Transport and Transport for London over the last century, this exhibition is an inspiring dose of girl power.
This exhibition keeps the girl power coming by showcasing the works of Rachel Whiteread, the first woman to win the coveted Turner Prize. Whiteread uses industrial materials including plaster, concrete and metal to cast everyday objects such as houses, and created the famous Judenplatz Holocaust Memorial in Vienna.
This exhibition will showcase well-known works alongside brand new sculptures — including one that will be sitting outside the Tate Britain as you walk in.
The Design Museum are hosting their annual exhibition of the most innovative designs from all over the world. All of them are entrants into the Beazley Designs of the Year awards, which includes categories such as digital, architecture and fashion. Last year, Better Shelter, a flat-packed refugee shelter created with IKEA, was named Design of the Year. This year's winners will be announced on 25 January, so keep an eye out!
This exhibition at the National Gallery is dedicated to the beautiful shades of black and white. Showcasing artists including Richter, Picasso, Rembrandt and more, it's a stunning exploration of tone and shadow. If you're looking for inspiration, this is your chance to see the world differently.
Have you found a cool exhibition that's not included on this list? Send a Tweet to @InspiringIntern and let us know!
Martha studied English Language and Literature at the University of Oxford. She's currently a Freelance Writer and Editor based in London. See more of Martha's writing at www.marthareedink.com, or follow her on Twitter. 
Inspiring Interns is a recruitment agency specialising in all the internships and graduate jobs London has to offer.