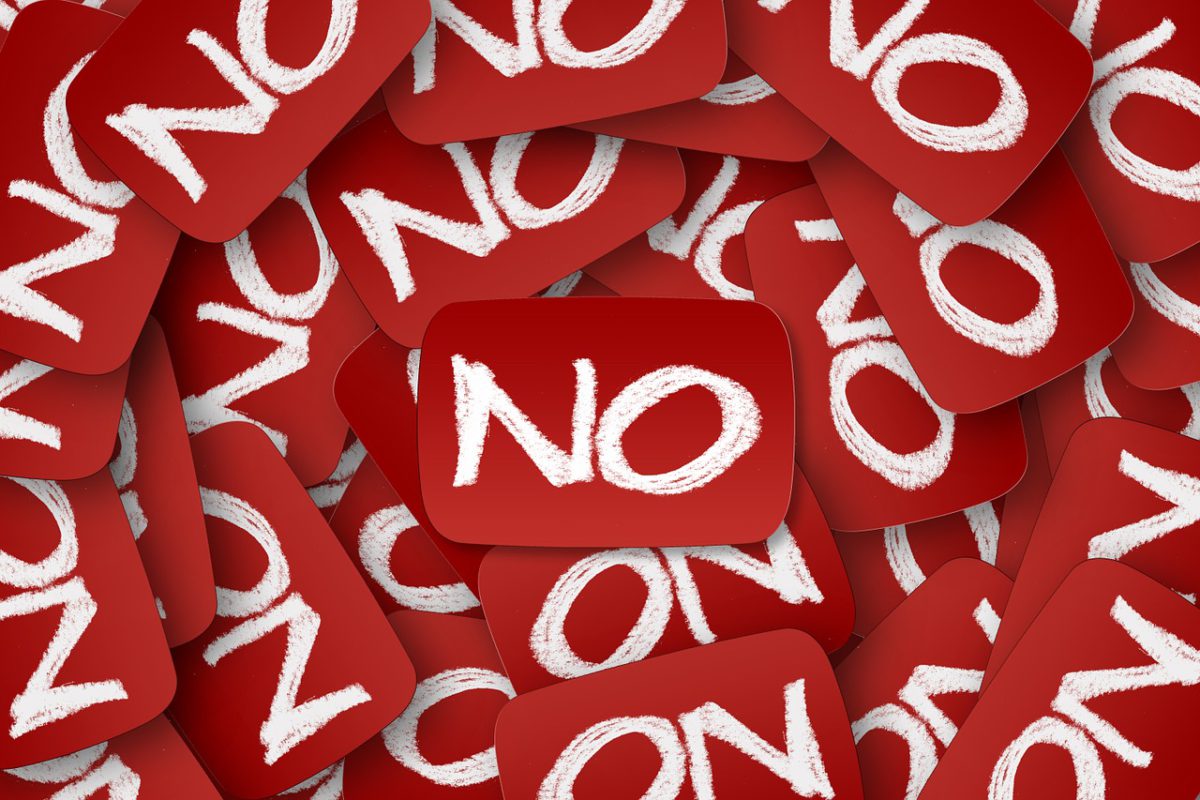 How To Learn From Rejection
We've all been there: you unknowingly go to check your emails and find the dreaded rejection notification. A week or so after that late-night session of applying to a mountain of jobs, your inbox seems to be filled with the words, "You were not successful in your application." Disappointed after spending hours entering your grades into online forms, re-recording that video interview until it's word perfect and formatting your CV so it fits comfortably onto one page, it's tempting to simply send all those rejection emails to the trash can and forget it ever happened.
However, with the average graduate applying to 12 jobs before receiving that coveted job offer, there's a lot to learn from getting turned down. Before you hit delete and try to pretend you never applied, learn how to put those rejections to good use so they can help you sail through your next application.
When no news is bad news
Perhaps the worst of them all, the silent rejection leaves you wondering whether they ever received your application at all. The generic rejection email is hardly any more encouraging. Nevertheless, even without employer feedback, failing at the first round can tell you a lot about your initial application.
Ask yourself: is there anything on my CV that will make me stand out? If you've submitted an unnecessarily long, disorganised CV which is riddled with mistakes, it shouldn't come as a surprise that future employers are reluctant to give you a second chance. Given that many companies are receiving 13% more graduate applications since 2015, your CV needs to immediately direct employers to your relevant experience and cover letters must be tailored to the company and position you are applying for you to stand a chance in the recruitment process.
Did you understand what skills the company were looking for? Even if your qualifications and professional experience don't exactly match the job description, make sure you show how the skills you do have will be relevant to the role, getting you through to that all important second round.
When verbal is to reasoning, like application is to failure
You've made it past the initial screening, but after an evening sat in front of what appear to be the most bizarre online tests, you find out your scores just weren't up to standard. Undoubtedly you felt over-confident when first tackling the maths test: with your solid A in GCSE Maths, of course you can work out a percentage! Then suddenly you're watching the timer slowly clock down and there's still 10 questions to tackle; who has any idea what the profit in Year Y would be if it increased 7.5% every year from Year V?
Like everything, online tests become easier with practice. It's been a long time since you were drawing pie charts in the classroom, so there's no shame in swotting up on how to read a graph or what verbal reasoning actually involves. There are plenty of websites out there offering practice tests and tips, including Practice Aptitude Tests, Graduates First and Job Test Prep. Before you begin your next online testing session, find out exactly the type of tests you'll be taking and prepare accordingly. Always take the tests in a quiet environment and if you were previously distracted by the time limit, reassure yourself that many employers do not expect you to finish all of the questions.
When you fall at the final hurdle
You got as far as the assessment centre or interview, suited and booted, but somewhere between that ice-breaker exercise and giving your presentation, something must have gone wrong because your hopes are dashed with another rejection. Firstly, admit it if you made a rookie mistake: arriving late, forgetting to bring your portfolio or mentioning that you often go clubbing on Tuesday nights will not scream 'employability.' Think back to the day and ask yourself: if I was to do exactly the same tasks and answer exactly the same questions again, what would I do differently?
If you slipped up on classic interview questions, preparation is the key. For your next interview, make sure you have thought about your answers to the most common interview questions, have thoroughly researched the company and are fully able to elaborate on anything you've written on your CV and cover letter. Any issues in these areas can easily be improved on if you are committed to learning from past interviews, and preparation will give you an extra boost of confidence to impress your interviewers.
At the interview stage it's important to acknowledge that there may simply have been another candidate with that little bit more experience or that extra qualification which pushed them over the finishing line. Companies in the consumer goods industry, for example, receive around 186 applications for every job, so competition will be fierce. Employers will often give feedback at this point, so if you've lost out to someone 'more experienced,' be proactive to reduce the chance of finding yourself in the same situation again. Internships, work experience or finding voluntary work through sites like Do It can all give you those valuable transferable skills which will help you stand out at an interview or assessment centre.
Instead of being disheartened, focus on your next interview or application. You now have knowledge of the process, as well as of your flaws, so use it to your advantage!
Inspiring Interns is a graduate recruitment agency which specialises in sourcing candidates for internship jobs and giving out graduate careers advice. To hire graduates or browse graduate jobs London, visit our website.