May bank holiday beer garden guide with designmynight.com
It's not often a three-day weekend comes around, so make the most of it with designmynight.com and their pick of the top beer gardens to hang out in this Bank Holiday. Looking for graduate jobs and internship opportunities is a job in itself, so take a break from sending your CV and enjoy a well-deserved drink! (Get back on the job hunt on Tuesday).
London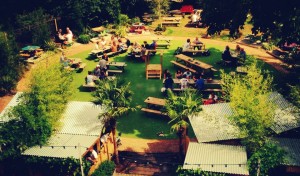 Having won an award, The People's Park Tavern will meet and surpass expectations when it comes to going out for a chilled drink. Based in the heart of East London, this joint attracts a cool crowd that want to enjoy long summer evenings with a beer in hand. Those wanting to introduce a splash of colour to their Bank Holiday evening, Barrio East is definitely the place to be. Every colour of the rainbow is integrated into its interior and they have some mouth-watering cocktails ideal for Instagram #nofilter. There's plenty of benches, so forget about the hassle of finding a seat!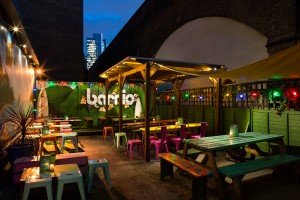 Aeronaut is another, perhaps surprisingly good beer garden. They are mostly adorned for their bizarre circus and cabaret performers, but it's time we spread the word about their cute shacks and spacious outdoor drinking area. If you're looking to awaken your inner child this May, we can't recommend Grand Union Brixton enough. They have private tree houses – you heard! And if you're passing by this joint midweek, take note of the deliciously tempting lunch offer. Lock lips with a tasty burger, fries and drink for the bargain London price of £6.50.
Manchester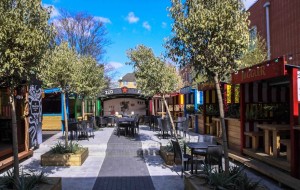 Raucous partying is nothing but the norm for Liquor Store – they don't close 'til 3AM every single day of the week, so you can imagine what this Bank Holiday might hold! Enjoy drinks alfresco with your mates.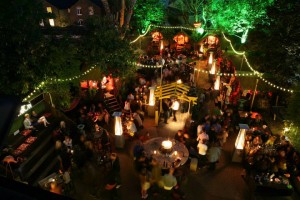 Sinclair's Oyster Bar sounds like a posh venue with sky high prices, but it's actually been marked as a "drinkonomical" spot on designmynight.com. This pub has quite a bit of history, having opened in 1720 and the customers continue to come flooding in! It's great value for money. For a different drinking experience, head to The Metropolitan this weekend and take advantage of the outside bar. Ordering a drink has never been so easy, so say goodbye to the dreaded journey back inside! It's all here.
Leighanne is marketing & PR executive at designmynight.com
All photos are property of designmynight.com