Inspiring's guide to your Brazil 2014 football sweepstake
By Andrew Scherer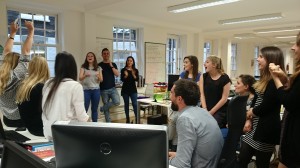 Editor's note:

Our Twitter followers will be aware that yesterday afternoon, the Inspiring office was taken over by football fever as we united nations (London, Manchester and Berlin) through the powers of modern day technology for our very own Brazil 2014 Sweepstake!
Following the draw, Inspiring's Manchester MD, Andrew Scherer, put together this ridiculously (we think) informative World Cup fact sheet, so ridiculous that we thought we'd share it with our readers. Whether used to wow friends and family with your in-depth knowledge of Ecuador's qualifying campaign or to show off down the pub with encyclopaedic knowledge of each team's odds to win: it's yours to enjoy.
For those of you recently starting out in your careers, be it through an internship or graduate job, why not suggest your own football sweepstake to your new team. It's a brilliant way to familiarise yourself and get to know a few new faces all with the potential to win a few quid.
Taking a look at the below, you'll notice we've removed nine teams as only 23 of us took part. If you're reading as a fan of one of these nations, we do apologise. Depending on the size of your company, you may need to remove/add teams at will, but the descriptions and odds for each should help you with this. The name allocated to each country obviously signifies the lucky Inspiring team member (Hannah) and less-lucky (Christina) of the draw.
We wrote 23 team names on 23 different table tennis balls, and 23 Inspiring staff names on 23 other table tennis balls. One glamorous assistant draws a team ball from one pot, and another glamorous assistants pulls a staff name from another pot. Voilà! Our FIFA-style sweepstake draw was well underway.
We hope it helps you grow closer to your adopted nation, enhances your enjoyment of the Greatest Show On Earth™, allows you to foster a misplaced sense of nationalism towards a country you probably won't ever visit or simply serves as a little ice-breaker between your new team members.
Fancy reading reading about Andrew's trip to the 2010 competition in South Africa? Check this out or read Andrew's Our Man in South Africa blog.
NB: Inspiring Interns do not encourage gambling!

—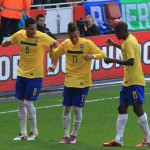 Brazil – Hannah Roberts – 3/1
• As hosts they qualify automatically so tough to gauge form, although a 3-0 dismantling of Spain in last year's Confederations Cup Final suggests they will be a force to be reckoned with.
• World Cup winners a record five times, although they haven't lifted trophy since 2002 and suffered a disappointing quarter-final exit to the Netherlands in South Africa four years ago.
Croatia – Alex Townley – 150/1
• It was a stuttering qualification campaign for Croatia, who finished a distant second to Belgium, contriving to lose to Scotland twice in the process. Scotland! They faced Iceland in a play-off, drawing 0-0 away before finishing the job 2-0 at home.
• As a relatively new nation, this is only their fourth World Cup campaign as an independent country. They failed to qualify last time out, but managed an impressive third-place at France 98, with tournament golden boot winner Davor Suker leading the line.
• Did you know? Croatians are the 15th highest consumers of beer in the world. Lads.
Mexico – Sam Bloom – 150/1
• Highly unconvincing in their qualification group stage, they won just two of ten games and needed the USA to beat Panama to reach a play-off where they saw off New Zealand.
• Have not missed a World Cup since 1990 (when they were banned for fielding overage players in their youth team) and are current Olympic gold medallists having won at Wembley in 2012.
Cameroon – OUT – 750/1
• Despite holding Germany to a 2-2 draw at the weekend, as the lowest FIFA-ranked side in Brazil they are OUT.
• Did you know? Cameroon is ranked as the 2nd most biodiverse country in the world!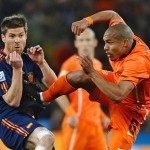 Spain – Benedict Hazan – 13/2
• Comfortably won their qualification group with six wins and two draws, conceding just three goals in the process. Some concern they are no longer quite at their peak – they were not prolific scorers in qualifying; lost heavily to Brazil at Confederations cup and there is some suggestion that Xavi – their key midfield lynchpin – is, aged 34, in decline.
• Having been the nearly men for so many years, Spain's Euro 2008 win kicked off their recent domination of international football, which includes their deserved 2010 triumph. The question now is whether the team is past its peak.
• Did you know? King Juan Carlos has just announced his decision to abdicate the thrown after the best part of 40 years' reign, passing the crown to his son Prince Felipe amid plummeting approval rating for the royal family.
Netherlands – Alice Gordon – 28/1
• Absolutely cruised through their (relatively easy, it must be said) qualification group, dropping just two points in the process and putting eight goals past Hungary in one game. Still question marks over what is a relatively young, inexperienced side.
• The Dutch finished second to Spain in South Africa but received a lot of criticism for their cynical tactics, exemplified by Nigel De Jong's 'kung fu' kick on Xabi Alonso in the final. This cynicism contrasts with the Netherland's 'totaalvoetbal' heritage which has won them many plaudits over the years – but never a World Cup trophy.
• Did you know? Dutch beer firm Bavaria caused a stir at the 2010 World Cup with their 'guerrilla marketing' when they sent a group of models to the Netherlands-Denmark group game wearing skimpy orange dresses. Not least with yours truly (Andrew), who saw them outside the stadium before the game and did a comedy double-take before making plans to relocate to Amsterdam. Amusingly, ITV bore ('pundit') Robbie Earle was implicated in the hoo-ha having provided the models with tickets, and lost his job.
Chile – Lucas Faria – 40/1
• A strong start in qualifying gave way to a poor run which threatened their participation in Brazil, but a barnstorming final six games saw a haul of 16 points from 18 to see them over the line. Only outscored by Argentina in South American qualifying but with the third worst goals conceded, you can expect goals in Chile's games. They only drew once in qualifying too.
• This is the first time Chile have qualified for back-to-back World Cups, although this will be their ninth outing at the finals. They went out to Brazil in the second round in 2010, their best performance coming as host nation in 1962, when they finished third.
• Did you know? Easter Island belongs to Chile. Who knew.
Australia – OUT – 1000/1
With my apologies to the ludicrously-named Socceroos, as the second-lowest FIFA ranked side at the tournament (and in a tough group) the Aussies are OUT.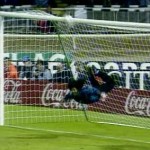 Colombia – Cam Nguyen – 33/1
• Colombia came through qualification with ease, boasting the continent's best defence and finishing second to Argentina. However their star striker Falcao suffered a serious knee injury in January while playing for his club side Monaco, and has lost his race to be fit for the World Cup. A big loss for Los Cafeteros.
• Colombia have only got beyond the group stage of the World Cup once, when they lost to Cameroon in the second round at Italia 90.
Greece – Nicola Frohmaier – 250/1
• Greece performed strongly in qualifying, only missing out on top spot in their group to Bosnia and Herzegovina on goal difference. Their form was built on a strong backline – five of their eight victories were 1-0 wins.
• Greece have only qualified for two other World Cups and have gone out at the group stage both times, scoring zero goals in 1994 and just two in 2010. They do, however, have their famous Euro 2004 triumph to comfort themselves.
• Did you know? Greeks do not wave with an open hand. In fact, it is considered an insult to show the palm of the hand with the fingers extended. Greeks wave with the palm closed.
Ivory Coast – Andrew Scherer – 150/1
• Ivory Coast breezed through their qualifying group, winning four and drawing two of their six games. Senegal ran them close in the play-off, however, with a late Salomon Kalou goal required to put the tie beyond doubt at 4-2.
• This is the Ivory Coast's third World Cup. They failed to make it out of their group in 2006 and 2010, but on both occasions found themselves in the proverbial 'group of death'.
• Did you know? It is illegal to call the Ivory Coast, 'Ivory Coast' in the Ivory Coast – their only official name is Côte D'Ivoire.
Japan – OUT – 150/1
• With a tough looking group and a low FIFA ranking, Japan are OUT.
• This is Japan's fifth consecutive World Cup. They reached the second round on home soil in 2002 and also made it out of the group stage in 2010 only to lose on penalties to Paraguay in the next round.

Uruguay – Shona Andrews – 33/1
• Uruguay lost four and drew two of their opening six games to put their place at Brazil in peril, but a vast improvement in form saw them qualify for an intercontinental play-off against Jordan, who they dispatched 5-0 in Amman before settling for a 0-0 home draw to progress comfortably on aggregate. Much will rest on the fitness of star striker Luis Suarez, currently recovering from a knee operation.
• Uruguay have won the World Cup twice, albeit in 1930 in the debut tournament and in 1950. They have never scaled those heights again, although a run to the semi-finals in 2010 will give them hope for this year.
Costa Rica – OUT – 2500/1
Costa Rica are relatively low in the FIFA rankings and, in a group against three sides who all harbour realistic hopes of progressing to the knock-out stage, they are OUT.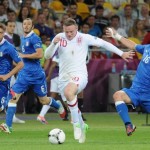 England – Hannah Ayres – 28/1
• England went through qualifying unbeaten, but several draws (including two against Ukraine) from a relatively conservative side meant they required a 2-0 win against Poland at Wembley in their final match to book their spot in Brazil.
• It has, of course, been 48 years of hurt (and counting) since Sir Bobby Moore lifted the Jules Rimet trophy at Wembley. England were embarrassed 4-1 by a youthful German side in the third round in South Africa (Lampard's ghost goal notwithstanding) and haven't progressed beyond the quarters since 1990.
Italy – Miriam Barrett – 25/1
• A revamped, attacking Italy side – in contrast with the defence-first catenaccio approach of recent times – strolled through qualifying unbeaten and are in a confident mood heading to Brazil.
• Italy are only second to Brazil in the all-time World Cup wins table, with four titles to their name. Their shock win at Germany 2006 is their most recent triumph, although they crashed out of 2010 at the group stage, failing to win a game and finishing below New Zealand.

Switzerland – Charlie Johnson – 100/1
• Switzerland topped a relatively straightforward qualifying group with something to spare, although they will want to forget throwing away a 4-1 lead against Iceland to draw 4-4 in Berne.
• Brazil 2014 is Switzerland's third consecutive World Cup. They have only made it as far as the quarter-finals once – on home soil in 1954 – and went out in the group stages in South Africa, despite beating eventual champions Spain 1-0 in their opening fixture.
Ecuador – Clare Garcia-Rodriguez – 150/1
• Ecuador's qualification was built on an unbeaten home record (helped by playing their matches at altitude) – but they failed to win at all away from home. They also had to deal with the tragic death of striker Cristian Benitez last year.
• Ecuador's first World Cup came as late as 2002, where they went out at the group stage. They didn't qualify for 2010 but reached the second round in 2006, where they were beaten 1-0 by England – thanks to a free-kick from one D. Beckham. I (Andrew) was there and all.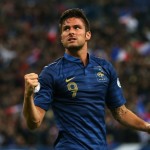 France – Louise McAnoy – 22/1
• France qualified the hard way. They had the misfortune to be drawn in the same group as Spain in qualifying, and a solitary loss to the World Champions condemned them to second place and a play-off against Ukraine. They lost the first leg 2-0 in Kiev, but managed to turn things around in Paris, winning 3-0 to progress to Brazil. Concerns remain over fitness of star man Franck 'I've shaken hands with Andrew Scherer' Ribery.
• France have recently been all or nothing at World Cups – winning in 1998 at home and finalists in 2006; crashing out at the group stage in 2002 and 2010. By that dint they should do well here…
Honduras – OUT – 2500/1
• With a relatively tough group and low FIFA rankings, Honduras are OUT.
• Buoyed by their U23 side reaching the quarter-finals of the London 2012 Olympic tournament, Honduras did well to grab an automatic qualification spot behind the USA and Costa Rica.
• South Africa 2010 was their first World Cup in almost 30 years. There they finished bottom of their tricky group, losing to Chile and Spain and drawing with Switzerland.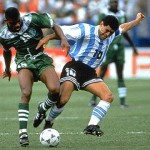 Argentina – Adam Jackson – 4/1
• With no Brazil to face in qualifying, Argentina cruised into the finals. They comfortably topped the South American group, scoring 35 goals and going on a 14 match unbeaten run in the process.
• Argentina have reached the World Cup final four times, winning twice ('78 and '86), but have not progressed beyond the quarters since their last final in 1990.
Bosnia and Herzegovina – Miranda Goh – 150/1
• Bosnia topped their group ahead of Greece on goal difference in a campaign that saw them win eight of ten matches, conceding just six goals. Keeper Asmir Begovic and striker Edin Dzeko will be familiar to English audiences.
• This is Bosnia's first ever World Cup – and qualifying is a remarkable achievement for such a small, young nation with a troubled recent history.
Iran – OUT – 2500/1
Fourth worst FIFA rankings, first World Cup since 1998, players have been instructed not to swap shirts as the Iranian FA don't want to pay for new ones. Iran are OUT.
Nigeria – Christina Andrea – 300/1
• Nigeria were handed a relatively easy route through qualifying, as they topped a weak group before comfortably dispatching Ethiopia 4-1 on aggregate in the play-off match.
• Nigeria reached the second round in their first two World Cups – '94 and '98 – but have failed to progress beyond the group stage since. They were unlucky to lose 1-0 to Argentina in 2010, where we were treated to the incongruous sight of Danny Shittu lining up against Lionel Messi.

Germany – Krissy Georgiou – 6/1
• Qualification group winners, with nine wins from ten, Germany's participation here never looked in doubt, although they will want to put a 4-4 draw against Sweden (having been leading 4-0) out of their minds. Interestingly, they have only selected one recognised striker in their squad of 23.
• Germany finished third in 2010 and 2006, and were runners-up to Brazil in 2002. There is a sense in Germany that now is the time to convert those near misses to a win – many key members of the squad may not feature in four years' time.
Portugal – Charlotte Ollerenshaw – 28/1
• A poor qualification campaign saw Portugal finish second to Russia in their group and they had to face Sweden in a play-off. They won 4-2 on aggregate, with World Player of the Year Cristiano Ronaldo scoring all four goals.
• Portugal have reached semi-final stage twice – in 1966 and 2006 – but otherwise have a relatively poor World Cup record and lost 1-0 in the second round to Spain last time out.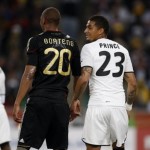 Ghana – Danielle Howe – 200/1
• Ghana's reward for successfully navigating a tough qualifying group was to face African football powerhouse Egypt in a play-off game. But the Black Stars made short shrift of their opponents, hammering them 6-1 at home to render a 2-1 second leg defeat meaningless and book their place in Brazil.
• Ghana were the only African side to reach the second round in 2006 – where they lost to Brazil – and their quarter-final defeat to Uruguay in 2010 has to count as the cruellest moment of the tournament after Luis Suarez handled on the line in the last minute to prevent a certain goal, Asamoah Gyan missed the resulting spot-kick, and Uruguay won the subsequent penalty shoot-out. So harsh on everyone's second team.
• My personal favourite memory of the 2010 World Cup was hearing music and noise from my hotel room, going up in the lift to investigate, and the lift doors opening to reveal the whole Ghana squad dancing around, playing the drums and singing. Wonderful.
USA – OUT – 250/1
Team USA are OUT – low ranking, average results and a tough group. Laters USA! USA!

Belgium – Annie Jackson – 20/1
• In what looks to be the blossoming of Belgium's golden generation, they topped their qualification group with something to spare, registering eight wins and two draws. With a very strong spine running through the team they are dark horses in Brazil.
• Belgium's previous best World Cup campaign came in 1986, where they reached the semi-finals. Subsequently they have failed to progress past the second round, and failed to qualify for the last two tournaments.
Algeria – OUT – 1500/1
Scraped through a qualifying play-off on away goals against Burkino Faso, poor ranking – OUT!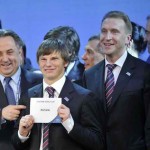 Russia – Erika Jonikaite – 100/1
• Russia weren't favourites to win a qualification group containing Portugal, but solid form (coupled with a stuttering Portugal side) saw them finish top and qualify. Managed by Fabio Capello – what could go wrong in Brazil?
• Russia have missed out on the last two World Cups and not progressed beyond the group stage since the end of the Soviet era, although they reached the semi-finals in 1966 as the Soviet Union.
South Korea – OUT – 400/1
Third lowest ranking, unconvincing in qualifying – sorry South Korea!
Andrew James Scherer was thrust into this world in 1986 and from the moment he was born knew he was destined for the top…of the the Inspiring Interns Manchester office. Scherer somehow persuaded Inspiring to take him on in November 2009 and has been immovable since. Can be found @scheza on Twitter. You can also connect with Andrew on Google+!