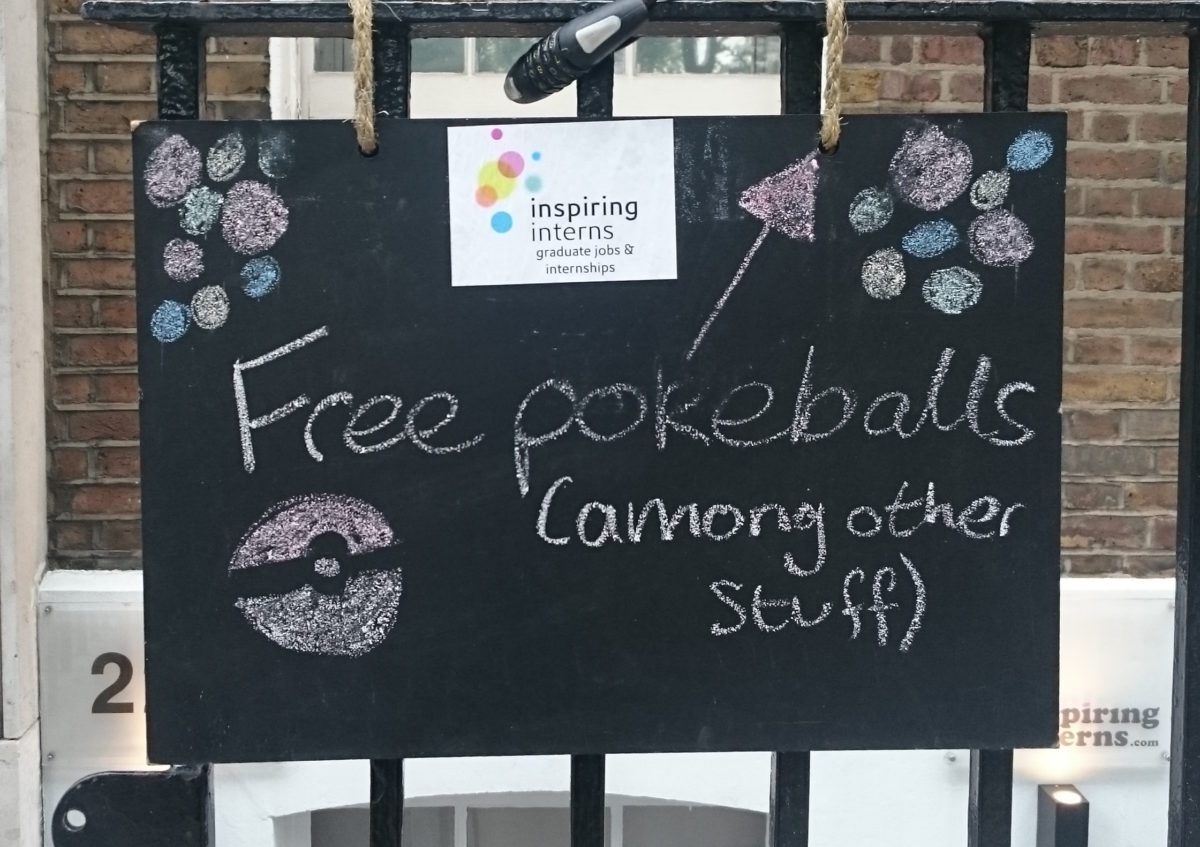 Obsessed with Pokémon Go? Find Your Dream Job in the Gaming Industry
If you're anything like the team at Inspiring Interns HQ, Pokémon Go is taking up an awful lot of your time right now. If we're right, then there's a couple of pretty exciting things we want to tell you about.
First things first, swing by our office and collect experience at our newly installed Pokéstop. We have been obsessed with Pokémon Go since its launch last week, and the office has been deserted throughout lunch as the Inspiring crew have been exploring London for pokémon training and gym battling. We are lucky enough to be sat right on top of a Pokéstop, so check as you walk by and collect those much needed pokéballs, potions and experience.
The gaming industry is growing massively, and with the rise of E-Sports it is only getting bigger. So how do you break into such a competitive market? And what can we do to help?
We are lucky enough to be working with one of the top creative games agencies in the UK who boast clients like Ubisoft, Square Enix and Riot on their books, and they are always looking for talented individuals to join their design, production and research teams. They run marketing campaigns for some of the biggest titles out there, including League of Legends, Far Cry, and Assassin's Creed.
So if you're mad about gaming don't worry, the opportunities are out there! Check out our latest gaming role here here to find out more about the kind of jobs you can apply for and take a look at our five top tips below to land that games industry job you always dreamed of:
1. Stay up to date
Keeping on top the latest news, big releases, and current trends could give you an edge in the interview showing your passion for the industry. Check out sites like Neogaff to keep on top of things and become an industry expert.
2. Meet people
The best way to get yourself out there is to network. Try heading to conventions like Rezzed or even MCM to meet industry professionals and get your name in the mix. Packed with everyone from small developers to the biggest names like Nintendo, they are the perfect opportunity to learn what the industry is all about. It's probably the easiest networking you'll ever do.
3. Make your application special.
To set yourself out from the crowd, don't just send a CV. Personalise it! If gaming really is your passion, then you should be making sure you get that across. If you need some inspiration, this amazing CV has got to be one of the best we've ever seen.
4. Research
There are more jobs out there then you may think. As E-Sports and gaming grows, so do the companies who produce, market and sell them, and with growth comes more and more roles. Keep your ear to the ground and an eye on the Inspiring Interns website for more gaming opportunities.
5. Play games!
I know it might sound tough, but do keep playing video games. Maintaining the passion for the things you love is important. So, keep catching Pokémon, sneaking past guards, and collecting coins. Besides, your interviewer probably did the same thing last night too.