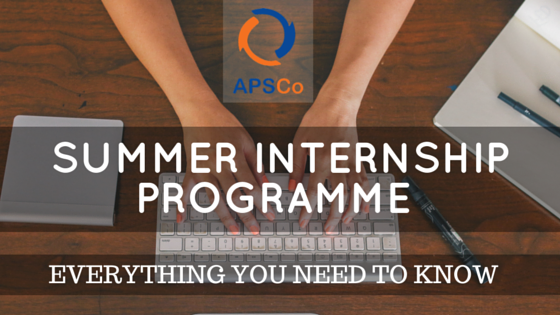 Apply for this great summer internship
Here is everything you need to know about the 2016 APSCo Summer Internship Programme…
What is APSCo?
APSCo stands for 'The Association of Professional Staffing Companies' it provides it's member firms with an innovative range of services designed for them by recruitment experts. These members are all in professional sectors such as:
Legal
IT
Finance
Engineering
Summer Internship Programme
Every year APSCo and it's member companies hire students and graduates across the countries for 12 week paid internships.
The internship programme is national, with opportunities across the UK,  though companies prefer candidates to live locally – so less than half an hours commute. This year there has been an increase in Scotland based roles.
The hiring process:
Telephone pre-screen
Record Video CV from home
Attend Interviews with companies
Offers (hopefully!)
Interviews will be taking place in May and June, with the placements commencing on 4th July for 12 weeks until 23rd September.
Why work in recruitment?
If you're unsure about your career this is a great start. For example, if you are an unsure engineering student, a role in recruitment could provide an insight into a range of roles. Even if the aim is to not end up in recruitment you will still gain valuable experience.
There are many benefits of APSCo for graduates:
Paid experience – £270 a week (3k for the 10-12 weeks)
Transferable skills
Commercial experience
All summer planned: 4th July – 23rd September
An insight into the CV writing/interview/hiring process
A potential job offer for after uni
How to apply?
Send your CV to apscointerns@inspiringinterns.com and highlight which sector you are interested in.