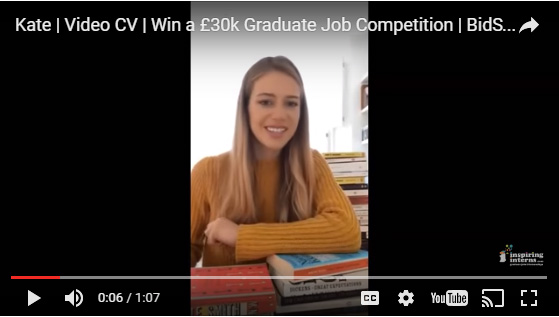 UCL star student enters into X-Factor style video CV competition to win a £30k graduate job!
UCL graduate Kate is fresh from securing a 2:1 in English Literature at one of the UK's top universities.
Kate's IT skills include: Adobe InDesign, Adobe Photoshop, CSS, HTML, Microsoft Office, social media management and Tweetdeck. Snazzy.
With experience working in a start-up, Kate, until recently, was Creative Director of Free Hype – the UK's first pro-bono creative agency. Responsibilities included: delivering projects, honing her leadership skills and ensuring client briefs were met to a high standard.
Kate's ready to get creative in a new role and Bidstack is her next target.
Click here to watch all video CVs and vote.