Intern vs Recruiter: Inspiring film review of Warner Bros The Intern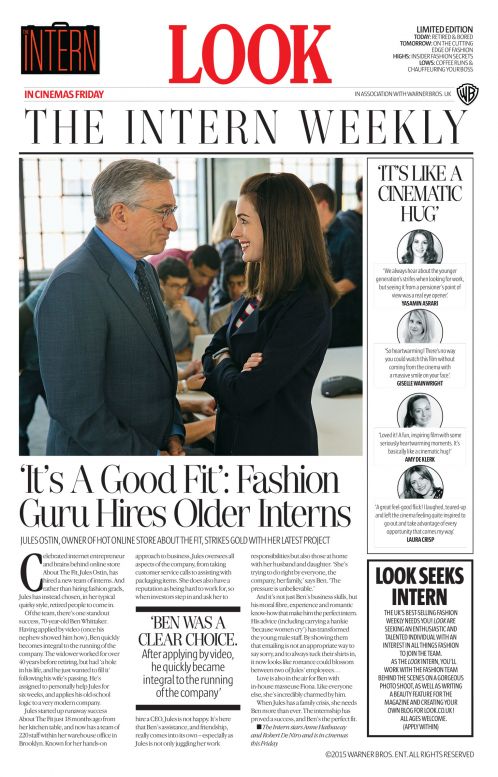 When a film (or anything) comes out about an internship – we wanna know what it's all about. Our very own intern Jake and Talent Development Exec. Naomi were invited to The Intern movie preview to see how Bobby De Niro could fair in the fast-paced world of internships and start ups.
For those who don't know, Robert De Niro plays a 70 year old widower, bored and restless in his retirement years. Looking for ways to keep busy, he successfully applies to be a 'senior intern' in Anne Hathaway's start-up online fashion company in Brooklyn.
How well do you think Robert De Niro performed as an intern?
Jake
I was really jealous of him! He smashed it! He started off with little idea of what to do – how to use the computers, who to talk to and about what. He also had a similar first day to me. De Niro's boss (Hathaway) didn't initially delegate responsibility because he wasn't trained yet, but within a few weeks he was off to San Francisco on a first class flight giving the boss business and life advice! I was jealous because he didn't appear to have worries outside of work. The man had a ridiculous house somewhere in Brooklyn (good pension?) with a tie rack that spun around on a conveyer belt in his closet. I live with mum and dad and only have two neck ties! So yeah, I thought he was a good intern, but he had it easy.
Naomi – would you like to have Robert De Niro intern for you?
Yes! It's Robert De N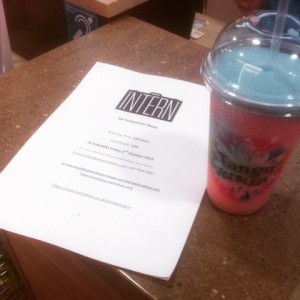 iro isn't it. He can stay there as long as he likes. On a professional level though it could cause some issues. I don't want to make a sweeping generalisation about older generations, but they can be slow with technology. I'd have to spend a whole day trying to explain how the computer works, and that's just the start! Anne Hathaway was lucky.
Robert De Niro had to film a video CV, Inspiring Interns have started a trend! What did you think of his video?
Naomi
I'm a hardened recruiter, so I'll say it how it is. He didn't mention his skills; he talked about why he wanted the role, not why he is good for the role. He was also inappropriately dressed. He was smartly dressed, but had he researched the fashion company he was applying to, he might have opted for something other than a suit and tie combo. However! De Niro used his initiative and was proactive because he filmed the video CV from home. We love from our Inspiring Interns' candidates to be proactive.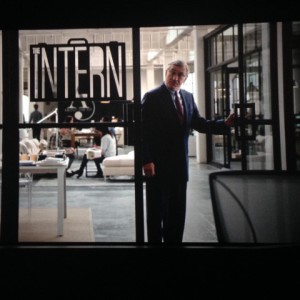 Jake
I'm a big softy, maybe because I haven't been at Inspiring Interns for long, but I'm gonna give him some credit! He used a good camera, thought about the background, and showed off his personality. It was quirky and he was relaxed and approachable. I thought it was good!
Would you work for Anne Hathaway's start-up business?
Jake
I saw a lot of similarities with Inspiring Interns! From the office puppy (check out sheepdog Indy on Twitter), to the contemporary, relaxed start-up office environment with work-hard play-hard vibes. I'm not interested in working in fashion, so I'd rather stick around here! Brooklyn could be a great place to live though…
Finally, how would you sum up The Intern movie?
Naomi
Heartwarming! (She's a softy deep down) Slightly unrealistic, but it is Hollywood so we can make allowances for the artistic licence.
Jake
A nice, easy watching film. Good for a rainy day, but not the best thing I've ever seen. A modern take on the workplace and working life, with Hathaway as the successful breadwinner and her husband staying at home. Office life doesn't have to be all corporate and grey suits. It was so cheesy, but I can handle that every now and again.
As an intern myself, in a roundabout way I think it represented us [interns] nicely. It's non-stop when you take on an internship and you don't always know what you're going to be asked to do from one day to the next. You have to learn fast, ask questions and keep up, but that's the fun of it!
Thanks Warner Bros for the tickets to the preview, and thanks Jake and Naomi for the film review and interesting internship advice. Check out our full list of graduate internships in London.