4 apps to inspire your iPhone… (or Android)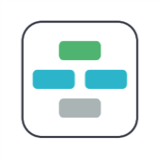 Casual
(iPhone and Android)
• What is it? Visualize your plans using flowcharts! Sound cool? Instead of writing endless lists, just doodle and let this app do the hard work for you.
• What's it good for? Student/graduate life admin, work planning or setting up longer term goals.
• Says who? Whether you're a university student trying to plan who's doing what in your seminar presentation or you're getting stuck into a hands-on graduate job and trying to plan life around it; check it out.

The Hunt
(iPhone and Android)
• What are we hunting? Clothes, jewellery, that bag your friend's friend's sister put on Facebook and you now need in your life; it's all here.
• What's it good for? Post a picture of what you're looking for and the eager eyed Hunt community (over three million savvy shoppers) will help you find it, style it or buy it for less. As a member of the community you can return the favour and help others to find their next must-have accessory. Expect fashion tips and discover new places to shop.
• Says who? Fashionista milenials have jumped on this bandwagon; the audience is 90% female, but that isn't to say you lads can't pick up us a fresh tee or nice bargain along the way.

My Minutes
(iPhone)
• What is it? If you're a professional procrastinator, this app could be your calling. Download for free and set time limits for tasks from the mundane to the insane!
• What's it good for? You could be a runner setting targets before the big race or a graduate just trying to focus on the job hunt task at hand, so upgrade your time management system and see if this works for you.
• Who's using it? Apparently this app isn't just for the super organised (though how do you think they became organised in the first place, eh?) Students and grads could find it a useful tool.

Mixlr
(iPhone)
• What is it? Ever fancied yourself as a DJ or newscaster? This surprisingly simple app lets you start hosting your own live radio show online in minutes.
• What's it good for? Invite friends over social media or send the link via web and email; built-in messaging gives two-way communication with your listeners. It's a great way to start your own talk radio podcast, report breaking news or just share favorite tunes from your phone.
• Who's on it? Budding music moguls, this one's for you.

Katie is a digital marketing executive at Inspiring. A dancer, sport and health & fitness enthusiast, she likes to move, tweet and blog.
If you're interested in all things digital, don't miss our latest marketing internships, advertising internships and PR internships.