Food to get you festive: the weird and the wonderful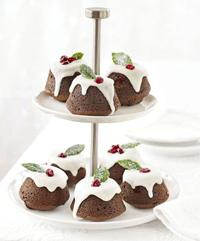 Christmas and food are two words that go together perfectly. Here's a random selection of just some of the festive delights you could whip up in the kitchen this Christmas. In between cracking on with that job hunt (it doesn't have to wait until January!), try your hand at some of these interesting creations.
Whether you're making a mess or hoping to make something edible, this is a great excuse to eat chocolate and icing and cake all at once. This desert is more about looking like a traditional Xmas pud than tasting like one, but it's an easy recipe and looks good enough to Instagram (and hopefully eat).
Before you turn away in horror at the thought of brussels sprouts, throw bacon and almonds into the mix and you've created a dish worth putting on the Christmas table. Go on, give it a try.
This is in fact, not a baby, but a famous pancake recipe that comes straight from the Netherlands and promises to be the perfect pick-me-up. Throw in some blueberries, cinamon and top with a sprinkle of flour or sugar to achieve that wintery look. It's not pancake day, but why wait until February?
Leftover sundae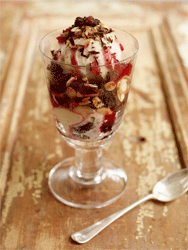 According to our mate Jamie Oliver, "if you didn't scoff the lot on the big day, this recipe uses up leftover Christmas pud brilliantly". Celebrity endorsement over, this sugar-tastic creation mixes Xmas pud with mulled wine, ice-cream and chocolate (yes, really) to give you an enjoyable, calorific festive treat. If the pudding's all gone, make your own sundae delight by mixing leftover chocolate or winter fruits in with that ice-cream.
More wonderful than weird, a cheese board is a classic. Make your own tree shape like these American party people, try a snowman design, or just eat it straight from the packet when no one else is around. It's only going to get eaten anyway…

Katie is the marketing assistant at Inspiring. A dancer and health & fitness enthusiast, she likes to move, tweet and blog.