Volunteer with Action for Children
Byte Night is back! Inspiring has joined forces with Action for Children to promote this incredible fundraising event aimed at highlighting the extent of homelessness in the UK, how it affects young people and how you can help. This is a unique chance to give something back to the community by raising money and awareness for the charity and get a helping hand yourself, potentially onto the career ladder. Watch this video of last year's event in the Midlands for a more visual interpretation of what Byte Night is and what it means, then read on to find out how to get involved this October!
What is Byte Night?
Voluntary work is a valuable addition to any CV and with Byte Night receiving great feedback from volunteers and supporters every year, it's not to be missed! The event continues to grow each year and for 2014, Action for Children is looking to recruit volunteers across London, Manchester, Bristol, Reading, Cambridge, Birmingham and Edinburgh. Inspiring is delighted to be working in partnership with the charity again this year, having witnessed their continued reach and success over the past few years. Byte Night helps to support some of Britain's most vulnerable young people, volunteer this year and you could also make a difference.
"It is amazing that every year so many volunteers generously give their time to Byte Night. Volunteers ensure it is run efficiently and smoothly, making it enjoyable for all."
Ken Deeks, Byte Night founder
Why volunteer?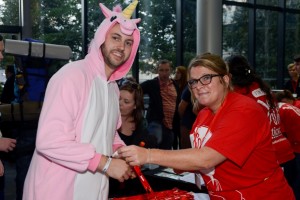 Byte Night is a charity fundraising event organised by Action for Children, but also a rare networking opportunity for graduates to be on a level with business figures from some of the most well-known, successful companies in recent years. Designers to developers; teams from the IT, technology and innovation sectors will be taking part alongside volunteers, showing their support for the charity and its fight to tackle the root causes of youth homelessness in the UK. When you read those graduate advice pieces that suggest you walk into a company HQ and tell the CEO that you two should 'grab a coffee' together, you're probably thinking, "how?!". Forget it, turn your attention to volunteering at Byte Night where you can meet face-to-face with experienced industry professionals who can offer an insight into what they do and how you, as a grad, can get into the business. From IT support to Executive-level, employees from Accenture, Dell, Deutsche Bank, Ernst & Young, IBM, LinkedIn, Microsoft and Virgin Media have signed up for this year's event and that's just the beginning.
"There's a real buzz and it's always a fun environment. You can get involved in whatever part of the night you like."
Anindita Ghosh, Action for Children
How to sign up
Last year over 1,200 people slept under the stars and over £1 million was raised. With a new event added in Bristol for 2014, the charity are hoping to raise over £1.3 million. This year's event will be held on Friday 3rd October. Action for Children are looking for volunteers from around 5.00pm until 10.00 or 11.00pm at the locations listed above. Signing up is easy, just email EventVolunteers@actionforchildren.org.uk with "Byte Night – Inspiring" in the subject line by Friday 26th September. Ensure you include the following information: your full name, chosen event location, the time you're available on the day, any dietary requirements and a contact number. You can also join this Facebook event volunteers group, check out their website or head over to Youtube where you can find videos of last year's events and what you can expect from 2014.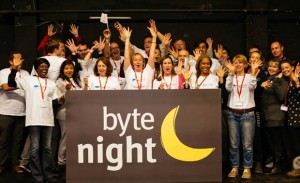 "I'll be back again next year no doubt. Thanks for the opportunity!" Liz Dinneen, supporter

Katie is an Inspiring Intern and a recent addition to our marketing team. A dancer/health & fitness enthusiast, she tweets here: @KatesApps and blogs now and again.