The best places to get your Brazil 2014 football fix in London & Manchester
By Hannah Roberts
With the kick-off to the Greatest Show On Earth™ of the year taking place last night, we thought we put together a handy guide of the best places across London and Manchester to cheer, yell, drink and cry in support of your home countries…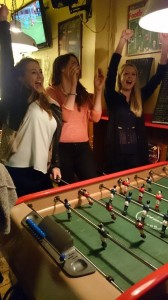 London
Café Kick
The clue is in the title with this one. These foosball focused, colourfully adorned East London establishments (there's two: the larger situated slap-bang in the middle of Shoreditch Highstreet, the little brother nestled along Exmouth market) are opening their (80 & 60 inch!) screens to every single whistle blow of the World Cup, including the late night kick offs. Excessive amounts of football matched with happy hours (£2 Sagres) and special international beers promise to satisfy the thirsty crowds.
Herman ze German
Fußball fans are welcomed in the basement of this Soho sausage house over the coming weeks with a huge projector screening all the action – the perfect place to support and fill your stomachs at the same time. It's worth noting that this venue ain't rich in space so get down there early, or alternatively tables can be booked during the tournament for a £10 deposit.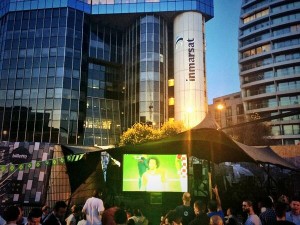 Old Street Terrace
A last minute entry to mix is Old Street's terrace transformation located, for the first time in the station's history, right on top of the Silicon Roundabout! I scoped it out last night for the first game of the cup and was pretty impressed. The space is larger than you'd expect, laid out for an uninterrupted view of the big screen. There are German craft beers on tap and decent street-food to feast on, plus they're opening during the day allowing you to catch up on the previous day's happenings. This comes top of my recommendations.
Famous Three Kings
West Londoners take note. Cited as the Capital's best sports pub, this boozer has a mighty 13 TV screens, three of which are 3D, promising a strong footie-crazed atmosphere.
Cargo
BBQ, DJs, massive outdoor terrace, five big TVs and two 12-foot projector screens – Cargo is set to be the king of World Cup watching venues.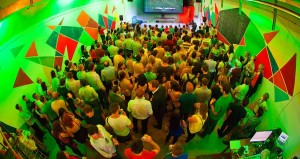 The Vaults
At £12 a ticket, Waterloo's The Vaults World Cup Carnival is a slightly more extravagant option. Then again, it does promise to transport you into the heart of a Brazilian football carnival with "an enormous 5 metre wide screen. Crisp HD projection. A giant sound system. No queuing for a drink and a massive party every night". If that's not enough, each night will pay tribute to the different countries' culture, celebrating with music, dance, food and drink all packed into their vibrantly decorated underground setting.
Got a boyfriend/girlfriend/group of mates that are more footy mad than you? There are a number of footie themed events taking place across London that combine screenings of the game with sunny summer vibes, making watching enjoyable for all. Check out TimeOut's tidy run down of World Cup festivals and daytime events.
Why not escape the heat of the capital one weekend and enjoy a beach front breeze with Brighton Beach's Big Screen. They're serving up nearly every match alongside a Cantina-style bar and scrummy eats by MEATLiquor and Dead Good Burrito. Pre-register and arrive early for guaranteed entry!
Manchester
Tib Street Tavern
A recommendation from our very own Adam Jackson: if you're looking for a bit more of a traditional pub setting for your World Cup viewings, you could do a lot worse than the Tib Street Tavern in the heart of the Northern Quarter.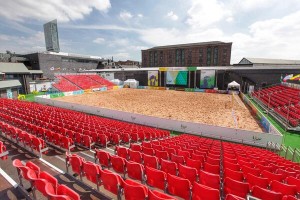 ITV's Fever Pitch – Granada Studios
ITV have transformed the old Granada studios, just off Deansgate, into a Brazilian-style fan park, complete with a beach soccer pitch, a skills zone to test your own footballing prowess, and of course a huge screen showing all the matches. And a bar. Entry is free but you're advised to pre-book!
The Green
As suggested by Clare 'Satnav' Garcia-Rodriguez (so named for her uncanny ability to know where everything is in Manchester), the Green is a healthy-sized sports bar near Piccadilly Station that boasts big screens; good atmosphere; and, if the results don't go your way, indoor golf to distract you from the football.
Almost Famous
Manchester's favourite burger joint is getting into the swing of the World Cup with screenings happening in their upstairs bar. So if you're after some succulent meat action to go with your samba football, look no further…
Hannah is a Digital Marketing Executive at Inspiring. She tweets about all things golden here: @hlcroberts and pins all things pretty here: gildthelilly. You can also connect with Hannah on Google+