Eight ways to find accommodation in London as an intern
By Sian Sullivan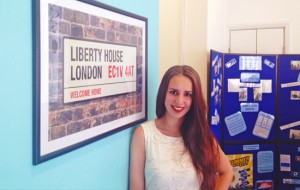 Since starting as an intern for Liberty Living I have had the chance to be a part of a successful company in a fantastic location in London, living alongside students and other interns, both all year round and for the summer, in Liberty Living's student accommodation.
During my time here, I have not only experienced many aspects of the company including data analysis, marketing and sales, but I have also gained an in depth insight into what is REALLY important when looking for accommodation as an intern and I would like to share them with you!
1. Location, location, location. This is one to consider carefully. If you have managed to bag yourself a placement year or internship in London (or any other major cities for that matter) then make sure you make the most of it and live close to all the action! Having the opportunity to live in zone one is something that students and interns can to do through private providers like Liberty Living that not many others get to experience.
2. Price. Work out your budget carefully allowing for accommodation, food, socialising etc. Choosing accommodation that is fully inclusive of all utility bills and internet makes life a lot easier – It also saves you money and the shock of big bills at the end of the month! Remember that your accommodation is where you will be spending a lot of your time so it is definitely worth spending that bit extra to be in a great location!
3. Staffed 24 hours a day. Now that you are working full time, it is likely that you are going to be out of the building during normal working hours. It is extremely useful to live in accommodation that is genuinely staffed 24 hours a day to allow you to speak to a real person no matter what time of day or night whether it is maintenance, signing for your parcel and keeping them secure or having someone to let you in if you forget your key! Not to mention the added layer of security it provides.
4. Demographic of the building. Chances are that when you move to London for your internship you will be doing so on your own therefore, it will be important to find accommodation that will introduce you to like-minded people (who preferably won't wake you up at 3am). Staying in Liberty Living's student accommodation is great for this. They not only accommodate first year students in certain buildings but also postgrad students and other interns.
5. 24/7 on-site laundry. Now this may be a slightly dull one but it is a necessity! No one wants to be walking down the road to a laundrette to do their washing. Having a laundrette on-site that is open 24-hours a day, seven days a week is extremely convenient. Taking the leap from being a student or unemployed to full time employment is a big one so convenience is the key.
6. Flexibility with rent instalments. If you have been to university before then you will know that the 'three instalments' method of paying is great as it matches up with the student loan payments. However, now that you are working, it is unlikely that you will be able to pay in three instalments or up front. At Liberty Living, when you provide proof of when you will be paid, a payment plan can be set up to suit you at the discretion of the management team.
7. 24/7 on-site gym. If you can find accommodation with a free on-site gym or access to a free gym then this is not something to pass on! Gym memberships in central London can cost up to £100 per month. If this is included in your accommodation's rent then that is a lot of money you are going to be saving. I find being able to use the on-site gym is a great way to relax and keep fit after work.
8. Local amenities. At some point you are going to have to go food shopping so it is important to remember to look for accommodation that is in close proximity to food stores and other shops. Staying at Liberty House which has a Waitrose and Tesco two minutes down the road is definitely a life saver after a long day of work.
There are many other aspects and criteria to consider when searching for accommodation but these are my top eight to look out for. Liberty Living provides student accommodation, including summer accommodation, in 17 university cities across the UK, including Bedford, London, Stoke plus many more.
Sian Sullivan works as an intern for Liberty Living and staying at Liberty House in London.