How to make the most of your last weeks at university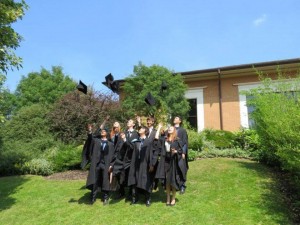 By Inesh Patel
The Easter eggs are eaten, the holiday is over and the weather is finally taking a turn for the better… It must be exam time! For final year students this may seem like the end of days, but the big, wide world of employment is just around the corner and it really does pay to be prepared! Here's Inspiring's five-step guide to setting yourself up before the big graduation…
1. Work hard for your exams:
Our first recommendation is something I'm sure you've been told countless times, but this doesn't make it any less important. Work hard for your exams! Yes, obvious I know, but these exams represent the culmination of your years of study and are what your first employers will usually judge you the most on. Aiming for the best you can achieve and effectively working towards it should instil a sense of regret-free pride and put you in the best position to enter the job market.
2. Network with your lecturers:
In between your exam preparation and polishing off of final projects, be sure to network with your tutors and lecturers.These guys are experts in their fields and if you're looking to get into a career related to your degree, they are the perfect people to talk to. They can give you an insight into what the industry is like, they can tell you how to prepare for it and they may even be able to recommend you to employers. Connecting with them on LinkedIn, obtaining their email addresses and maintaining good relationships with them can be immensely beneficial to you. What's more, as professionals who have spent at least three years teaching and getting to know you, they are exactly who your first employer will want a reference from. Keep them happy and keep in touch!
3. Utilise your university's career services:
You know those annoying careers emails that have been clogging up your inbox over the past few years? Now would be the time to stop ignoring them! Despite the fact that it is woefully under used by many students, you're university's careers office is brilliantly equipped to help you kick-start your career. It will have plenty of opportunities on offer in your field of interest and should be able to help you get involved with good employers. It will likely possess extensive industry links and they're yours to use!
4. Get career hunting early:
Don't think that others haven't come to the same realisation; students tend to start panicking about their future at this stage of university and the careers office will soon be inundated with requests for employment. Be sure to beat the rush by getting your job applications in early. Not only will this give you more time to relax once exams are over, but if a role requires you to have achieved a certain degree classification, it will give you added incentive to do well. That extra push can make all the difference!
5. Register with Inspiring Interns!
You've had the time of your life, your degree is framed on your wall and you're ready to apply for your dream job, but wait, they want you to have… experience? This may seem unfair after all your hard work, but with the job market being so competitive, more and more employers are requiring you to have some experience in their industry. How can I get my first job when it requires me to already have experience within it you may ask – this is where we can help!
Registering with Inspiring Interns enables you to bridge the gap between university and full-time employment by gaining experience in your chosen field through incredible internship and graduate job opportunities. We can help you to gain that all-essential work experience allowing you to discover where your true career passions lie and get you started on the path to success. You can view the abundance of opportunities we have in a range of sectors on our vacancies page. If you're unsure of what to apply for, simply send your CV direct to our team, detailing your availability and we'll be in touch if we have something suitable for you.
We wish you all the best of luck in your exams!
PS. Don't forget to have fun and enjoy yourself. You've earned it!
This blog was written by Inspiring's new marketing intern, Inesh! Hailing from Southgate, North London, Inesh is a recent product design graduate from the University of Nottingham, mad about all things music and drumming!