Rajput Royals and sociable rooftops in Rajasthan – a travel blog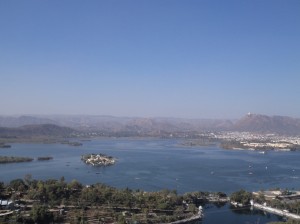 The final two weeks of my Indian adventure took me to Rajasthan, The Land of the Kings. The biggest state in India, it is famed for its majestic Rajput inspired forts, palaces and havelis. I was kicking myself for leaving it to the last as I'd seen what I thought must have been every fort or palace outside Rajasthan. If there is such a feeling, 'I was forted out'.
Arriving in Udaipur after a 19 hour bus ride from Pune, sharing a berth with the loudest snorer in India (which is quite some feat believe me) I spent the afternoon sipping lemon soda on one of the many rooftop restaurants overlooking Lake Pichola. With their Middle Eastern architectural influence, Rajasthani cities are brimming with roof-top restaurants. So much like in Goa I found myself trying not to 'bum' around. However, taking your eyes off a picturesque lake, hill-top fort or blue-coloured city, whilst bathing in a nice durable heat is a mighty hard task.
After watching Octopussy in one of the tens (possibly hundreds) of establishments showing the Bond classic at 7pm every night I went about taking in the films' major sights (and trying to persuade rickshaw drivers to pull Bond style stunts). The sight I wanted to visit most was Monsoon Palace, located high above Udaipur offering brilliant, albeit hazy panoramics. The drive up along the winding valley roads built up the excitement. Unfortunately, as I mentioned in my Goa blog, once again an architectural gem had been left badly in need of maintenance. It defies logic that an ornate, historical palace, featured in a world famous movie should be left to neglect. But this is India and India defies logic.
The highlight of Udaipur and its surrounding area was Kumbhalgarh Fort, arguably my favourite fort in India. Approximately a 75 minute hairpin-dominated drive from the city, the Fort towers above the ochre covered hills with its ramparts covering a 36km hill-top plateau. Once again, the haze scuppered the unbelievable views, but you are still left with vast horizons that run down craggy outcrops into the surrounding desert. The drive to Kumbhalgarh also allows you to see areas of rural Rajasthan, which are in complete contrast to the tourist enveloped cities. Like Madyha Pradhesh, it is very subsistent and the landscape arid, but the amazing colours of the women's saris and salwar kameez, not to mention the eccentric facial piercings, typical of Rajasthan, really showcased traditional northern Indian heritage.
One of the best things about Rajasthan as a solo traveller was the social nature of the accommodation. Most had welcoming rooftop common areas and small restaurants. So having met a group of assorted solo travellers in Jaisalmer I ended up travelling the state with them. In Jodhpur and Jaipur there was even a hostel chain (and not a decrepit, no atmosphere allowed government run one). It had hot showers, a flat screen TV, was WIFI enabled and even had a bean bagged dominated common area. Unfortunately, the lack of hostels and common areas in guesthouses in India hinders traveller interaction, particularly when you are off the beaten track.
It was also in Rajasthan that I rediscovered my love for chai. Since being in Madhya Pradesh in early December, 'real' chai had been limited. My in-between destinations hadn't offered much of the diabetes-causing delight. 'Going for a chai' is very much a sociable activity -groups crowd around the limited and uncomfortable seating areas, trying to waft away the flies whilst having a catch-up (probably reminiscing about the good old days when Sachin was still playing cricket). This was one of my favourite Indian pastimes and provided ample people-watching time (re-reading this it sounds like I'm 56 not 26!).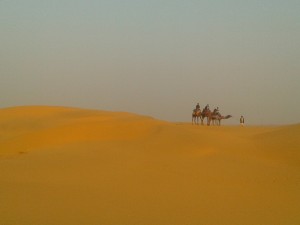 In Jaisalmer, my new found group and I, amongst other activities (which included motor-biking 25 kms to see the worst excuse for a fossil park in the world), went on an obligatory camel safari in the Thar Desert. The incredibly clear night sky was amazing, something I've only ever seen bettered in Arunachal Pradesh and on the Salt flats of Bolivia. However I wasn't overawed by the camel experience…it felt like I was back on the roads of Arunachal Pradesh with my joints grating straight onto the camels hump. I never thought getting off a camel would feel so good. Who knew!
I mentioned that Kumbhalgarh fort was arguably my favourite fort in India. Arguably because I still can't decide, but with the blue city of Jodhpur below, the architecture of Meherangarh fort makes for imperious viewing, especially at sunset when you're zip lining across its outer walls, over lakes and gardens with clear views of the vivid blue old town. Yes that's correct, the Flying Fox had the brilliant idea of using one India's most visited forts as the place to launch a zip line centre. I highly recommend it!
In the end it didn't matter that I was 'forted out'. The accommodation, the chai, states delicious thali and the forts got me through!