Goa: trance, churches and excellent engineering – a travel blog
Having spent Christmas in India's happiest city Pune, I took my first non-delayed, train to Goa to spend the New Year period with a friend who had flown out from England.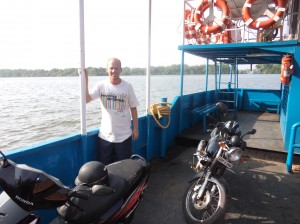 Despite denying we were the beach bum types, we managed to hang around Patnem Beach in South Goa contentedly until January 2nd. The view from the Arabian Sea of the white-sanded, palm tree backed beach, lofty jungle summits and clear blue skies just about kept us happy.
New Year's Eve was spent on Palolem beach, an arduous 500m trek north. Amid the sky lanterns and fireworks which flooded the sky at midnight we congratulated ourselves on picking the best relaxed Goan New Year's venue before promptly departing to a rave in the jungle at the enticingly named Leopard Valley. But much to our consternation Leopard Valley wasn't a valley, nor was it even in a valley, it was on the top of a hill. More bemusingly, our fellow early morning revellers didn't even seem to share our well-directed bewilderment. Waking up with slightly sore heads we prescribed another day at the beach before making our way north to the former party capitals and trance towns of Anjuna and Vagator.
We deemed this a major part of our cultural Goan experience as the fabled trance scene had been a major pull factor through the 80s and 90s. Alas, we both agreed listening to trance music continuously for 56 hours was rather annoying. Our well-tuned musical ears deemed just one in five 'trance tunes' to be at best relatively listenable. As mentioned previously Indians place a great deal of importance on the ambience of a place, but it's safe to say the beach towns of North Goa missed this particular ambient boat. Going to the trance club for a curry on the beach didn't particularly scream ambience but when we realized we had no option but go to the trance club for a curry on the beach there was no alternative but to 'embrace' the music/torture. Thud, thud, thud.
Whilst pretending to like trance music we both commented on the distinct lack of fellow party-goers. Having both been told that Goa would be 'too busy' over the New Year period, Patnem and Palolem proved to be perfect in this respect. Not enough people to tarnish the pristine beaches, but enough people to enjoy the nightlife. But after sunset Anjuna was like a tourist ghost town -perhaps people had left their hangovers behind and departed to calmer shores or perhaps it was like this article suggests that Goa is undergoing an image shift away from the pesky backpackers who flood the northern beaches. The increasing numbers of regional airports will also have something to do with it, but I prefer the notion that people just don't like trance music!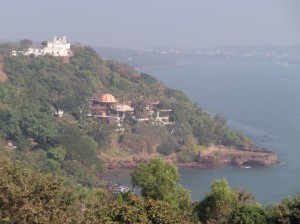 As my friend's Gran is a devout Catholic and Goa has a distinct Catholic identity, a trip inland to marvel at the abundant white-washed churches gave us the much needed evidence that we weren't on an eleven day lads–on-tour jaunt but were in fact on a finely tuned cultural sojourn. Basing ourselves in Panjim we stayed in the Portuguese colonial quarter of Fontainhas, which proved to be the most ambient and atmospheric place I've visited in India. The colorful, crumbling architecture and narrow winding streets were enhanced by the subtle Christmas lighting and the enclave (and to an extent Panjim) were a world away from the hustle and bustle of Indian cities. You can certainly feel the laid-back Portuguese influence too-siestas here are performed with perfection.
From Panjim we day-tripped around central Goa on scooters. We took in Old Goa which at its peak in the sixteenth century was one of the largest and most powerful cities in the world. Now all that remains are a few strikingly white-washed churches and a basilica amid the dense jungle that has enveloped the area. The Church of Divar on Divar Island and Chapel of Our Lady of the Mount which lay just outside Old Goa, atop two hills, afford great views of the Mandovi River and Old Goa, but typical of the poor maintenance which seems to characterize a lot of historical Indian architecture, both were derelict and closed to the public. Although this did mean we got them to ourselves. One even had restoration completed as recent as 2001 but had still been left to deteriorate rapidly.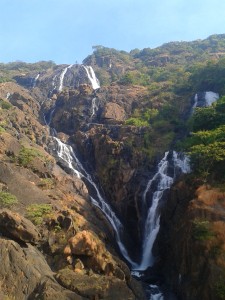 Our next day trip saw us jump on our scooters to Dudhesghar Waterfalls, the 2nd highest falls in India. Avoiding the advice of a local vendor that all jeeps were full and the only way to get there was on an elephant, we jumped in the nearest jeep. I had already seen the falls on my train journey to Hampi a few weeks previously. The train line runs straight across the front of the falls and from our viewpoint below we saw one chug across in front of the cascading waters, certainly a spectacular train related sight. But arguably more spectacular is the train line running up the Konkan coast from Mangalore to Mumbai. Despite the British creating the vastly impressive Indian rail network they refused to go near the Konkan Coast, as it was too dangerous. As landslides and loose boulders have damaged the track since, with one train even falling off a bridge, they had good reason. Passenger trains only started using it in 1998 but the line is undoubtedly a feat of Indian engineering excellence. It has 92 tunnels, swerves round 320 curves and runs over 200 bridges, one of which is the highest in India. And unlike my ability to take photos one handed whilst hanging onto the railings of the train doors, it didn't disappoint…