Becoming an Inspiring Intern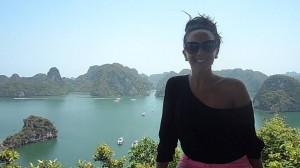 By Sophie Binskin-Barnes.
On a soggy day in January I decided the time was nigh for my big break. After what seemed like months, no wait, it was months, of traipsing through the internet looking for internships as a gateway into the events industry, I was royally stuck between a rock and a hard place.
The internships I wanted were either financially impossible, with no travel costs included, or I would never hear a peep after I applied, and a fair few were even completely illegitimate. I needed to ensure I wouldn't be digging myself a monetary black hole whilst endeavouring on the only route to my dream career.
With a country full of highly educated twenty-something individuals what actually make us, well, individual? How do we get the opportunity to stand out in the crowd and be the rose amongst the thorns? Two sides of A4 and an application form (which basically asks you to regurgitate information from your CV) ain't going to cut it! At the Undercover Recruiter they state an employer's 'average time spent looking at a CV is 5-7 seconds'. Then there are the recruitment companies adding a secondary blockade right in front of your first.
I fell upon Inspiring Interns on a recommendation from a friend who knew I was desperately seeking a great internship opportunity. After scouting through their user-friendly website I instantly applied for 3 internships in a row. Ever the optimist I had my reserve tank full of faith on this company to be my glimmer at the end of the tiring search tunnel.
If you are currently a career hunter like me, every email ping on your phone ignites a spark of hope of a company offering you that long awaited interview. Well, the very next day I actually ignited with a response from the Inspiring Intern team inviting me for an interview! I knew in no way it meant a job or a guaranteed internship, but it was hope and it felt great for my receding confidence.
After a brief chat (so good to actually speak to a human being on the phone) and an email stuffed with all the relevant information I headed to central London in anticipation of becoming an Inspiring Intern.
The office was a plethora of open plan chic, friends at work and professional planning; I instantly felt at ease and was greeted, informed and comfortable straight away. Sitting on the Inspiring Interns couch I started to read their 'Book of Dreams' which emerged me into the world of reality that I wasn't the only one in this situation. Actually there are a damn lot of us wanting people to believe in us, invest in us and inspire us.
It appeared to me, Inspiring Interns were recruiting an army of hungry pre-professionals, prepared to get some experience under their belt and get noticed within a growing business. Now which company wouldn't want a workforce that voracious, enthusiastic and dedicated to success? Inspiring Interns seemed to me to be our jury to ensure our fair trial into the professional world.
Inspiring Interns have, for 5 years now, been a beacon of light and fair trade for fresh faced post grads ready to do what they can to get into the right hands.
So I had an informal interview where they actually asked about ME; found out my interests and skills and what makes me tick. There is a lot to say for face-to-face communication in this day and age and I felt comfortable and confident to just be myself and talk about my history as well as express my hopes and dreams.
It was then time for my 'elevator pitch' filmed CV. It is basically a one minute long sales pitch about you to be sent out to interested employees and every candidate does one. Do not be frightened off my friends; this is an excellent opportunity in a friendly environment to really sell yourself in a happy and honest fashion. I had a few tongue-twister moments but my very patient advisor just let me start again and on my third try, I nailed it. They give you plenty of advice but it's best to come fully-prepped and even learn a script if you wish, just don't sound too robotic as it won't sell you well. There are loads of examples on their website if you need a bit of a spur.
After that, you leave all the hard work to them. I know, right, sounds ace! They search and sort in your desired industry to find all your options for you then email you once they come up. They absolutely insist lunch and travel expenses are covered by your company and the internships in which you are given responsibilities are paid. So they seek out the placements, show the company your CV and video CV, and if the company are interested in meeting you, an interview is arranged. No one's time is wasted and all interview experience is good experience for us anyway, hey!
After having been buried by a haze of questionable proposals and a complete lack of responses, the 20-strong team at Inspiring Interns HQ in London have taken me under their wing of wisdom and are well and truly holding my head above the clouds. It's a pretty blue sky for this Inspired Intern!
If you're looking for your dream internship opportunity, make Inspiring Interns your starting point.
Sophie, 26, lives in Kent but is soon relocating to London. She gained a BA in Managing Performance from the University of Leeds. She has travelled, volunteered and worked far and wide around the world and is now using these experiences to compliment her degree, pushing herself into a career in the events and experiential sector. You can connect with Sophie on Google+ and follow her on Twitter @SopheeBB!