Return to Varanasi & a visit to traditional Madhya Pradesh – a travel blog
Having seen the city encroached by the high water levels of the Ganges just after the monsoon, Varanasi looked a different place a month later when I returned having spent a few weeks in off the beaten track Arunachal Pradesh.
I had travelled back to Varanasi to spend more time at FairMail Cards. Coming out as a top Google search result for 'free volunteering in India' nearly 10 months before I set off, it seemed only right I spent time with the company having spent 3 years working for Hallmark Cards. The company, which has an office in Varanasi and one in Peru, trains local underprivileged children in photography, subsequently using their photographs on post and greeting cards for European markets. The children receive 50% of the profit of each card sold which has their photo on. A lot of NGOs and Fair trade companies fail to provide a context to their purpose, but it was great to see the passion with which the children went about their tasks. They clearly enjoy the time they spend at the FairMail centre, they learn a new skill (a few of the children who worked in the company now have their own photography companies) and develop confidence. Ideally with the money they receive, they should also learn to budget and prioritise. But in practice, as is common in Indian culture, most of the money goes on the family or at least on looking after the elders. It's clearly not the idea behind the company's plan, but it's not reasonable to try and change the principles of such an embedded cultural practice.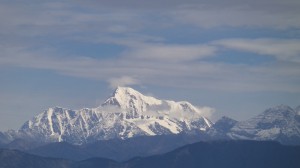 Part of my time with the company was spent working on one of their holiday packages to the rarely visited state of Uttarakhand. Tourists, who usually have a special interest in photography, fund the trip allowing the company to take a number of children to see areas of the country they wouldn't usually get chance to visit. The trip is based around tasks set up to produce as many new photos as possible. It was a great way to see areas off the beaten track of the state and provided me with my first view of the Himalayas. Waking up at 5.30am on my birthday to the sound of monkeys throwing oranges at my door and to the sight of Nanda Devi, India's second highest peak, glimmering in the sunrise was certainly worth the early and rather brash wake up call. If you're after an alternative holiday, like to visit isolated places and want to teach a thing or two to some very talented children, a FairMail trip would be right up your street.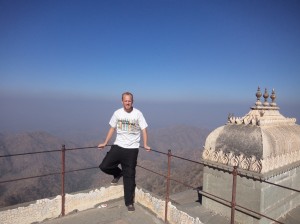 Previous to my two visits to Varanasi I had spent time in Orchha in the central state of Madyha Pradesh. Initially intending to spend just a night or two in the former Maharajan walled city I ended up staying for five nights. The ascendable, derelict forts and palaces drew me back day after day. I have a vague fascination with derelict buildings so Orchha fulfilled my ideal of an architecturally inspiring derelict odyssey. Watching vultures sore into the sunset and listening to kingfishers and parakeets sing from the top floor of a riverside palace that offered views of a temple strewn horizon added a touch of the surreal.
Fast forward a month or so and having been on the waiting list for a train out of Varanasi for three days I made my way South West back into Madhya Pradesh to the Om shaped island of Omkareshwar. A nationwide spiritual hotspot where pilgrims come to wash away their sins, Omkareshwar has a very relaxed spiritual vibe and provides brilliant views of the controversial Namarda Dam as well as numerous gauntlet paths where you had to avoid the gangster-like Langur monkeys from preying on you. Staying in Manu Guesthouse, the only accommodation on the island, there were also some very interesting characters. I spent most of the first day with two Dutch girls who, like me, were immersed in Shantaram (a Gregory David Roberts novel), so trying to hide our emotions as the story twisted and turned into a practice of muted reactions. Nicknamed 'Silent Baba' a French guy was staying in the guesthouse who was attempting a self-imposed four months silence…obviously getting anything out of him was pretty hard.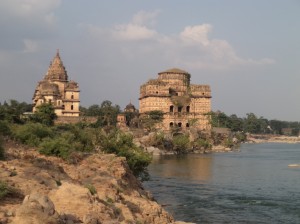 Before a disastrously long 26 hour bus journey to Goa in which I finally submitted to the dreaded Delhi Belly (fewer details the better), I spent a few days exploring the Afghan ruins around plateau perched Mandu. Clearly the architects of the tombs and monuments didn't foresee that unfit tourists would use one-geared bikes to get from one ruin to another. Building them at the top of small, but steep, rises proved a rather annoying inconvenience, blowing to smithereens any notion that my time in India had got me fitter. Still, the sights of the land below more than made up for my dizziness, exceedingly heavy breathing and the embarrassment of pushing my bike past giggling groups of 7 year olds.
Madhya Pradesh (MP) has been the most traditional state I have been to so far. The vivid colours of the women's sarees and salwar kameez really stood out and it's these vibrant colours that adorn clothing and buildings that is one of my favourite aspects of the North. Unlike Arunachal Pradesh, where people could sustainably live off the land due to its beneficial climate, MP was far more subsistent and arid and the sight and feeling of rural poverty and inequality far more apparent.
Having not been on my itinerary at the start, I'm very glad I visited the state as it gives you a glimpse of a very traditional way of life, it is extremely colourful and there are plenty of little known beauties.