Living daily life like a Mumbaiker – a travel blog
Having spent a week clambering over Hampi's sun-kissed boulders and milking every last bit of its relaxed vibe, I felt sufficiently refreshed to tackle a week of intensity and mayhem in Mumbai. But when mentioning I intended to spend a week or more there, a few eyebrows were raised.
With the exception of Varanasi, which is a world of its own, Indian cities can be quite similar: intense, unrelenting, dirty and without much character. But as mentioned here I do love the frenzied buzz and abruptness of Asian cities; they can really get the pulse flowing.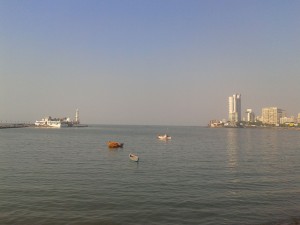 My accommodation was located a few hundred metres from the Gateway of India and Taj Mahal Palace in Colaba, South Mumbai, but my train from Hospet terminated at Lokmanyatilak in the northern suburbs. Perhaps due to my poor nights' sleep, but more likely because I'm a tight-fisted Yorkshire man, I thought it sensible to take the 50 rupee journey on Mumbai's notorious commuter rail network. I'd managed Delhi's excellent, efficient but busy metro system so felt quietly confident I'd be able to handle Mumbai's older, less extensive, but apparently more relentless version. Having used my 40 litre rucksack to barge bus travelers out of the way at various provisional bus stations I had my tactics sorted.
How wrong I was! Watching from a stairway my confidence drained as even in this suburban station the simultaneous crush to get on and off was too much for my sleep deprived self. The mayhem ensued twice more before I judged it quiet enough to place a few well placed bag barges and managed to get a seat far enough from the doorway to observe the crush and rework my tactics. At peak times trains designed to hold 1,800 passengers often carry up to 7,000, with passengers crushed inside and others hanging hazardously out of the open doors, some even on the roof. A quick Google search should give you an idea.
But by avoiding peak times, using the first class carriage (most of the time) and with my initial experience lodged firmly in brain, I became dependant on the system. And it was this dependency on a part of everyday life for Mumbaikers, and that I felt comfortable with the brashness and intensity that travellers and Indians had warned me about, that got me worried. I was getting used to Indian life. A strange and eerie feeling. There was a slight caveat though. December is one of Mumbai's 'winter' months. Temperatures plummet to a low 30C during the day and a mere 25C at night. Just, but only just bearable, for a pasty sun suffering Yorkshire man. I very much doubt I'd be able to cope with the heat and humidity of the remaining ten or eleven months of the year.
Using the commuter network to get around I used my collection of Indian-based books to guide me round the city. I visited the haunts and hideouts described in Shantaram, Narcopolis and Midnights Children. That they are all excellent books helps, but it's a great practice to get to know a city or country more intimately. Plus a lot of fun, trying to work out precisely where events happened. As well as the architectural gems of the Colaba and Fort areas, my favourite Mumbai sights were dotted all over. Dhobi Ghat, Mumbai's human laundry system is next to Malaxmi station, the Haji Ali mosque runs out into the Arabian Sea at Breach Candy, Kotachiwadi, a tiny two street enclave of wooden mansions where you can hear a pin drop is nestled in the midst of central Mumbai and Bangana Tank, a Ghat of sacred temples and pilgrims rest houses hides bang in the middle of Malabar Hill, the richest area of the city.
Mumbai characterises its country more than any other city I've been too, most poignantly in India's vast extremes. All developing countries have extremes but I doubt as huge as Mumbai's. The panoramic view from Narriman point illustrates this perfectly. Starting in Malabar hill you sweep along Marine Drive and Chowpatty beach, two classic middle class hangouts. Central Mumbai's skyscrapers tower above and you finish at Mumbai's World Trade Centre with the Ambedkar Nagar slum directly below which is rapidly spreading into the Arabian Sea. All this is packed into just a 3km stretch along the Back Bay. As a result of the heat, even in the winter months everyone keeps their windows open. From the flyovers that keep the city running my prying eyes (I wasn't being nosy, India doesn't do personal space) allowed themselves into the cramped conditions of Mumbai's apartment dwellers.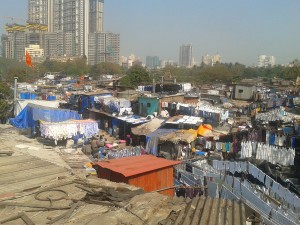 These extremes are at least in part caused by the neglect for infrastructure and lack of prospects in rural India, hence the mass rural urban migration which occurs that I talked about in my Mitraniketan blog. One of the results is the build up of legal and illegal slums. Taking part in a slum tour, despite its good intentions and results, didn't appeal to me due to its overtly intrusive nature. But the slums, though perilously built out of anything from plastic sheets, to branches and to bricks are blasts of colour and contrary to general opinion, are thriving, organized economic zones. The Dharav slum, the biggest in Asia, generates an estimated £350 million a year, yet in spite of this conditions are obviously extremely poor. And much like the West, materialism reigns supreme…I've never seen so many TV satellites in one area.
People tend to dismiss Indian cities when travelling and in some cases I agree. But give Mumbai a go…as long as you can handle the heat!