A where-to guide of Manchester's Northern Quarter
By Clare Garcia-Rodriguez
The home of Inspiring Interns' Manchester office, the Northern Quarter, is a vibrant hub of eateries, bars, art galleries, independent businesses and quite a few underground Ping-Pong venues.
NOM!

Luck Lust Liquor and Burn – For a short while LLLB was the only place in Manchester where you could get your grubby paws on an Almost Famous burger. The waiting time is often ridiculous in the evening as there are no bookings taken – just a cryptic text message once your table is ready which often signals the beginning of a mad scramble towards the unfazed beanie-wearing maître d'. I regularly go to this teeny first floor restaurant for both lunch and dinner and would recommend the Alabama Slammer, a pulled pork burrito with blue cheese, chipotle sauce, BBQ sauce and all the other yummy bits you'd expect to find in burrito. Couple this with some chilli cheese fries and I guarantee you will not be able to move for at least 45 minutes.
Also recommended
Pieminister: A wonderfully yummy value-for-money eatery serving gourmet pies all day!
Dough: A simple and bright pizzeria serving hoisin duck and salmon pizza! Not together.
Bem Brasil: More expensive but worth it for the all you can eat Brazillian Barbeque, LOVE.
SLURP!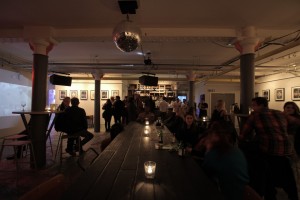 The time spent waiting for your table at Luck Lust is best used exploring! Whilst in the predicament not two weeks ago with one of my pals visiting from the big smoke we happened upon an underground bar complete with ping-pong tables. 2022NQ is just off Dale Street, down a small alleyway lined with fairy lights. Once you've made it down the dodgy looking side street and down the very steep stairs you'll find an immense space filled with tables which are slightly too tall and chairs which are slightly too small. A hipster Goldilocks effect if you will. The space is used for a mixture of different functions and there are often artworks for you to gander at over a can of Red Stripe. Over at the bar you can rent bats for a dimly lit game of ping-pong at £5/half hour. Expect the get to know the other teams quite well as you may well spend a lot of time under the table helping to retrieve their balls.
Also recommended
Terrace Bar on Thomas Street: A favourite of mine for the delicious drinks, friendly staff and mixture of UKG and RnB, plus they don't mind you dancing on the tables. Editor's note: make of that what you will!
Trof NQ: Expect wooden interior, great music and a smoking area lined with the carcasses of old stereos.
The Blue Pig: Live music and good beer!
RUNNING MAN!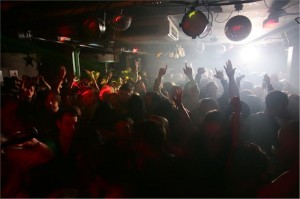 The sheer volume of bars in the Northern Quarter mean that you are never left out in the cold. One of my personal favourites is Mint Lounge. A regular here during my university time at the student-run Itchy Feet nights. Music ranges from ska to rock 'n' roll to blues and all the way back again. Expect to hear the Jackson 5's 'ABC' at least twice. Another place worth a trip to is Matt & Phred's. Hear you can see live Jazz and swing around a bit! Plus there's free pizza if you buy two cocktails during happy hour.
Also recommended
The Whiskey Jar: For whiskey and a good time.
Apotheca: For the chemist in you. They also do cocktail lessons!
Odd Bar: Great for after work drinks, though can be crowded. The artwork on the walls is also for sale.
ARTSY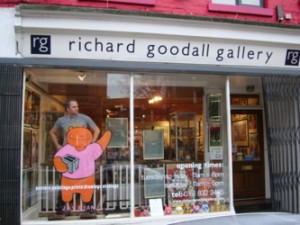 I am not typically a person who appreciates art as much as I possibly should but my boyfriend has quite a lot to say on the matter. As a collector of poster art he once told me his favourite shop in the Northern Quarter was the Richard Goodall Gallery on Thomas Street. I would definitely recommend popping in to peruse the music and film posters. You can even purchase entire cinema redux posters of classics such as 'Back to the Future' and 'Breakfast at Tiffany's'.
Also recommended
Centre for Chinese Contemporary Art: Great exhibitions, venue hire and workshops.
Nexus Art Café: A non-profit organisation which focuses on displaying the creations of up-and-coming artists in the city centre. Art and food!
KRAAK: Can be found on our very own Stevenson Square and is a multi-purpose venue designed for exhibiting art, photography, exhibitions and music.
GARMS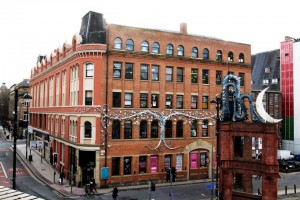 Afflecks Palace describes itself as 'an emporium of eclecticisms, a totem of indie commerce in Manchester's Northern Quarter'. Inside you'll find all kinds of weird and wonderful rooms from tattoo and piercing studios, sweet shops, fancy dress, bespoke trainers and independent clothing brands. I recommend having a lazy walk around inside so as to absorb as much as possible. Having been numerous times I still get confused as to which floor I'm on and which way is up.
Also recommended
Ryan Vintage: Oldham Street. Great for clothing as well as furniture and artwork.
Oi Polloi: Menswear on Thomas Street. Slightly more expensive than the thrift shops in the area but definitely worth a look.
Pop Boutique: Oldham Street. Also has store in London, Leeds, Liverpool and Gothenburg in Sweden. Pop label is sold as far away as Japan and is great for clothing, furniture and kitsch. Big on upcycling.
There are plenty more places to explore in the Northern Quarter (and the rest of the city centre), so get out there and get exploring!
If you're based in the North-West and looking for an internship or graduate job make sure you check out our Manchester vacancies page and be sure to join our LinkedIn Interns and Internships in Manchester group for the latest in northern news and opportunities!
Clare is one of the mighty Inspiring Manchester team! A recent graduate of the University of Manchester, she originally hails from Canterbury in Kent. She's a Libra, enjoys eating chocolate and crisps together and can usually be rendered speechless by a picture of a cute dog. You can find her tweeting @ClareGarcia or add her to your circles on Google+.