It's grim up north – introducing Inspiring Manchester!
By Clare Garcia-Rodriguez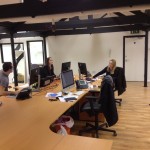 A phrase so often said by those who reside in the South, and until 4 years ago I would have been inclined to agree. However, since relocating to the 'London of the North' to study at the University of Manchester I have fallen in love with the grubby charm of this vibrant city. All jokes about the vast amount of precipitate we endure aside, Manchester is a hub for students and graduates and boasts the largest student population in Europe. All this and it is also the 62nd Northern city listed in the KLF 1991 top 10 hit.
So after soaking up all this information you must be wondering why I am wittering on about 'Manc'. Well, Inspiring Interns have just opened a Manchester office, that's why! We are based in the best part of the city, the Northern Quarter and are ready to place new interns in some amazing companies.
The team…
Andrew Scherer
I would describe myself as a dyed-in-the-wool southerner. I drink London Pride (and the odd shandy). I have, on occasion, been seen in cords. I support QPR. So it is safe to say I wouldn't take the decision to leave London lightly. But Manchester is a cracking city, brimming with potential and opportunity – so how could I say no to a move here?
Hannah Ayres
Before coming to the rainiest place on earth I resided in sunny Dubai. Last year I graduated from the University of Manchester with a Philosophy degree. I am addicted to the TV show friends, can eat a whole batch of brownies in one go and I have an unhealthy obsession with all things penguin related.
Adam Jackson
As the only Northerner in the office I sometimes need to pinch myself to be reminded I'm in Manchester. You'll never go hungry working with me as my weakness for confectionery is very apparent if you look in my drawer. Originally from Lytham St. Annes, I'm a casual football fan, try not to take myself too seriously and have a borderline obsessive cleaning habit.
Clare Garcia-Rodriguez
As I mentioned before I am a recent graduate of the University of Manchester but originally hail from Canterbury in Kent. I am a Libra, enjoy eating chocolate and crisps together and can usually be rendered speechless by a picture of a cute dog. A real life one is even better.
As you may have gathered from our bios, we might be slightly obsessed with food. Sorry, not sorry.
If you're based in the North-West and looking for an internship or graduate job make sure you check out our Manchester vacancies page and be sure to join our LinkedIn Interns and Internships in Manchester group for the latest in northern news and opportunities!