Arunachal Pradesh… Don't tell anyone! – a travel blog
Shrugging off what I deemed over exaggerated safety concerns from travellers, guide books and locals, I was looking forward to my unplanned North East diversion. 18 hours later I was feeling slightly uneasy as my train came to a stand still due to a bomb blast aimed at India's right wing BJP leader Narenda Modi, at the next station. That was before I knew that Darjeeling, my next destination, had only days before come out of a 2 month period of gurkha control in their fight for independence from West Bengal. And these events were a week before this incident in Assam on the day I arrived in the state, fuelled by immigration tensions with Bangladesh. Fortunately I experienced no such danger as the people of the North East struck me as the most open, hospitable and accommodating people in I've met in India.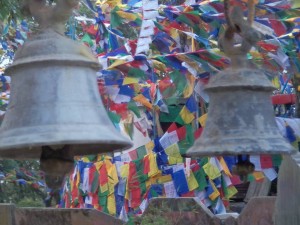 After I fell for Munnar's tea plantations it was only right I visited Darjeeling due to its plentiful stock of the green-y yellow phenomenon and the vast vistas it offers of Kangchenjunga, the world's third highest peak. Sikkim, voted the number 1 place to visit in 2014 in this Lonely Planet article, also offered spectacular scenery, and importantly more stamps in the passport (Note: What's number three in that survey? That puts that one to bed Kerala). Alas, this was the most disappointing week of my travels. With Darjeeling getting back on its feet after its 2 month shutdown the clouds from the cyclone that hit Odisha a week before couldn't have come at a worse time. I couldn't see anything for a week. Luckily I wasn't as foolhardy as two Scouse guys I met who got up at 4am 8 days in a row for views of Kangchenjuna.
I had jumped at the chance to experience the least visited state in India, Arunachal Pradesh, having been invited to stay with a friend I'd made at the start of my trip. I was hoping it would be worth the 3 days of bureaucratic hassle I'd had to endure in Delhi just to get my permit. It's safe to say it was.
We arrived in Geku in the Upper Siang region after what was for me a pretty much continuous 54 hour journey from Darjeeling. Geku is a tiny village located on the Siang River which Assam turns into the mighty Brahmaputra in Assam. The mention of that name should send shivers of excitement down anyone who studied Geography beyond A Levels. Set in the foreground of snow capped mountains Geku straddles the valley side amongst Jungle and terraced rice fields. I mentioned in this blog about the stares you often receive in India as a traveler. In Geku there were lots of stares, but they weren't the same gawping, unrelenting ones you often receive in the mainland. I know most of the stares are rooted in curiosity, but it's still annoying. In Geku and in the North East, people displayed their curiosity in a much more amiable way. They were shocked at how tall I am, how pale my skin is in comparison to theirs and frequently stood next to me to compare. Still uncomfortable, but a jovial uncomfortable!
In Geku and Pasighat I stayed with my friend's family who are part of the Adi tribe. Men carry machetes and rifles as a mark of pride. They live in bamboo log houses and spend a lot of time eating and socialising round the fire. They drink whisky at any time during the day. My type of people. And they wouldn't let me pay for a thing.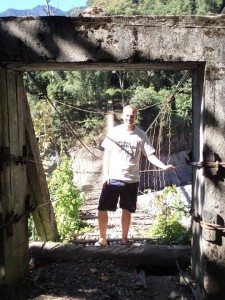 In the time I spent with the family I picked up a few words of Adi. I amused myself by using my few words on locals, much to their alarm! My favorite episode was when someone introduced themselves as being from Pasighat and as part of the Adi tribe as was on my way to Tawang. He let out a haughty cackle of delight and hugged me when I said 'dopoe airudo' to his offer of a chocolate éclair. If you're not fluent in Adi that means 'it's tasty, thank you'.
After my time in the Upper Siang I took another long endless journey, this time to Tawang in the West of Arunachal, close to the China and Bhutan borders. Door-to-door it took 36 hours. To say the roads are bumpy in Arunachal misses the point. By the time I reached Tawang I felt like my flesh had left me with just my boney joints. In some way (not all, the journey really was that uncomfortable) the views made up for it. Sheer valley drops, turquoise tributaries, pristine tiny white sandy beaches, snow covered peaks, hundreds of hairpins, dangerous hanging bridges, colourful Buddhist flags, waterfalls, vast areas of orchids and lots of momos (A Tibetan steamed dumpling) littered the journey which scaled the Se La pass, the second highest drivable pass in the world and finished with great views of the second largest monastery in Asia.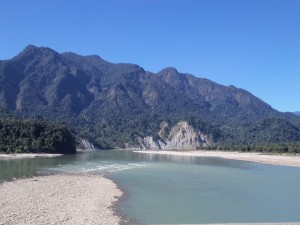 Even though it's located out on a whim, Arunachal seemed very sustainable. People are content and live off the land and I barely saw the poverty which is so prominent in the mainland. I feel privileged to have visited the state at this stage before it no doubt opens up more and more to tourism. So don't retweet, share or post this, forget you've read it and leave Arunachal as it is*. Shhh. Unless you're going to fix the roads…
*Editor's note. Please do share this post!